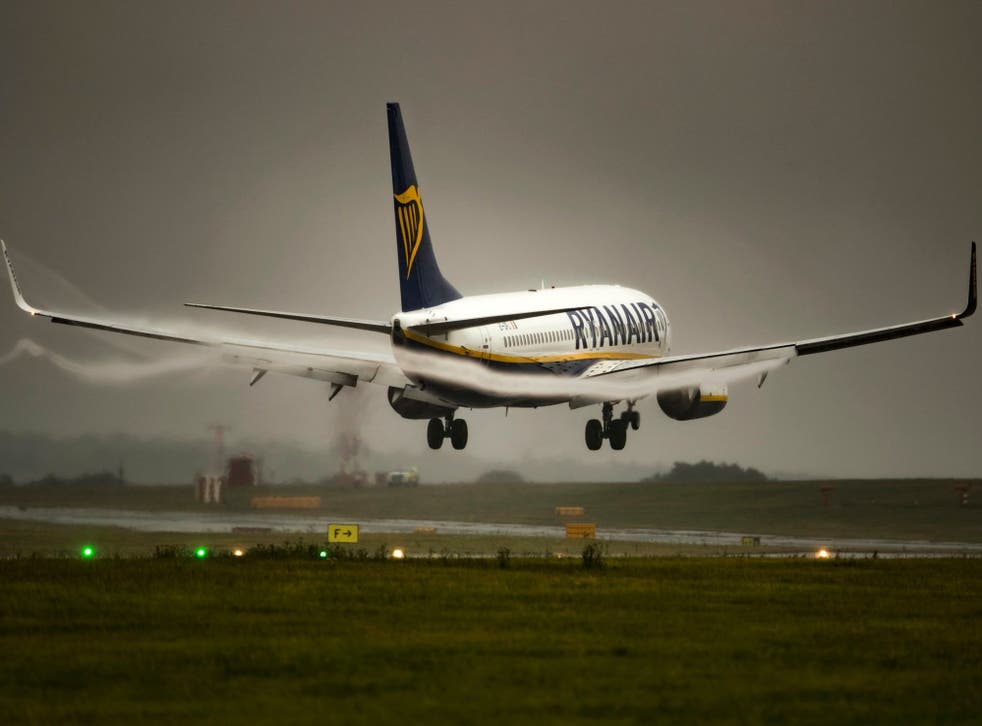 Ryanair agrees to third-party mediation after Irish pilots plan another one-day strike
More than 20,000 passengers booked to fly on 10 August have been notified of cancellations
Halfway through the fourth one-day strike by pilots employed by Ryanair in Ireland, the airline has offered an olive branch to the union.
Ryanair invited the Irish Airline Pilots' Association (IALPA), which is involved in a dispute over seniority and base transfers, to third-party mediation.
But even as the union welcomed the invitation as "an unexpected and positive development", Ryanair was sending out notices to 3,500 passengers booked on flights next Friday, 10 August – when the pilots plan their next one-day walk-out.
Another 20 Ryanair flights between Dublin and airports in Britain have been cancelled, as a result of the fourth one-day strike by pilots based in Ireland.
The airline said: "We regrettably have cancelled just 20 (seven per cent) of our 300 planned flights to/from Ireland next Friday, 10 August.
"All 3,500 affected customers have already been notified by email/SMS earlier today (3 August) and will be readily re-accommodated (or refunded) on other Ryanair flights."
Earlier, Ryanair accused the union of being "determined to generate a dispute in order to justify repeated unnecessary strike action".
But the airline's chief people officer, Eddie Wilson, said: "Ryanair now feels the only way to introduce common sense is by way of third party mediation, and to this end is suggesting Mr Kieran Mulvey formerly of the Labour Commission and Workplace Relations Commission.
"His background and experience could be a positive influence."
The union agreed, saying: "Ryanair's announcement that it will accept independent third-party assistance in its dispute with pilots, which was made without preconditions, is an unexpected and positive development.
Ryanair passengers told to claim compensation due to strike
"The union, which has been calling for third-party assistance for many weeks, will consult with its members in the company, and looks forward to talking to Kieran Mulvey about when a process could begin."
More than 20,000 Ryanair passengers booked to fly next Friday, 10 August, have been notified about cancellations elsewhere in Europe.
The airline has cancelled 104 flights to and from Belgium, and 22 services to and from Sweden.
Passengers have been offered refunds or rebooking on other Ryanair flights. If travellers are delayed overnight as a result of cancellations, the airline must provide accommodation and meals.
Ryanair has said: "We have also been notified of possible strike actions by pilot unions in Germany and the Netherlands which we believe will be coordinated and occur on Friday 10 August."
During July, Ryanair cancelled over 1,000 flights, affecting around 200,000 passengers. The majority of cancellations were due to industrial action by cabin crew and pilots.
The Civil Aviation Authority has urged strike-hit passengers to claim cash compensation, though Ryanair insists the strikes are beyond it control.
The airline also cancelled dozens of flights because of adverse weather and staff shortages at air-traffic control centres.
Join our new commenting forum
Join thought-provoking conversations, follow other Independent readers and see their replies