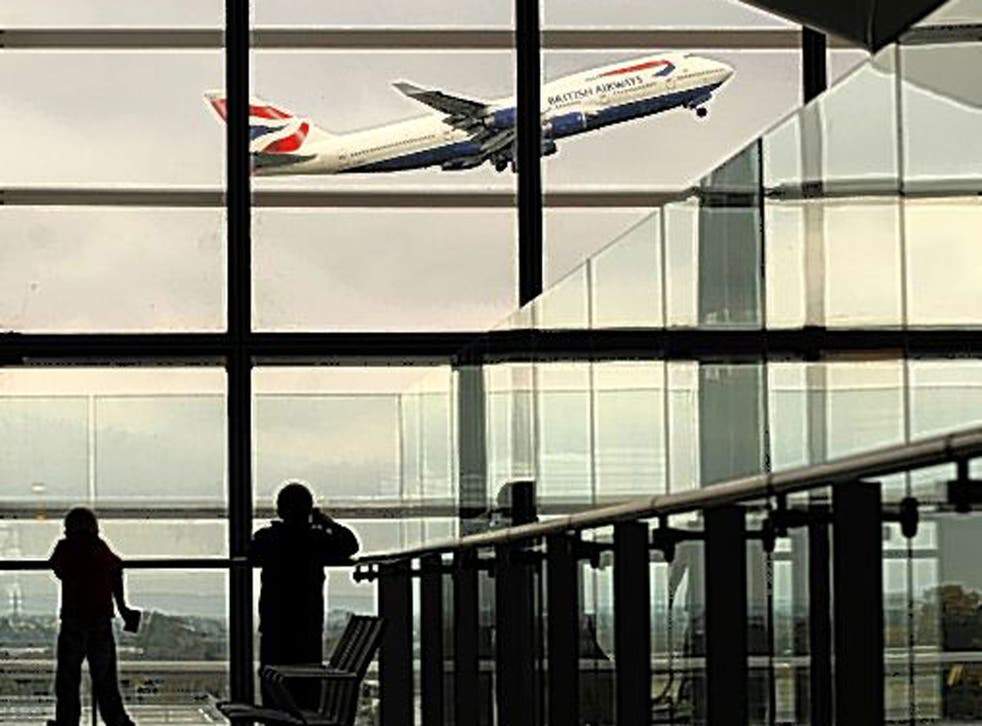 Simon Calder: Transit traffic and the airport problem
The shopping bags and reading matter of my fellow passengers on flight BA245 to Buenos Aires, and the debate about where to put the next runway in the London area, may not seem related. But bear with me a moment.
Of the 100 or so people around me in the rear of the plane, I reckon at least 80 were transit passengers at Heathrow Terminal 5. My evidence is the exotic range of bags from cities such as Berlin and Zurich, and a discreet survey of their books and newspapers which suggested few have English as a mother tongue.
The vast majority of passengers started their journeys outside the UK (as, technically, did I, but more of that later). And they provide, say supporters of a third runway at Heathrow, essential evidence of why only a single hub airport can be sustained.
In a perfect world, British Airways would fill every seat on every flight to the Argentinian capital with people starting their journey in London – so called "origin and destination" (O&D) passengers. People who are prepared to pay a premium for flying non-stop, rather than going via continental Europe or North America, are ideal targets for the airlines.
BA has little trouble filling the plane with O&D passengers on some days, but on others the demand simply isn't there. BA's extensive network allows it to turn transit traffic on and off like a tap, putting lots of tempting fares into the market when loads are light. Anyone flying from Copenhagen to Los Angeles, for example, may find on one day that the fare is low, say £540 return, but on the next it is unavailable except at a silly price of £1,500 or so.
The argument goes that this reservoir of passengers helps BA optimise its operation, to the benefit of everyone. The airline can afford to offer a daily service to a wide range of destinations, which is what business travellers demand, only because Tomasz, Dirk and Harald help keep the planes reasonably full, year-round.
British Airways is the chief beneficiary of Heathrow's hub status, but there are a couple of ways in which this could be jeopardised. The first is if other airlines develop superior hubs that lure traffic away. This is already happening, but could soon accelerate. The biggest threat is not the traditional foes – Amsterdam, Paris and Frankfurt – that are accused of eating the UK's inflight lunch. Nor does it come from the Gulf, though Emirates, Etihad and Qatar Airways provide mighty competition. It is Istanbul – the biggest city in Europe by population, and home to Turkish Airlines.
Turkey's national carrier has been slow in exploiting its location, but is now expanding relentlessly – serving more places in Africa than any other airline. Unlike its Gulf-based rivals, which have to decide if they could fill a wide-bodied plane, Turkish Airlines can deploy smaller 737s to places such as Birmingham and Edinburgh, with Bristol tipped to be next. This provides an exotic short-break destination, but it also unlocks Asia, Africa and (soon) Australia to passengers from these airports.
From BA's perspective, the solution is to build another runway at Heathrow, allowing the airline to grow, rather than merely shuffle its destinations from the same pack of slots.
The second threat is a second runway at Gatwick – creating a two-hub system rather like New York (with JFK and Newark). Heathrow enthusiasts insist transit traffic would be diluted, making many routes unviable and therefore damaging the interests of UK travellers.
Financial sense, but environmental idiocy
So much for the case for expanding an existing hub. But there is a powerful counter-argument. I once flew from Madrid to Moscow, and concluded I was the only non-Spanish-speaking passenger – and the only one whose final destination was the Russian capital. Everyone else seemed to be Spanish or Argentinian, en route to Moscow in order to fly on to Buenos Aires, probably directly over the Spanish capital.
From the passenger's perspective, it is perfectly rational to trade extra hours in the air for saving hundreds of euros. But from the planet's point of view it is madness. If lots of Madrileños want to go to South America for a reasonable fare, they should be able to find a non-stop, low-cost flight rather than squandering time and resources on a connection.
In the UK, Gatwick has always been the main base for long-haul budget airlines. From Laker Airways to Zoom, many have gone bust, but Norwegian is seeking to reverse the tradition when it launches low-cost links from Gatwick to Florida, New York and Los Angeles in July. Gatwick's owners say a second runway would allow the breed to expand.
On Thursday, Sir Howard Davies – chairman of the Airports Commission – may offer hints about which argument he favours at the Runways UK conference. I will try to interpret the tea leaves to discern where the next runway may be.
A short break in Geneva courtesy of the airline
Back aboard BA245: like practically everyone else, I had started my journey outside the UK. When you switch from being an "O&D" passenger to a transit traveller, you tend to pay a lot less for off-peak tickets. It was well worth my while to buy a one-way flight to Geneva, enjoy a short break there, and commence my journey from Switzerland's westernmost city rather than London. In effect, the airline bankrolled my entire stay in pricey but lovely Geneva.
Join our new commenting forum
Join thought-provoking conversations, follow other Independent readers and see their replies