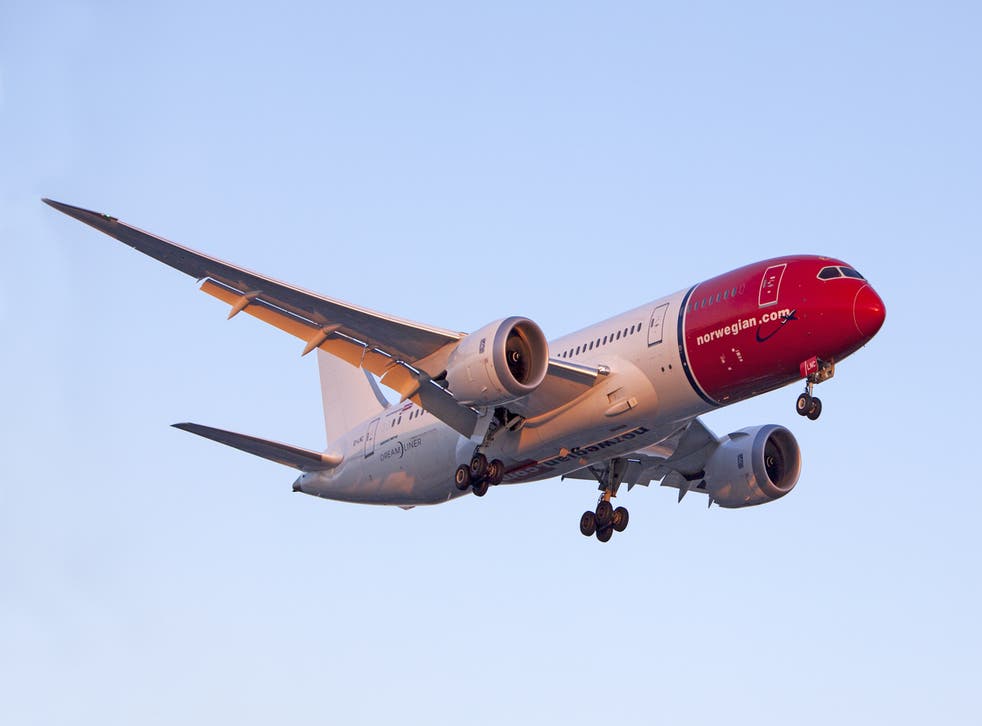 What it's like to travel on the world's longest low-cost flight
Norwegian has launched a budget 13-hour economy flight to Singapore – but is it worth the low fare?
Rachel Hosie
Tuesday 03 October 2017 13:07 Comments
A 13-hour flight on a budget airline may not sound like the most appealing prospect, but this is exactly what Norwegian has just launched with its new route from London Gatwick to Singapore.
It's the world's longest flight operated by a low-cost airline, covering 6,764 miles on a new Boeing 787-9 Dreamliner aircraft, and I was invited to experience the inaugural flight.
I approached the trip with a fair amount of trepidation – would flying long-haul without all the extras that normally make it bearable be the stuff of nightmares? There was only one way to find out.
After a celebratory performance from traditional Singaporean lion dancers, a slice of cake and a glass of prosecco at 9am (if you're not drinking at an inappropriately early time, are you even a Brit at an airport?), it was time to climb aboard.
While there's no first or business class, the plane has a small premium cabin, and I was lucky enough to be sitting there for the duration. With seven seats per row, there was a delightful of amount legroom – 117cm, to be precise.
The space made all the difference. It didn't feel remotely claustrophobic, and I was able to constantly change my position, switching from stretching out to crossing my legs to folding them in my seat. This meant I never started to feel stiff, uncomfortable or like I needed to get up for a walk.
The economy seats, however, were on the small side – just 79cm of legroom. And to be totally honest, I think that would be a pretty uncomfortable 13 hours.
In premium, there was plenty of room to get out past the people sitting next to you, which was fortunate for the poor man stuck next to the woman with the world's smallest bladder (me). At least, there was plenty of room – until the people in front of us reclined their seats. Once they'd done that, getting out was actually a real challenge, especially for those who were more well-endowed in the derrière department.
Screens came out of our armrests, as did tray-tables. Thankfully, the armrests were wide enough for both passengers to rest their elbows on; no one wants 13 hours of awkward arm wrestling with a stranger.
I was pleasantly surprised by the selection of onboard entertainment, too – there was loads of good stuff to watch, from classics like The Shawshank Redemption to relatively new releases like La La Land and The Girl on the Train.
I didn't get bored once, despite the fact that I didn't sleep. I did try, I really did, but even with the reclining seats and windows with five dimmer settings, it was a struggle.
There were two charging points per person, but unfortunately no Wi-Fi, which seems odd considering Norwegian actually has it as an option on short-haul flights.
Despite being premium, there were a few aspects of the flight that reminded me I was on a budget airline – we were given headphones and a blanket, but there was no pillow, eye mask or toiletries (note to self: bring toothbrush in hand luggage next time).
However, in my humble opinion, one of the best things about long-haul flights is the constant stream of food and drink, which was certainly forthcoming in premium. There was a choice of three hot dishes for our first meal – I had lemon and herb chicken, with mini roasties and green beans.
To be honest, it looked a bit tragic – greying beans are never that appealing – but it tasted better than it looked. Alongside the hot meal was a side salad of beans, tomatoes, feta and red onions, a bread roll, and a stellar cheesecake which seemed to be infused with rose essence.
And of course, we were kept well topped-up with beverages by the attentive staff, from tea to Bailey's. And prosecco. And gin. And wine. (Just to help my chances of nodding off, you understand.)
About four and a half hours before landing, we were served a tasty little piri-piri chicken wrap, and at 4.40am Singaporean time (with an hour and a half to go) it was breakfast time. Fruit salad, a warm croissant with jam, and a cooked breakfast (eggs, bacon, sausage, mushroom and tomato) were all on offer. As one does when one's body clock is totally confused, I devoured the lot.
Back in economy, there are no free-flowing complimentary drinks, but you can pre-order your meals for a fee before you fly, and there's a paid-for snack bar onboard. For £50 more, customers who opt for economy+ get two meals thrown in, plus a 20kg checked bag allowance – the standard Economy fare only includes a 10kg piece of hand luggage.
All in all, I thoroughly enjoy the whole experience. It was the longest flight I'd ever been on, but not once did I find myself wishing we would hurry up and land. Whether I'd say the same if I'd travelled in economy is another matter.
But with economy flights starting from £300 return, the price is hard to argue with; it's a bit mad, really. And it's undoubtedly the economy market Norwegian is going after – priced from £1,340 return, the Premium seats are considerably more expensive than flying with a legacy carrier like British Airways, which charges from £1,112 for premium economy.
If you're looking for incredible value, then, Norwegian is unbeatable. If opting for a little extra comfort, it might be best to look elsewhere.
More information
Norwegian flies direct to Singapore from Gatwick four times a week from £149.90 one way.
Register for free to continue reading
Registration is a free and easy way to support our truly independent journalism
By registering, you will also enjoy limited access to Premium articles, exclusive newsletters, commenting, and virtual events with our leading journalists
Already have an account? sign in
Join our new commenting forum
Join thought-provoking conversations, follow other Independent readers and see their replies