The safest and riskiest destinations for solo travellers ranked
Singapore tops the list for safety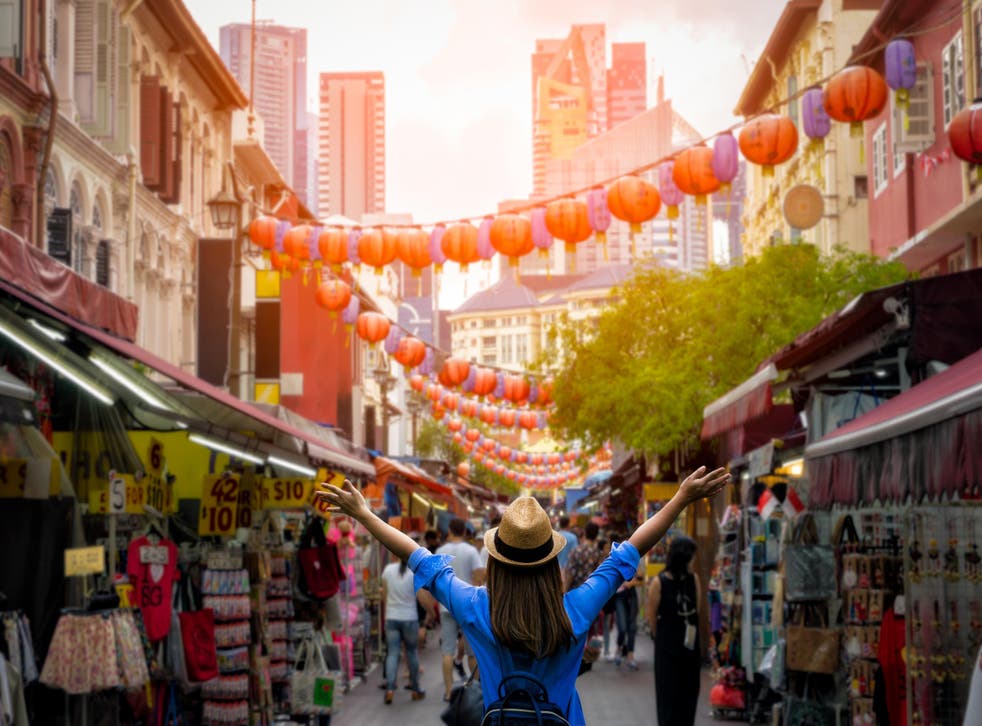 The safest countries for solo travellers have been revealed.
Sinagpore comes top with a score of 97 in the list compiled by travel website WeGoPlaces.
Following the Asian city-state in the top five is Norway (93), Iceland (93), Finland (93) and Uzebekistan (91), which will allow British travellers to visit visa-free from 1 February.
"With high feelings of safety and security from residents, this island city-state off southern Malaysia is ideal for solo adventure," said WeGoPlaces.
The WeGoPlaces report is based on data from the Gallup Global Law and Order report, which ranked residents' feelings of safety and security in that country.
Lonely Planet best countries 2019

Show all 10
Solo travel has boomed among British travellers, according to the travel association Abta. A survey conducted in August 2018 indicates that over the past seven years there has been a 150 per cent rise in solo travel by British holidaymakers.
WeGoPlaces also ranked the 10 riskiest countries for solo travel, with crisis-hit Venezuela topping the list with a score of 44.
"Just 17 per cent of residents said they felt safe walking alone at night where they live, and 24 per cent expressed confidence in their police," said the report.
The UK's Foreign and Commonwealth Office (FCO) currently advises against all but essential travel to most of the country.
Afghanistan, South Sudan, Gabon and Liberia rounded out the top five riskiest countries.
If you're a solo traveller, the FCO has some advice.
Firstly, check the FCO travel advice and sign up for updates to the advice for that country, in case anything changes while you're there.
Keep medication on hand, so it doesn't get lost in baggage.
Take out comprehensive travel insurance, and remember to take your EHIC card if you're travelling within Europe (although this will likely not be valid after 29 March).
Remember local customs and local laws in the country you're travelling to, and behave respectfully – which means dressing conservatively or avoiding public displays of affection in some territories.
Top 10 safest countries for solo travellers
Singapore – 97
Norway – 93
Iceland – 93
Finland – 93
Uzbekistan – 93
Hong Kong – 91
Switzerland – 90
Canada – 90
Indonesia – 89
Denmark – 88
Top 10 riskiest countries for solo travel
Venezuela – 44
Afghanistan – 45
South Sudan – 54
Gabon – 55
Liberia – 56
South Africa – 58
Mexico – 58
Dominican Republic – 60
Botswana – 61
Sierra Leone – 61
Register for free to continue reading
Registration is a free and easy way to support our truly independent journalism
By registering, you will also enjoy limited access to Premium articles, exclusive newsletters, commenting, and virtual events with our leading journalists
Already have an account? sign in
Register for free to continue reading
Registration is a free and easy way to support our truly independent journalism
By registering, you will also enjoy limited access to Premium articles, exclusive newsletters, commenting, and virtual events with our leading journalists
Already have an account? sign in
Join our new commenting forum
Join thought-provoking conversations, follow other Independent readers and see their replies