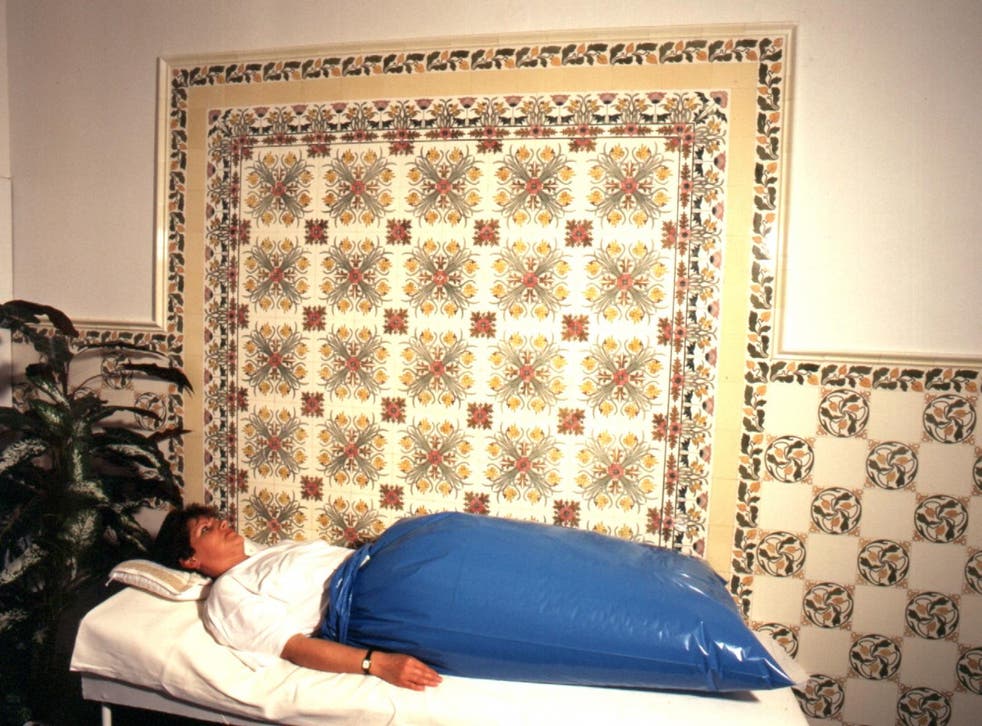 From forest bathing to 'halotherapy': 5 ridiculous wellness trends
Know your 'sound lounger' from your carbon dioxide bath with our guide to the latest and not-so-greatest spa innovations
Loulla-Mae Eleftheriou-Smith
Friday 07 October 2016 17:16 Comments
"Wellness" is all the rage these days, but we've noticed that some therapies doing the rounds at hotel spas right now sound suspiciously basic. Surely oxygen therapy is just breathing, right? Decide for yourself, as we explore a few of the more interesting treatments we've spotted on spa menus around the world.
Forest bathing, or "going for a walk"
Forest bathing is based on the Japanese practice of Shinrin-yoku. That may sound like some sort of elaborately mystical ritual, but in fact involves simply "being in the forest". You might call it walking, or even sitting, in, you know, a forest. The practice is supposed to exercise the mind as well as reduce stress by bringing you back to nature. Perhaps eager to jazz up the concept, The Mayflower Grace hotel (gracehotels.com/mayflower) in Connecticut has put together a forest bathing package that involves 90 minutes of skin cleansing treatments, using plant-derived lactic acid and exfoliators made with peat enzymes and berries. Finally, a "plant hydrosol ionising mist" supposedly boosts your lymphatic system with a "stimulating breeze". A forest bathing session costs $265 (£213).
Carbon dioxide dry bath, or "sitting in a bag"
Does lying fully clothed on a bed while wrapped in a bag of carbon dioxide sound fun? Didn't think so, but in the Czech Republic it's all the rage. In the west of the country – an area known for its natural gas – you can have a large bag wrapped around you all the way from your toes to under your arms and watch it slowly inflate with CO2. The treatment is meant to slow your heart rate, reduce your blood pressure and improve circulation, but this happens by the gas seeping into your clothes and skin – that thought would put most people's blood pressure up, not down. A treatment at Spa Hotel Svoboda (danubiushotels.com) in West Bohemia's Marianske Lazne costs CZK310 (£10).
So Sound lounger, or "napping and listening to music"
Yes, Tibetan singing bowl therapy has been around for centuries, but it's now been upgraded for the digital age. The So Sound lounger is meant to help you relax by, well, sitting in a lounger and listening to music. Revolutionary stuff. You're supposed to be able to take a "therapeutic nap" while the lounger sends musical vibrations through your body... A bit like an airport massage chair, perhaps? A 30-minute treatment at the MGM Macau Tria spa (mgmmacau.com/triaspa) costs MOP480 (£47).
Halotherapy, or "a salty room"
Halotherapy is actually a fancy name for salt therapy. In a natural setting, this treatment would mean sitting in a salt cave and breathing in the dry, salty air, which is supposed to be good for respiratory and skin conditions. Now hotels are replicating salt caves; the Windsor Arms hotel in Toronto (windsorarmshotel.com) has created a room filled with salt and negative ions that has darkened ambient lighting to replicate natural salt caves found in Europe. Supposedly this also helps strengthen the immune system, among other unusual health benefits (ear infections? Not sure about that). A 45-minute session costs C$45 (£35).
Oxygen therapy, or "breathing"
Oxygen therapy is supposed to help with headaches, depression and sleep deprivation by – that's right – breathing oxygen. It involves being hooked up to a machine, sticking some tubes up your nose and, well, breathing. This treatment is something that is administered on the NHS for people with low oxygen levels in their blood, but at the Olympia Spa Hotel in Marianska Lazne, Czech Republic (olympiahotel.eu) – which seems to be something of a hub for questionable spa treatments – it costs €20 (£18) for an hour's session.
Register for free to continue reading
Registration is a free and easy way to support our truly independent journalism
By registering, you will also enjoy limited access to Premium articles, exclusive newsletters, commenting, and virtual events with our leading journalists
Already have an account? sign in
Join our new commenting forum
Join thought-provoking conversations, follow other Independent readers and see their replies