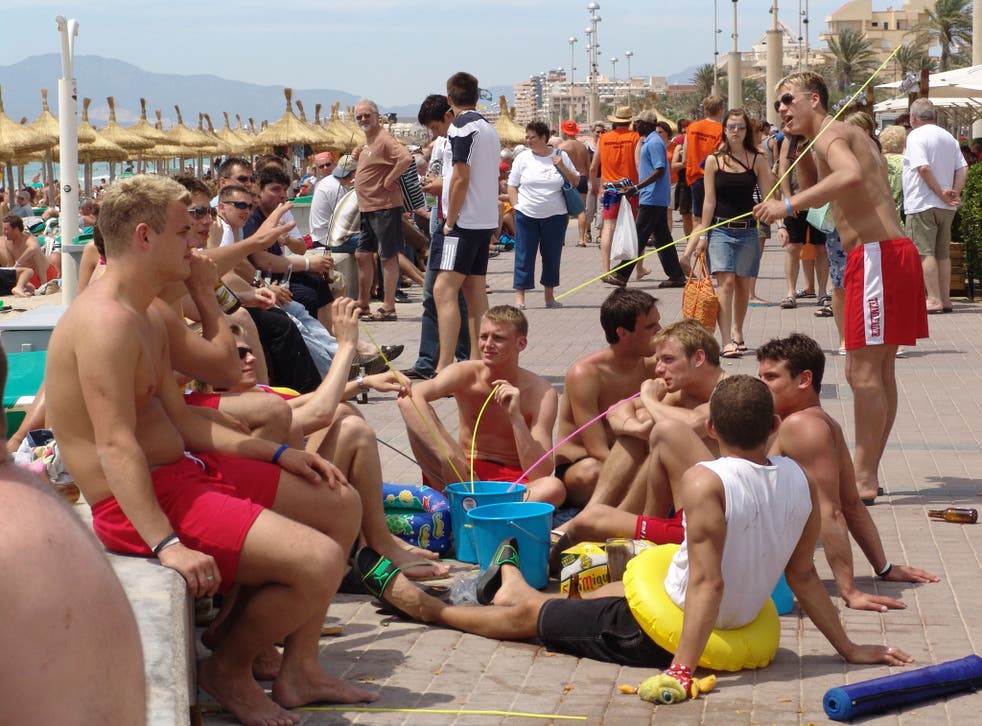 Have millennials killed the Club 18-30 holiday?
It looks like the comedown's kicking in for the hedonistic holiday brand
Joanna Whitehead Comments
The party may be winding down for Thomas Cook's 18-30 franchise, which recently announced that it was "exploring options" as part of a review of the brand which could lead to a sale.
Sun, sex and excessive amounts of sangria were once the hallmarks of this popular package, which aimed to appeal to young people seeking a cheap getaway. Accompanied by controversial advertising campaigns, the holidays proved to be a roaring success throughout the 1980s and 1990s, sending up to 100,000 people to Mediterranean destinations every year at its peak.
But the brand's USP also became its downfall, as tabloid exposés of humiliating drinking games and sexual misdemeanours were splashed across front pages. For a while, its bad reputation became part of its appeal, but changing tastes may finally put the enfant terrible of holidays to bed.
Thomas Cook's 2018 annual holiday report, published last month, stated that millennial's obsession with capturing the perfect selfie was a driving factor in their choice of hotel. Over half (52 per cent) of young people surveyed confessed that social media posts were a consideration during their booking process, with Thomas Cook labelling this "ego travel".
This is arguably part of a wider cultural shift away from hedonism and drug-fuelled all-nighters, and towards fitness and wellbeing. A report published last year revealed that 70 per cent of millennials are more likely to brag about how long it's been since they last drank alcohol, than about how much they last drank, earning them the label "sober socialites". The report, entitled Brighter Futures: Challenging Perceptions of Millennials, also claimed that millennials consume a mere five units of alcohol per week, which equates to about two small glasses of wine or two pints of beer. It's a far cry from the bar crawls and beer bongs that typify Club 18-30 trips.
Brits abroad - Magaluf

Show all 10
Millennials are also reported to value extended, meaningful trips over cheap and cheerful holidays. A 2014 report indicated that young travellers are more interested in exploring remote destinations, staying in hostels rather than hotels, and learning about a destination's culture and language. Increased awareness of environmental issues and the negative impact mass tourism can play on local communities and ecosystems is also something that is gaining currency for many travellers, who often wish to contribute to a culture, rather than exploit it.
Alastair Thomann, chief executive of hostel brand Generator, said: "The news about Thomas Cook's 18-30 Club is the end of an era for the travel industry, but also an indicator of how holidays have evolved over time for this age group. We've noticed a trend in young travellers choosing their next destination based on both the social and cultural experiences on offer, as well as the quality of images they will be able to post on their channels. Experiences like food, culture and music have now moved to the top of the priority list."
Thomas Cook's more contemporary alternative to Club 18-30 is Cook's Club, which promises "culinary hotspots", "mellow music" and upmarket cocktails. The tour operator said that it "remains committed to Club 18-30 for summer 2018," reported The Times.
Register for free to continue reading
Registration is a free and easy way to support our truly independent journalism
By registering, you will also enjoy limited access to Premium articles, exclusive newsletters, commenting, and virtual events with our leading journalists
Already have an account? sign in
Join our new commenting forum
Join thought-provoking conversations, follow other Independent readers and see their replies