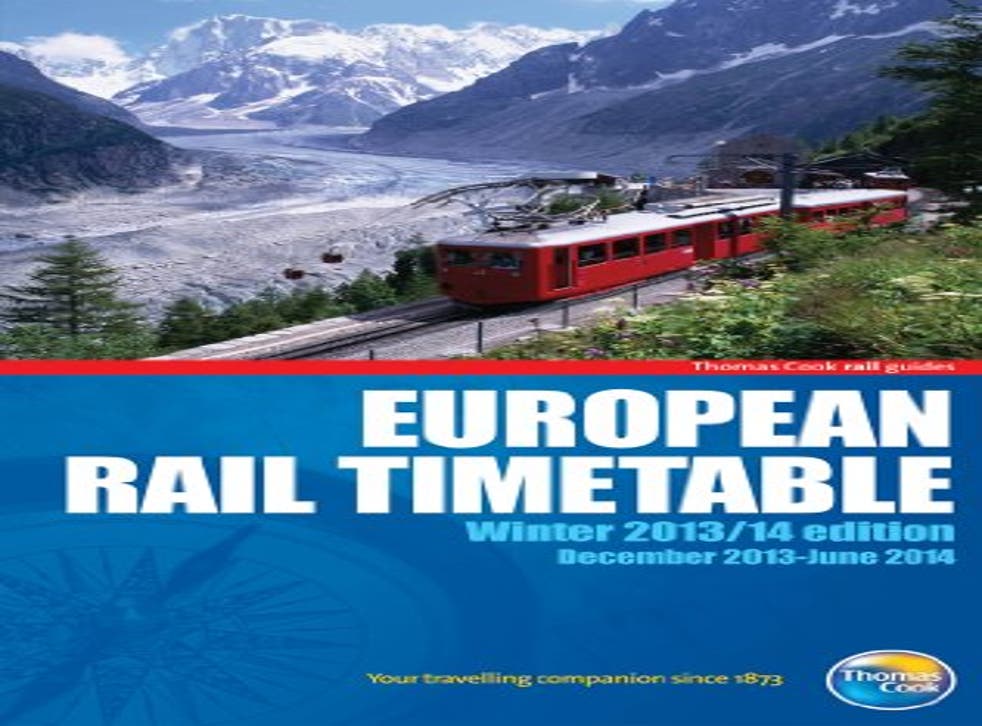 Thomas Cook's European Rail timetable reaches end of the line
After 140 years, number 1,526 will be the last
From Penzance to Palermo and Stranraer to Szczecin, train travellers have been able to rely upon the Thomas Cook European Rail Timetable - formerly Cook's Continental - for the past 140 years. But the next edition, number 1,526, will be the last.
Thomas Cook has told The Independent that it is abandoning its flagship publication, along with its travel guidebooks, because of "the company focus turning to its core products".
Two years ago the market capitalisation of Thomas Cook collapsed, losing over 90 per cent of its value. The turnaround plan implemented by its new chief executive, Harriet Green, has seen hundreds of High Street travel agencies closed and thousands of staff lose their jobs.
While the share price has recovered, the "on-going transformation and strategic review" has led to Thomas Cook abandoning its publishing business, even though the timetable is thought to be covering its costs.
In the days when Thomas Cook was at the heart of the travel industry, the rail timetable was as much a marketing tool as a profitable sideline. Prospective travellers who were inspired to make a journey could research a trip using the "Red Book" and then invite Thomas Cook to book it.
Today the company has little interest in trains: a brief search on the Thomas Cook website for a Eurostar train to Avignon resulted in the message: "There may not be any flights available on the day you have requested - or change the airport that you fly from". The firm sees its future in selling package holidays by air, not bespoke train trips.
Although every piece of information in the European Rail Timetable is available online, the European Rail Timetable distils the most essential information. Mark Smith, the founder of the international rail website Seat Sixty-One, compared online offerings to "Looking at a large timetable through a tiny keyhole - you can only enquire for a limited time slot on a specific date".
Mr Smith cites the example of seeking a Paris-Moscow train: "If you happen to pick the wrong day it'll say there are no direct trains, only awkward options with multiple changes. To see the convenient direct three-times-a-week Paris-Moscow express, you have to run the enquiry for a Tuesday, Wednesday or Saturday. How are you supposed to know this? Well, it's printed right in front of you in the Thomas Cook."
The timetable has been used by generations of InterRailers [correct style] and has acquired the status of a national treasure.
Nicky Gardner, co-publisher of Hidden Europe, said: "It has helped shape our lives and our travels, just as it has widened horizons for thousands of others. Rail travel in Europe will never be quite the same without Cook's".
A small team of experts compiles the timetable at the Thomas Cook HQ in Peterborough. It is believed that a rescue plan is under way, possibly involving one or more wealthy rail enthusiasts.
"I sincerely hope a way is found to save it from the wreckage of Thomas Cook," said Mark Smith.
Join our new commenting forum
Join thought-provoking conversations, follow other Independent readers and see their replies