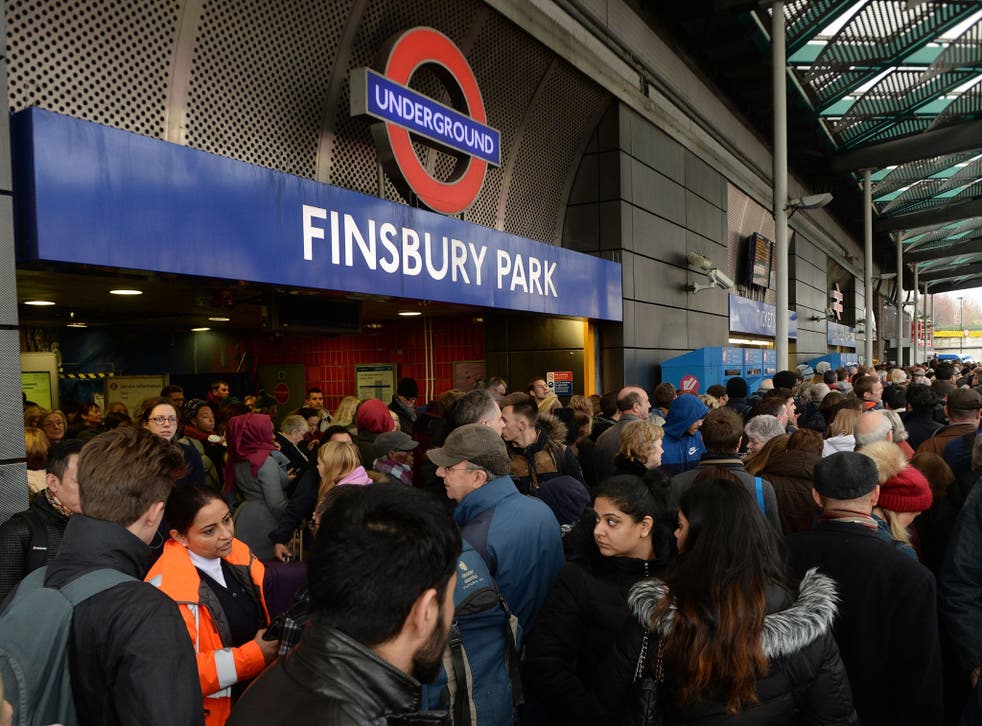 Rail delays: Railway watchdog to investigate after thousands left stranded as Finsbury Park station shut because of King's Cross train chaos
The railway regulator pledged to investigate the chaos, which caused misery for thousands
Britain's railway watchdog will investigate the chaos caused in London and around the country today by overrunning engineering work as thousands of people tried to head home after Christmas.
King's Cross station was closed to all trains and Finsbury Park, where services were diverted, closed because of overcrowding as it was swamped by huge crowds.
A spokesperson for the Office of the Rail Regulator, which can impose large fines, said services must be restored as soon as possible.
"The immediate priority is for Network Rail to ensure disrupted parts of the railways are back up and running again for passengers as soon as possible," he added.
"Network Rail, working with the rest of the industry, must learn lessons and prevent problems like this happening again."
Rail passengers heading north from London had been told not to travel today as stations struggled to cope with crowds.
Over-running engineering work at King's Cross meant no trains could depart on Saturday, moving reduced services to Finsbury Park, where buses were taking passengers to join trains running north to Leeds, Newcastle and Scotland.
But huge numbers of extra passengers flooding into the north London station forced it to be temporarily closed because of overcrowding on Saturday morning, with travellers comparing it to a "war zone".
It has since reopened with a queuing system in place to deal with thousands of stranded passengers.
As an estimated 2,000 people crowded the station and pavement outside, trying to get in, trains were held on the tracks because the platforms were too busy for passengers to disembark.
One Twitter user said a man had attempted to climb out a train window after an hour at a standstill and a passenger on a waiting train reportedly had a panic attack.
Pictures from inside Finsbury Park station showed people cramming escalators, stairs, hallways and corridors unable to move in the crush.
"Finsbury Park station is maybe the worst place in the world right now," said one beleaguered traveller. "Complete human gridlock."
Tickets are being made valid on Sunday and Monday because of the inconvenience.
A spokesperson for East Coast trains said: "Network Rail has apologised to passengers for the inevitable delays to their travel plans on Saturday as a result of the overrunning engineering works.
"East Coast is particularly sorry too for the inconvenience to its customers as a result, on what we know is an already very busy travel day immediately following the Christmas break.
"For customers intending to start or finish their journey at King's Cross, consideration should be given to deferring travel plans to either Sunday or Monday.
"We're working hard over the holiday period to make the necessary adjustments to our timetable as a consequence, and to provide as much information as we can."
Network Rail's managing director Robin Gisby told the BBC: "We've caused dreadful disruption, we bitterly regret what's happened… we've let a lot of people down."
Transport Secretary Patrick McLoughlin said: "The situation on the railways this weekend has been totally unacceptable. Passengers must be able to trust that vital engineering works on the rail network will be completed on time. Passengers deserve no less.
"I will be asking Network Rail to set out what went wrong and how they can learn lessons, but its priority must be to get services running into King's Cross as well as Paddington."
It was not the only line facing delays and cancellations on Saturday, as travellers attempted to avoid snow and ice on the roads.
Travel chaos around the UK

Show all 6
Signalling problems near Southampton were causing delays and cancellations on South West Trains between Salisbury, Romsey, Portsmouth and Fareham.
Fallen trees brought down by high winds overnight were affecting services through Basingstoke, Hastings and Tunbridge Wells, while over-running engineering works between London Paddington and Hayes were delaying services on routes to Oxford, Cardiff and Exeter.
People were hit by trains in Northampton and Gowerton, in Wales, also causing temporary line closures.
Meanwhile, West Coast Main Line services are not running between London Euston and Hemel Hempstead iuntil 29 December, due to engineering works.
Network Rail said the engineering work near King's Cross was part of a £200 million Christmas investment programme, with most services expected to return to normal on 5 January.
It is one of 300 projects being undertaken over the holidays at 2,000 sites up and down the country by 11,000 engineers.
A spokesperson said: "What has happened is really regrettable and unfortunate, but it is a small part of a massive amount of engineering investment taking place over Christmas."
4.5 million passengers use the railways on a normal day, compared with two million over the holidays, he added.
A spokesperson for the Department for Transport said: "It is extremely disappointing that Network Rail's engineering works have overrun and will affect travellers during this festive season. Passengers will be rightly annoyed.
"This was essential work but passengers need to be able to plan and rely on Network Rail meeting its deadlines for having the network back in service.
"The department is in contact with Network Rail to understand what went wrong and if lessons can be learned for the future."
Join our new commenting forum
Join thought-provoking conversations, follow other Independent readers and see their replies