The Independent's journalism is supported by our readers. When you purchase through links on our site, we may earn commission.
Top 10 cities for vegan travellers
Vegan diets are exploding in popularity around the globe, which makes travelling as a vegan much easier. Elizabeth Warkentin rounds up the places where you'll never have to resort to a soggy sandwich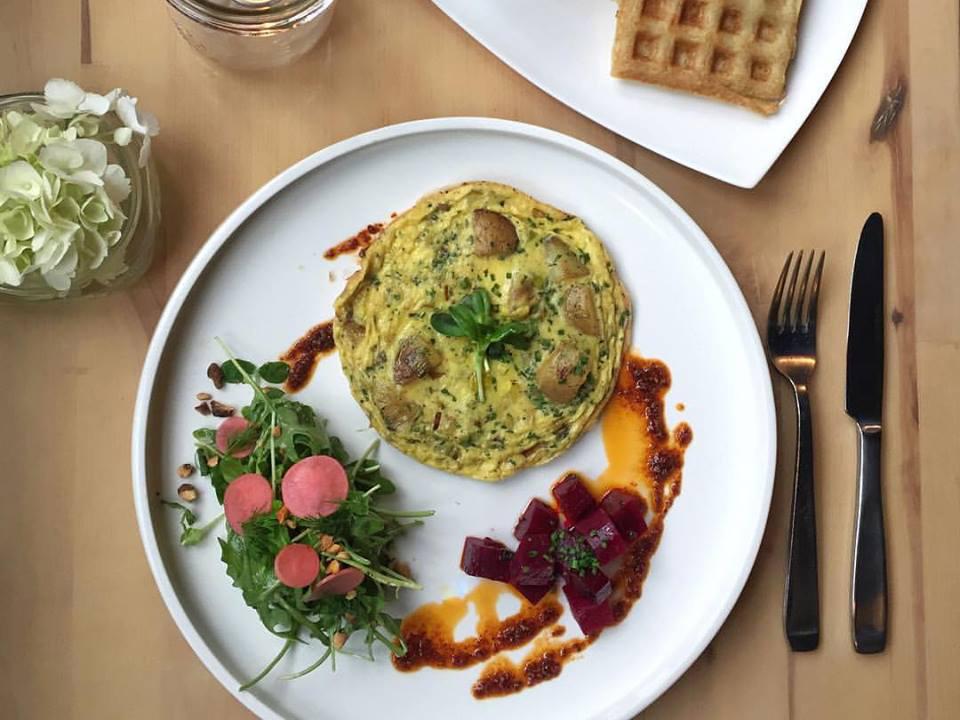 For many vegans, travelling and eating out can be a frustrating and isolating experience. But as more chefs and restaurants are catching on to vegan food – even Mr Vegas Steve Wynn introduced plant-based options in his casino restaurants when he made the switch himself – things are changing. Gone are the days of drab Hari Krishna, cafeteria-style establishments, or restaurants removing the ham from a dish. Today's vegan digs are helmed by top chefs, have smart, fashion-forward decor, and many carry impressive bar offerings.
Here are 10 cities that make travelling as a vegan a little less lonely:
Turin
If mayor Chiara Appendino has her way, Turin, the capital of Piemonte, will be Italy's first official "vegetarian city". It's a bold move for a region that prides itself on typical dishes like carne cruda (minced raw beef) and bollito misto, a stew made from tough cuts of boiled veal, beef and chicken. Mayor Appendino says she wants to safeguard the environment and plans to raise awareness by having schoolchildren learn about healthy eating and animal welfare. With more than 30 restaurants, cafés and shops serving vegan and vegetarian fare, Turin's veggie eateries are on the rise and Turin Tourism has published a list to help vegans navigate the culinary scene.
Berlin
Move over Portland – the new capital of vegan cool is Berlin. With over 50 purely vegan restaurants, cafés and ice cream parlours – and an estimated 80,000 vegan residents – the German capital is swiftly getting a reputation. But the cruelty-free movement here extends beyond food. Ethically minded vegans can also find clothing, beer and wine, and even sex toys without leather or latex, which often contains milk proteins. Annual August festival Veganes Sommerfest Berlin (which features music, games, athletics and a fashion show) attracts around 60,000 people.
Kebabs rule in Germany, of course, but vegans don't have to miss out at Vӧner, the first cruelty-free doner kebab house in Berlin. Kopps is deemed one of the best fine-dining vegan restaurants globally. For dessert, Kontor Eismanufaktur dishes out exclusively plant-based ice cream, also dispensing with dyes, aromas, additives, vegetable fats and emulsifiers.
Helsinki
Had enough of talk of pulled pork? Never fear; in Finland you can feast on pulled oats. Nyhtökaura, a meat substitute consisting of Nordic oats and broad beans, might soon become Finland's biggest food export. Yes, really.
While exclusively vegan restaurants are still scarce in Helsinki, vegan-friendly chefs are plentiful and vegetarian restaurants favour plant-based cuisine, including those pulled oats. Helsinki is easy to navigate, thanks to surprising, flavourful spins on Nordic cuisine. Most cafes use oat milk, which make a nice change from soy. Weekly publication Helsinki This Week has a list of recommended vegan and vegan friendly restos.
Tel Aviv
Veganism has been on the rise for some time in Israel, but things came to a head in December 2014 when protesting Israeli soldiers threatened to revolt if the army didn't start giving vegan options on the cafeteria menu. With nearly five per cent of Israelis now eschewing meat, dairy, and eggs, Israel is now per capita the world's biggest vegan nation. With over 400 vegan and vegan friendly establishments, cosmopolitan Tel Aviv has become such a hotspot that even Domino's serves animal-free pizza, and there's the first vegan – and kosher – cooking school in the country, the Vegan Experience. Every September the city hosts Vegan-Fest, one of the world's largest vegan festivals.
Shabby chic Zakaim does consistently good Persian-influenced dishes. At Nanuchka, the world's first purely vegan Georgian restaurant, you'll enjoy a fresh take on meat-heavy Eastern European food. It goes without saying that vegan staple falafel can be found virtually everywhere, but at the Veg Shawarma you can satisfy your shawarma craving secure in the knowledge that you haven't harmed any animals.
Chennai, India
It's estimated that up to 50 per cent of the Indian population is vegetarian, and while veganism is a new concept in the West, a meat-free lifestyle has been ingrained in Indian culture for thousands of years. South Indian cuisine typically makes use of rice, pulses and coconut milk, and vegan and vegetarian dishes in Chennai's restaurants abound. For an Indian fine dining experience, try the Royal Vega at the ITC Grand Chola hotel. According to the hotel's website, the "cuisine is Pan Indian in nature and explores the blend of condiments, vegetables and lentils with a generous dollop of jouissance."
Melbourne
Australia's second city has long been progressive, but in recent years the vegan movement in Melbourne has been barreling across the city like a train that's lost its brakes. Get your pizza fix at stylish Red Sparrow Pizza, indulge your sweet tooth at the new dairy and egg-free vegan dessert bar Girls and Boys, or enjoy a more upscale dining experience at Transformer.
San Francisco
Thanks to its healthy, hippie haven vibe, San Francisco's home to some of the best and most innovative raw, vegetarian and vegan eats in the world. There's nothing quite like vegan Mexican food that's meant to be a meal, not just a side dish. Head to Gracias Madre in the Mission District for a scrumptious, guilt-free Mexican experience. And just because you're vegan, there's no need to sacrifice your love of sushi. Nearby Shizen serves up innovatively delicious veggie rolls, nigiri, and ramen, while for gourmet fine dining, check out the award-winning Millenium across the bridge in Oakland.
Austin, Texas
Texas, no way?! Yes way. Whole Foods started here in the 1970s and the movement's is stronger than. If you love food trucks, be sure to stop by Guac N' Roll, a vegan friendly Tex-Mex food truck. For an Austin twist on Indian grub, head to Gra'j Mahal. For afters there's Sweet Ritual, a vegan ice cream parlour.​
Vancouver
The world's third most liveable city — after Melbourne and Vienna — Vancouver has been gaining accolades on the world vegan stage. Satisfy both your palate and your aesthetic sense with The Acorn's award winning, exquisitely plated oeuvres; join the vegetable-forward revolution of two self-proclaimed "plus sized" chefs who quit meat to get healthy at stylish Heirloom Vegetarian; and shop for cruelty free kicks, bags, belt, wallets and even chocolate at Nice Shoes.
London
Better known in recent years for its "snout-to-tail" establishments, London's vegan scene has been blossoming. The US arm of PETA once selected it as the most vegetarian friendly city in the world, not only because of its 100+ vegan, vegetarian and veg-friendly restaurants but also because of the striking variety of meatless ethnic cuisine. London is also home to vegan tattoo parlour Fifth Dimension Tattoo.
Vegan foodies will have plenty to satisfy their discerning taste buds here. Try Manna, a favourite with the Primrose Hill set, whose entirely vegan kitchen is inspired from round-the-world cuisine. Sara Mittersteiner, aka Pomodoro e Basilica, is a vegan Italian foodie who runs a street food market stall every weekend at Boiler House in Brick Lane, as well cooking classes and a vegan supper club from her home. Lovers of "dude food" will rejoice at Deptford veggie and vegan café The Waiting Room, which serves meat-free wings, BBQ ribs, hot dogs and burgers. In January, Temple of Hackney, a fried vegan "chicken" shop owned by a former KFC-employee-turned-vegan, opened in Hackney to massive queues.
Join our commenting forum
Join thought-provoking conversations, follow other Independent readers and see their replies