Tourist damages historic Brussels statue one day after £15,000 restoration revealed
Irish holidaymaker arrested after snapping off part of monument's hand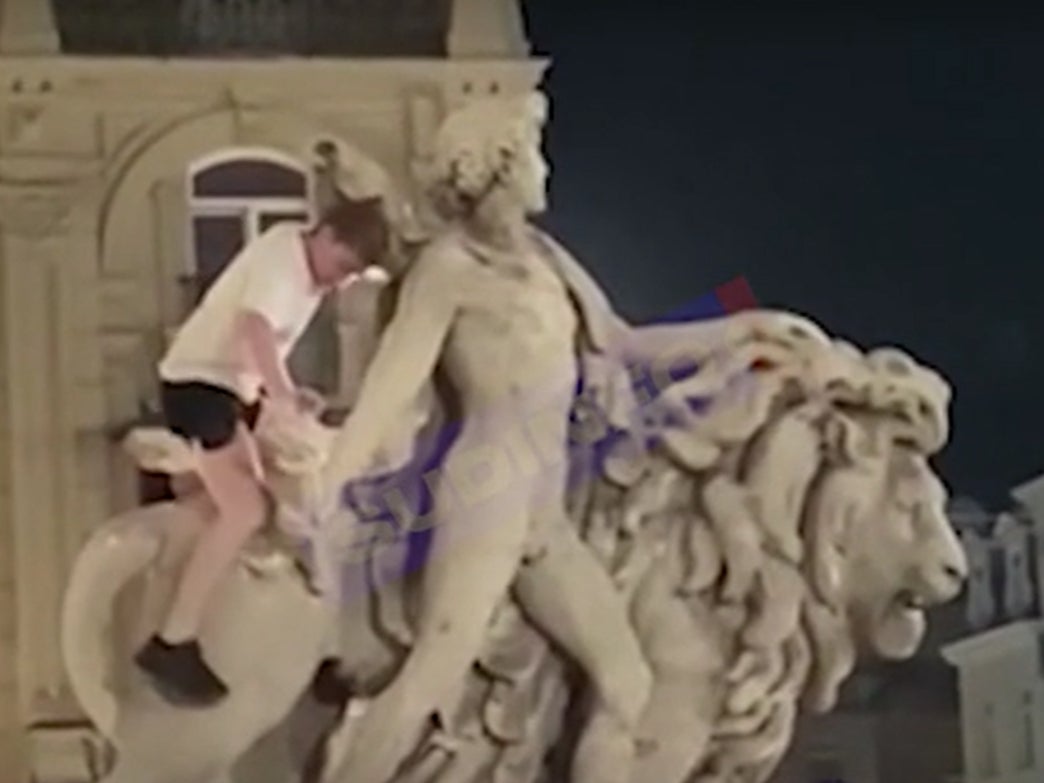 An Irish tourist has broken a historic statue in Belgium just one day after it was unveiled to the public following a £15,000 restoration.
The unnamed man was arrested after snapping off part of the hand bearing a torch on the monument in front of the newly reopened Brussels Stock Exchange, reports Belgian outlet VRT NWS.
The building, now home to the new Belgian Beer World experience, had reopened the day before, on Saturday 9 September, after undergoing major renovation work that cost £77m in total.
Video shared online shows the moment the holidaymaker, who appears to be drunk, clambered on the statue depicting a man holding a torch next to a lion.
The footage shows him then steadying himself as goes to jump back down, managing to break off the torch and a large part of the statue's arm.
Police cameras captured the act of accidental vandalism, and the man was reportedly intercepted and arrested by law enforcement in a nearby fast food restaurant not long after.
The building is now keen to claim the thousands of pounds-worth of damage directly from the tourist.
Nel Vandevennet, who managed the restoration project, described the man as being "in a merry mood".
"The repairs are going to cost a lot of money because the work will have to be done by real craftsmen," he said.
"It is listed heritage and there will be follow-up from the monuments and landscapes agency of the Brussels region.
"We would like to carry out the repairs quickly, but it will surely take a few weeks or even months.
"The whole building has only just been restored to its former glory, including the two lions which were in a bad way.
"We thought the sculptures would enjoy greater respect. We just think it's very sad this happened."
It is the latest in a long line of incidents of tourists behaving badly this summer.
A British tourist in Rome hit headlines when he carved his name into the Colosseum; the same act was repeated not soon after by a teenage girl on holiday in the Italian capital.
Join our commenting forum
Join thought-provoking conversations, follow other Independent readers and see their replies