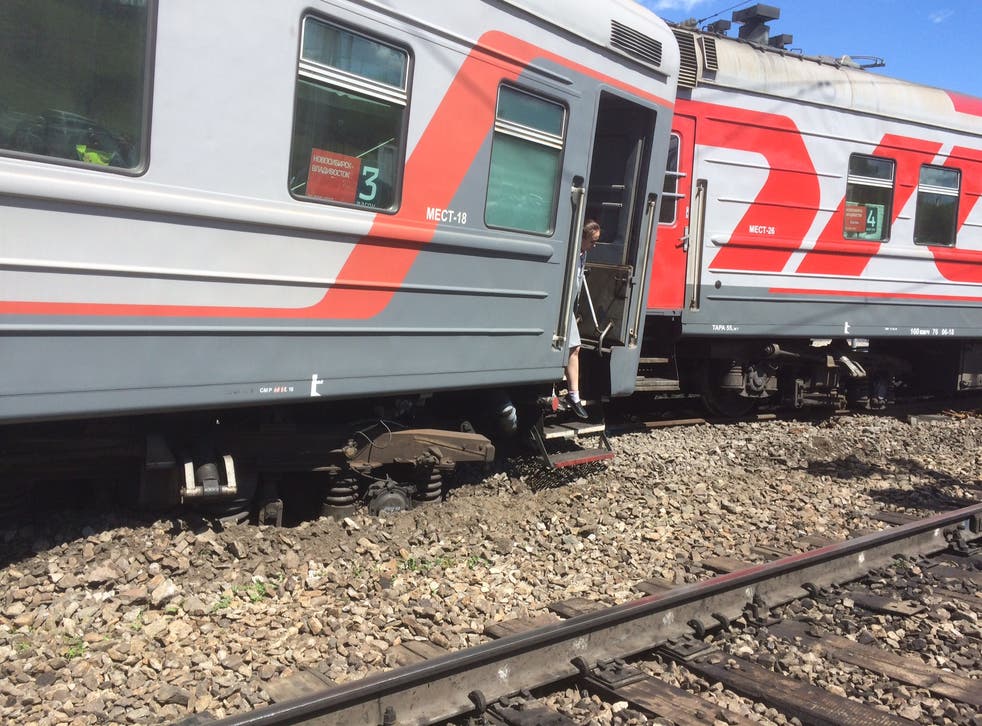 Trans-Siberian Railway train derails after passenger reports feeling 'massive jolt'
Exclusive: 'Within an hour they had a crane, mechanical diggers and a very large workforce on site,' said the lone British traveller
A train heading for Vladivostok on the Trans-Siberian Railway has derailed, causing havoc on the world's longest railway line.
The accident happened at 11.37am local time on Saturday 1 June about 50 metres west of Kuenga station in eastern Siberia.
Four carriages were derailed, with two of them seriously damaged.
All the passengers were evacuated without injury.
The lone British traveller aboard the express was Geoff Evans, a retired deputy head teacher from East Sussex.
Fiery train crash Cairo: in pictures

Show all 10
He told The Independent: "There was a massive jolt and everyone lurched forward.
"Looking out of the window I could see local people on motorbikes and my first impression was that it felt as though the train had run over a motorcycle. In fact it had 'run over' the rails."
It is not clear what caused the derailment, but several carriages were badly damaged.
The eastbound Train Number 8, one of Russian Railways' flagship services, had passed the halfway point through its four-and-a-half day journey from Novosibirsk in central Siberia to Vladivostok on Russia's Pacific coast.
Mr Evans boarded the train at Ulan-Ude on Friday afternoon for the final leg of a rail adventure through the world's biggest country, which had begun in St Petersburg.
"Within an hour they had a crane, mechanical diggers and a very large workforce on site," said Mr Evans.
The line was blocked in both directions for six hours as engineers lifted the carriages back on to the tracks.
"After a couple of hours they gave us water, and a couple of hours later some bread, ham and cheese," Mr Evans said.
"We were then taken by train to a larger station where we spent three hours."
Engineers examined the train at Chernyshevsk-Zabaikalsky station. It was not taken out of service, but the restaurant car was removed because of damage.
Passengers were given dried noodles and what Mr Evans describes as "something in a tin".
Remarkably, given the scale of the derailment, the train continued its journey only nine hours late – and even made up time, arriving in Vladivostok six hours behind schedule.
Unfortunately the late arrival meant that Mr Evans missed his planned visit to a former Soviet submarine base. He is now travelling back to the UK.
Support free-thinking journalism and attend Independent events
But he was philosophical about the derailment and subsequent delay, saying: "It was an adventure and will be a good talking point.
"I have had a great adventure. I never felt unsafe, and all the people were very friendly. But very, very few had any English language."
Services on the Trans-Siberian Railway are now back to normal.
Join our new commenting forum
Join thought-provoking conversations, follow other Independent readers and see their replies