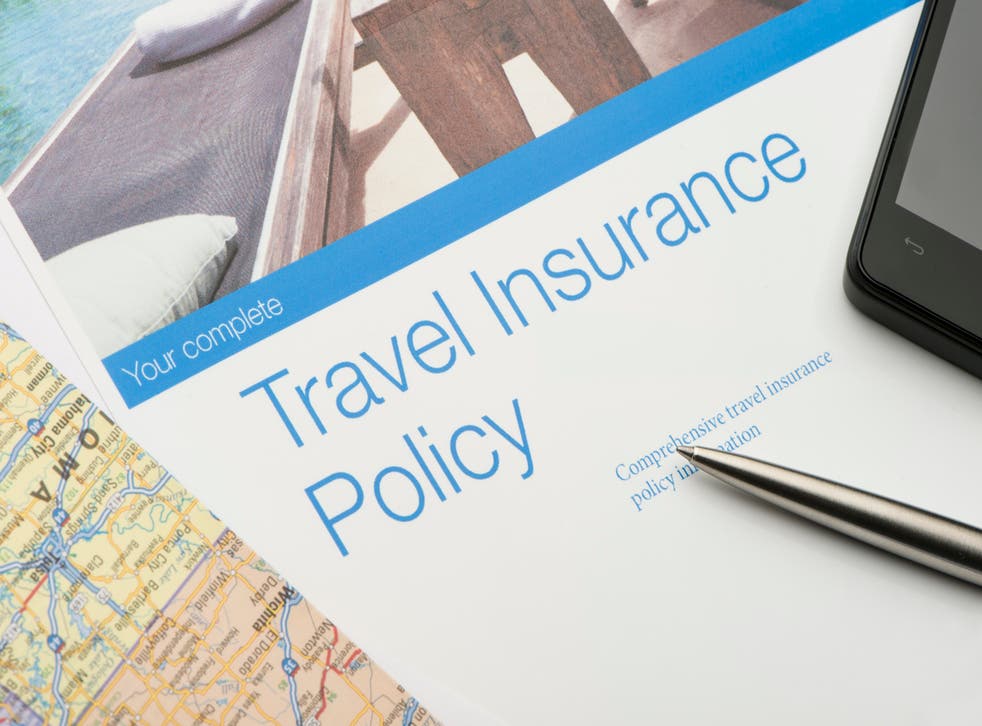 Travel insurance: Everything you need to know to buy the perfect policy
Choosing the right policy can be a minefield - this guide will help you decide which type is right for you
Simon Calder
Travel Correspondent
Tuesday 04 July 2017 16:52 Comments
Record numbers of holidaymakers are heading abroad this summer, which means that more people than ever are likely to encounter problems, whether accidental, criminal or medical in nature. The costs involved which could be alarmingly high – and some will sadly find that they are not covered. This guide should prepare you for the strange, complex world of travel insurance.
Do I need travel insurance?
That depends on your appetite for risk when travelling abroad. A travel insurance policy covers a wide range of potential pitfalls, starting with the possibility that you may not take the trip at all.
Almost any holiday involves paying money well in advance, and losing some or all of it if you can't travel – because you have an accident, a relative falls ill or you get caught in an unholy traffic jam on the M25. Most travel insurance policies cover cancellation and its cousin, missed departure.
Next, all manner of things can go wrong on holiday. You could be a victim of theft, or need medical evacuation, or even, if you are really unlucky, die abroad. All of these mishaps come with a price tag. Subject to a slew of terms and conditions, travel insurance will meet most or all of the costs involved when the unexpected happens. You need to decide what risks you are prepared to accept, and therefore whether to pay out for something you hope you'll never need to use: travel insurance.
Isn't it silly to travel uninsured?
It's silly not to consider whether or not to take out travel insurance, but going without might be rational.
A very few countries, notably Cuba and Uzbekistan, demand that all overseas visitors have travel insurance. But for other trips, you might sensibly decide not to insure.
If you have booked a package holiday to the Med, then if you are unable to travel you can sell or give the trip to someone else (subject to a name-change fee of around £50). Most countries in Europe are covered by the European Health Insurance Card (EHIC) scheme, offering treatment on the same basis as local citizens. And you may already have cover for valuables through your household insurance policy, or indeed not be carrying anything that you can't afford to replace.
If your age or medical condition means that you face high premiums, you may rationally decide to self-insure – in other words, not insure at all. My 87-year-old mother-in-law takes a ridiculous number of European holidays each year, and on my advice pays not a bean for travel insurance.
But for most people going to most places, travel insurance is an excellent idea. Place a copy of the policy, plus the emergency contact number, with your essential documents.
Should I buy a single trip or annual policy?
It all depends what you're planning. If you typically take a two-week annual holiday abroad plus one short break, then insurance to cover specific trips will probably work out best. But pretty soon it becomes worthwhile to buy a policy that allows an unlimited number of overseas holidays each year, subject to a maximum trip length – usually a month. You may be able to pay extra to extend this limit.
Why is there a limit on the length of trips?
Welcome to the world of actuaries. Insurance works by all the policyholders clubbing together into a fund that limits the downside when bad stuff happens. They pay a premium which will ultimately help only a small minority of them.
The level of that premium is assessed by women and men who use historical data to calculate how much the fund will pay out. And they know that the longer you are on holiday, the higher the risk.
Should I use a price-comparison site?
If you are under 65, with no pre-existing medical conditions and plan no adventurous activities, then searching online will help you get a sense of price levels. The cheapest deals will typically offer a strong level of medical cover, but with limited or no protection for cancellation, property loss and peripheral benefits such as delays.
Once you know the cost of a basic no-frills policy, you could just check you're happy with the small print and buy it. But it makes more sense to decide the risks that are important to you, and get a policy that covers the key elements.
If you have an expensive trip planned a long way ahead, then you will need an appropriate length of cancellation cover, which could put the price up. Conversely, if you are not going to be exposed to substantial potential losses (for example, because you always book late or choose cheap camping holidays in France), you could choose a low-cost, no-frills policy that is mainly concerned with medical emergencies.
The premium will also depend on the excesses you are prepared to tolerate: if you accept that the first £200 of any claim for personal effects will not be paid, you can expect a lower price than if the excess was only £50.
Why do premiums go up for "worldwide" policies?
Claims for incidents inside Europe are, on average, lower than those from further afield – partly because of the benefits of the European Health Insurance Card (EHIC). Costs for medical treatment in North America are much higher than elsewhere; because so much of the cost of providing cover is related to health issues, premiums are pushed up accordingly.
Note that "Europe" is defined differently by different insurers. If you are aiming for Morocco or Egypt, for example, seek out a European policy that includes them.
Why do people in poor health get ripped off?
Travel insurance is a ferociously competitive industry, and many companies will want your business. But they also want to price the risks realistically. Experience shows that travellers with existing medical conditions tend to result in more claims than the population as a whole, and the cost of those claims is higher than average. Therefore they want full disclosure of your health condition in order to calculate the premium. Often this will be many times the cost of a policy for a person of average health.
What happens if I lie about my illness?
In the event of a medical claim, you are likely to be found out. The insurer will want full details from your GP of any pre-existing medical issues related to the condition. If it turns out that you have not disclosed the full picture, then the claim could be turned down.
Why are annual policies for older travellers so expensive?
Partly because premiums rise in line with age, but also because the insurers know a significant proportion of the older population takes lots of holidays, often in exotic parts of the world. Taken together, that adds up to a sharply increased risk profile.
Staysure and Saga specialise in travel insurance for older travellers, and may offer the best-value policy for you.
If I have an accident while drunk, am I still insured?
It depends. Insurers typically exclude "any claim arising from you being under the influence of alcohol". The question, of course, is how to define being drunk. Insurers will always investigate the circumstances of your claim. A couple of glasses of wine with dinner would not count, but a bar crawl may well.
A parent is dangerously ill, and I may not be able to travel. Will I be able to claim?
Not if the condition was known at the time you took out the policy.
If you believe there is a significant risk that you may need to cancel because of existing circumstances, then booking well ahead is not a wise strategy. Many of the people who contact The Independent travel desk are seeking a way out of trips planned months in advance for off-peak dates.
Does an annual policy cover a Gap Year?
No, because of the limit on the length of individual trips. There are plenty of options that cover an entire year, and you can compare prices on sites such as MoneySuperMarket and GoCompare.
Bear in mind that Gap Year travellers often have an appetite for adventurous activities; assess the possibilities, from bungee jumping to learning to scuba dive, and make sure those activities are covered.
Do I need special cover for climbing Kilimanjaro?
Probably. You will qualify for a "trekking up to 6,000m" policy because Africa's highest mountain is 105m lower than that limit, and because it's a long walk rather than a technical climb. But for anything higher and more ambitious, consult policies offered by the British Mountaineering Council.
Who do you insure with and why?
I shopped around for an annual family policy that has winter sports cover, a good level of cancellation cover and reasonable excesses, but not scheduled airline failure (I don't intend to buy any tickets on at-risk airlines). I paid £223 through insurefor.com, but many other good policies are available.
Register for free to continue reading
Registration is a free and easy way to support our truly independent journalism
By registering, you will also enjoy limited access to Premium articles, exclusive newsletters, commenting, and virtual events with our leading journalists
Already have an account? sign in
Join our new commenting forum
Join thought-provoking conversations, follow other Independent readers and see their replies