The Independent's journalism is supported by our readers. When you purchase through links on our site, we may earn commission.
Drone holidays and edible resorts: What to expect from travel in 2017
The weird and wonderful things to look out for on your next trip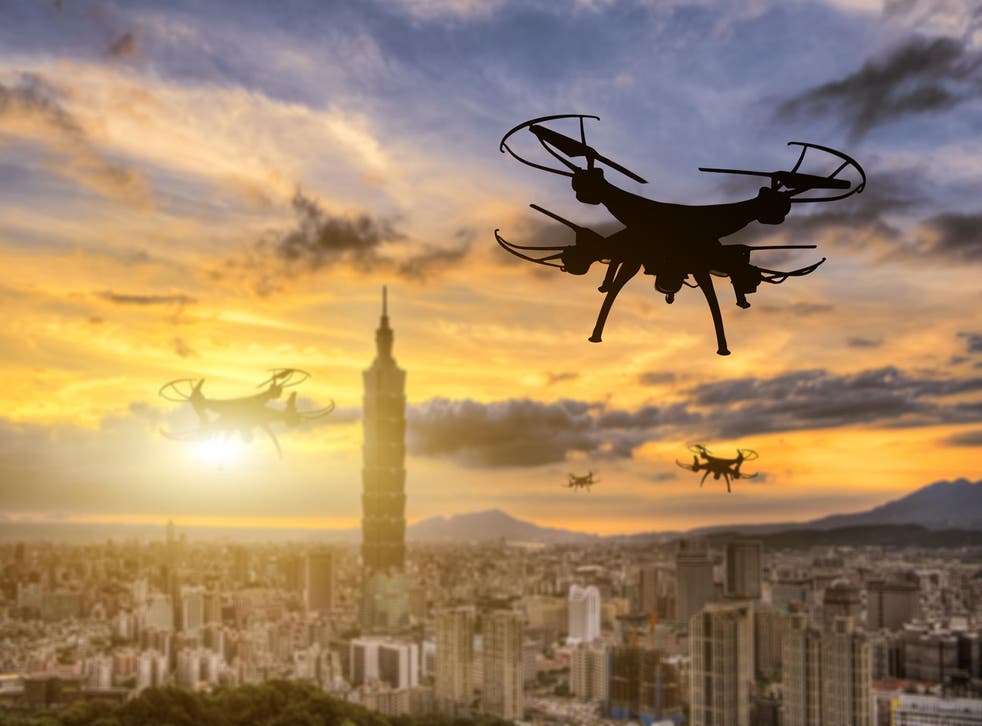 The curtain is about to fall on 2016 – a year that has seen an exciting number of developments for travellers, from in-room hotel tech to advances in aviation. But a lot more lies in store as we enter 2017.
Retina scans, virtual reality tours and "digital pills" are just some of the developments we can expect for the year ahead. Here's our travel forecast.
Hotels
We'll be turning the lights off with our voices
Voice-activated rooms are now a reality, thanks to Aloft Hotels. Rooms at its properties in Boston and Santa Clara offer an iPad equipped with an Aloft app and Siri, Apple's "personal assistant", so you can adjust temperature, lighting and music just by speaking. Which sounds more fun than the usual frustrating search for the light switch.
The key card will be a thing of the past
Getting into a hotel room is becoming more elaborate as properties increasingly use high-tech security methods. At boutique hotel Alma Barcelona, guests use their fingerprints instead of keys to access rooms. At Boston's Kimpton Nine Zero hotel, you need to undergo an iris scan before opening the door of its uber-luxe Cloud Suite. Very handy for anyone with a habit of losing keys.
We'll take a bite out of 'edible resorts'
Farm-to-table experiences are well established – but now "edible resorts" are emerging, with everything from salads to entrees being grown in the hotel grounds. Croatia's Bellevue Hotel has herb gardens on its roof, while goats graze on the golf course of Kittitian Hills in St Kitts. "We are placing hotels within vineyards, under olive groves and above edible parterres," John Goldwyn, vice president of hotel design firm WATG, said. "Why have a fruit bowl when you can wander onto your balcony and pluck an orange from the tree?"
Transport
Newer aircraft will leave us less jet-lagged
Modern planes have a host of benefits for travellers, such as mood lighting and cleaner air in cabins, which help reduce the effects of jet lag. "Lighting is around 70 per cent linked to how the body reacts to jet lag," aviation analyst Alex Macheras says. "A cabin featuring sunrise tones, even if it's midnight in your head, helps your body adjust to your new time zone." Onboard wi-fi will also become standard on many airlines by the end of 2017.
Airports will start identifying slow passengers
There's now even more incentive not to be late for a flight. From Easter, Heathrow airport will use new passenger profiling technology to identify which passengers are most likely to miss their connection. The system will analyse 33 pieces of information including cabin class, nationality, whether you have bags and the type of plane you're travelling on. Those identified as slow at making their way through the airport could be placed on to later flights or provided with a bus in a bid to cut delays.
We'll be swallowing 'digital pills'
Well, maybe. British Airways has patented a "digital pill" – an ingestible sensor that transmits how you're feeling so cabin crew can provide what you need. The chip is apparently going to be able to monitor stomach acidity levels so your in-flight dining options can be changed accordingly. Whether this ambitious idea actually takes off is unclear; if it does, the pill might be the only snack you eat on a BA flight – the airline is about to start charging economy passengers for food on short-haul flights, and has scrapped free "galley snacks" on long-haul services.
Websites and apps
We'll be 'hyping' our favourite places to friends
Described as "Snapchat meets TripAdvisor", Hypit is a recommendation app that allows users to review restaurants, bars and venues with photos and videos instead of lengthy text. You can follow friends and influencers, meaning the recommendation, or "hype", comes from someone you trust. Oh, and the company's co-founder is Magic Mike star Alex Pettyfer, who claims the app "takes the power of a peer recommendation and curated discovery to a whole new level".
You'll be able to call special forces at the touch of a button
Download the new OverWatch app and special forces support will be provided at the touch of a panic button anywhere in the world. Developed by security group DS-48 as a response to the rising terror threat, it tracks users every three minutes to within eight metres. If need be, an emergency response team can be deployed to deal with natural disasters, medical emergencies, kidnappings and hostage situations. The service costs from £65 per month.
We'll be booking more than just a room with Airbnb
The "sharing economy" is going from strength to strength, and Airbnb has expanded its accommodation offering with a new service allowing users the option to book "immersive" travel experiences. Hosted by locals, the "Trips" offerings include truffle hunting in Tuscany and violin making in Paris. The rental website also plans to expand into restaurant and flight services in the future.
Experiences
Tours will take you back in time
Virtual reality is a growing trend in travel, and Viator has responded by launching a number of VR tours, including a two-hour guided group tour of Pompeii. Wearing a 3D VR headset, you'll be able to step back in time and immerse yourself in the city as it once was, watching historical re-creations at the main points of interest. From £71.38 per person.
We'll be booking drone holidays
Who needs photos on a phone when you could have your own private Hollywood movie? You can now have your holiday filmed from above on a Drone the World trip from Black Tomato, which links guests with professional drone camera operators – including some who have worked on James Bond and Star Wars films. Prices start from £4,000 per person. Black Tomato's co-founder Tom Marchant said: "Along with being able to see your travels from a whole new vantage point, it also allows clients to focus on the experience, which is truly special, instead of worrying about getting the right shot."
We'll see more women-only trips
An increasing number of female-only sport holidays will launch in 2017, particularly when it comes to active travel. Among them are the Girl Power Pyrenees cycling tour from Pedal Nation in September, and the first women-only ski and snowboard camps from Ticket To Ride in April. Linley Lewis, founder and director of Ticket to Ride, said: "Women often love to learn from other women and, for some, it's also less intimidating being in an all-female group."
Click here for the latest travel offers from Independent Holidays
Register for free to continue reading
Registration is a free and easy way to support our truly independent journalism
By registering, you will also enjoy limited access to Premium articles, exclusive newsletters, commenting, and virtual events with our leading journalists
Already have an account? sign in
Register for free to continue reading
Registration is a free and easy way to support our truly independent journalism
By registering, you will also enjoy limited access to Premium articles, exclusive newsletters, commenting, and virtual events with our leading journalists
Already have an account? sign in
Join our new commenting forum
Join thought-provoking conversations, follow other Independent readers and see their replies