The Independent's journalism is supported by our readers. When you purchase through links on our site, we may earn commission.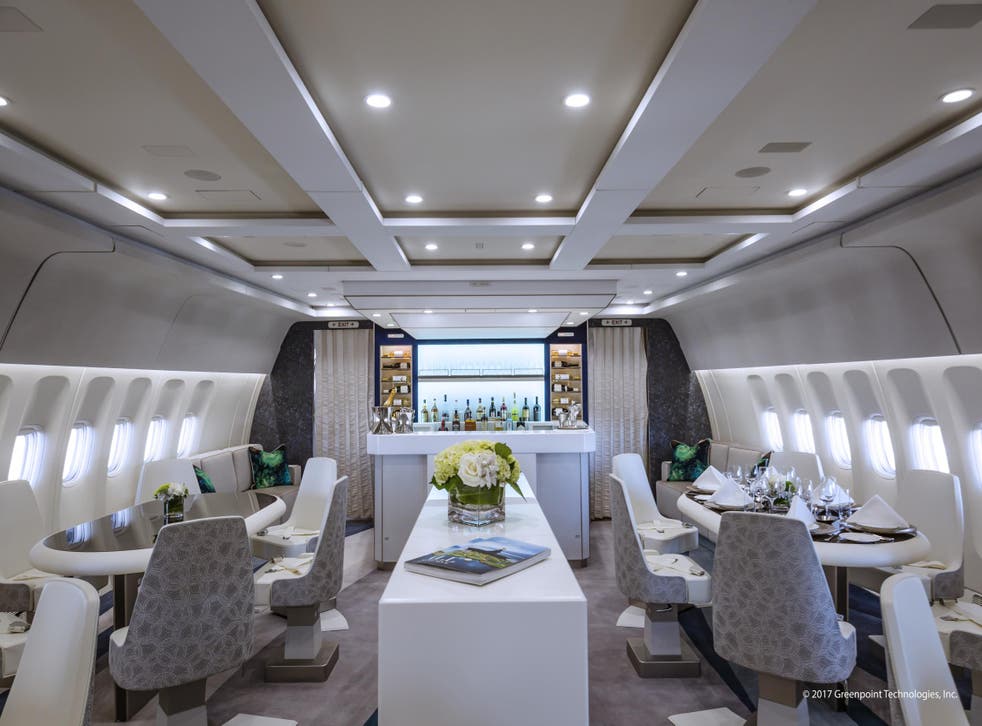 Luxury travel trends for 2018 from next-level private jets to millennial cruises
Over 5,600 industry experts descended on Las Vegas for the annual Virtuoso Travel Week conference. Ianthe Butt reveals the trends that got tongues wagging
Ianthe Butt
Thursday 24 August 2017 13:18 Comments
Travel agencies with spas
The advent of the internet meant that click-to-book holidays became the norm. Now, travel agencies are reinventing themselves with striking design and fun in-store experiences to tempt experiential-hungry travellers back. In particular millennials, used to paying for personalised experiences such as fitness training or sartorial revamps from stylists, are taking note. Fancy a massage before plotting your next adventure? Select Collection (selectcollection.com) in Stockholm has cool interiors by Jim Grundström and Alexander Lundfeldt, plus a day spa. Over in Munich, Atelier Voyage (ateliervoyage.com) has an on-site wellness coach and physiotherapist, while at Pique Travel Design (piquetravel.com) in Minneapolis there's a rustic-lodge vibe (reclaimed wooden tables, roaring fireplace), plus a bar where you can sip pints from local brewery Excelsior Beer.
Even more exclusive private jets
If you've deep pockets, private jet is the way to fly. This year saw Surf Air (surfair.com), a sort-of Uber for private jets, launch in Europe. This members-only club took the sharing economy trend high-end, offering unlimited access to private scheduled flights for a monthly fee of £1,750.
Flying goals for those with an entourage are set to ramp up a notch with the arrival of private charter jet Crystal Skye, from the aviation arm of Crystal Cruises (crystalcruises.com/aircruises). The Boeing 777 seats 88 passengers (it could fit 380) – staggered seating means everyone gets a window view, plus there are cashmere blankets and goose-down pillows for all. An on-board sommelier matches wines with grilled steak and soufflés from a gourmet chef served soiree-style at 40,000ft in a lounge area seating 30. Costs vary, but CEO of Crystal Cruises, Edie Rodriguez, said that prices start "from about £42,685 an hour."
Another extravagant trip is Aman and luxe tour operator Remote Lands' 22-day private jet trip (aman.com/expeditions). Costing from £89,000 per person, the exclusive holiday for just 16 guests will see them travel on an Airbus ACJ319 (originally designed for 126 passengers) to nine countries, with stays at Aman properties, plus ultra-luxe tailored itineraries, private car, drivers and guides at every stop.
Cruises for millennials
There's been talk for some time about younger travellers going gaga for cruising, with festival-cruises and boutique river cruises from the likes of Aqua Expeditions (aquaexpeditions.com) along the Mekong appealing to millennials. Next year, Uniworld Boutique River Cruises debuts its U by Uniworld brand (ubyuniworld.com/uk) targeting 21-45 year olds; expect sleek all-black vessels, sets from international DJs and adventurous excursions including rock climbing and whitewater rafting. Norwegian Cruise Line is upping the fun factor with the world's largest at-sea race track, a bonkers, dual-level, 1000ft-long affair on Norwegian Bliss (bliss.ncl.com), sailing from next June. Cruisers will be able to whizz round the track in electric cars at speeds of up to 30 mph.
Skip-gen trips
Move over multi-generational trips (people taking several family generations with them when they holiday). Travel advisors are now seeing requests for "skip-gen" trips, where grandparents take grandchildren on epic holidays, leaving parents behind. It might be a fishing trip to Alaska for a special birthday or a Lindblad Galapagos Expedition (expeditions.com) to celebrate a graduation. "We are seeing a lot of requests for this type of travel," says Haisley Smith, vice president of marketing and development at Brownell Travel, "recently we arranged an adventure through East Africa for two grandmothers and their four grandchildren." Why now? As the baby boomers retire, two of their top priorities are family and travel. Skip-gen trips combine the two, and allow milestones to be marked, even if parents can't take time off.
Grown-up digital nomads
Thought millennials were the only digital nomads around? Think again. On the rise are longer getaways for baby boomers travelling abroad for several months while working. In response to this, Brownell Travel have launched "sojourns"; three-month trips which include stays at short-term-let apartments, and access to co-working spaces such as WeWork (wework.com). Destinations might be far-flung yet on a not-dissimilar time zone to home, making dialling in to conference calls a breeze. "Many older travellers who are working as consultants or freelancers want to relive the exchange programmes they took at university, learn a language or explore abroad for a few months, but keep working while they do it," says Smith.
Breakup breaks
Celebrations such as honeymoons, weddings and anniversaries have traditionally been times that people have marked with travel. Now, more travel agencies and resorts are seeing people planning trips, especially wellness breaks, during times of grief, after a divorce, or when children leave home. "At least a third of our guests visit when they are going through a difficult situation," says Alejandro Bataller Pineda, vice president of SHA Wellness Clinic in Alicante (shawellnessclinic.com). "It might be due to a breakup or a situation that creates stress or anxiety." More, it seems, are tapping into the transformative power of travel to help them through difficult times.
Register for free to continue reading
Registration is a free and easy way to support our truly independent journalism
By registering, you will also enjoy limited access to Premium articles, exclusive newsletters, commenting, and virtual events with our leading journalists
Already have an account? sign in
Join our new commenting forum
Join thought-provoking conversations, follow other Independent readers and see their replies