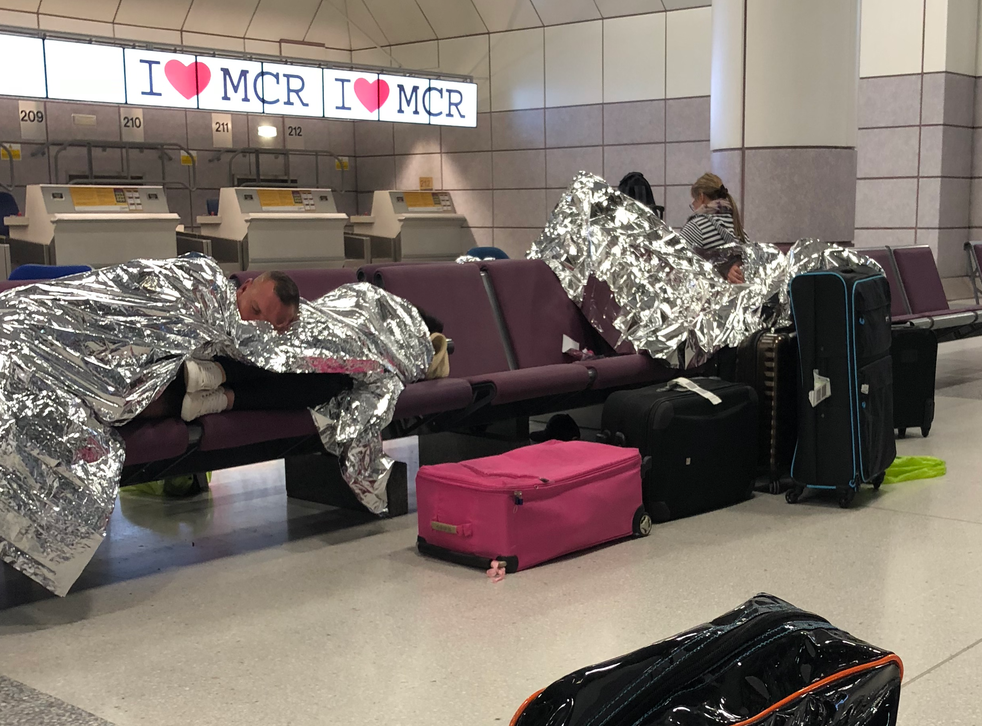 Stranded TUI passengers forced to sleep on Manchester airport floor and told to 'claim from your travel insurance'
The Man Who Pays His Way: Britain's biggest travel company delays a flight from Manchester by 24 hours, then neglects to tell passengers it owes each of them £350
The late May bank holiday isn't always a great time to fly. In 2017, the British Airways IT system failed and shredded the airline's schedules. This year, biblical storms in southeast England wrecked the plans of tens of thousands of travellers.
Fortunately, the European passengers' rights rules specify the duty of care that airlines must provide, and the compensation they must pay unless the cause is out of their hands.
But this week countless travellers have found that what the rules say and how airlines actually behave during disruption can be very different.
Last Saturday evening, a planeload of passengers at Manchester airport were hoping to fly to Dalaman in Turkey with Britain's biggest holiday company, TUI.
Their flight was delayed by 24 hours "due to short-notice changes to our flying programme", according to TUI. Immediately that became apparent, the firm's obligations are crystal clear. The most pressing: find hotel rooms for everyone, and provide transport.
I have experienced late-night cancellations on British Airways at Paris Charles de Gaulle, easyJet at Zurich and, reaching deep into the past, Dan-Air at Paris Orly. On all three occasions hotels were arranged within an hour or two.
Manchester airport is not some far-flung outpost with limited infrastructure and poor communications; it is a huge base for TUI and is surrounded by hundreds of hotels.
Passengers would be forgiven for assuming that the company, which has decades of experience in sourcing hotel rooms, has a fallback plan in place in case an evening flight is delayed or cancelled. But by 1am ground staff told everyone to find their own accommodation.
Despite the apparent shortage of beds, one passenger, Tim Parry, found a room at a Premier Inn in the city centre. With the hotel bill, breakfast and taxis, he is currently £300 out of pocket, when the rules say he should not have had to spend a bean.
And he was one of the lucky ones. Many of the passengers, including children, ended up sleeping on airport benches or sitting up all night – saving TUI money.
The company told me: "In a situation like this we contact as many hotels as possible to try and source as many hotel rooms at that hotel as we can.
"Unfortunately due to a number of concerts and events happening in the Manchester area over the bank holiday weekend, this proved more difficult than usual."
At least everyone can claim €400 (£350) in compensation for the delay. And TUI is obliged to tell passengers about this entitlement.
"We understand how frustrating a flight delay can be and have been in direct contact with customers," TUI told me. The rules state the firm must tell them of their rights. But that "direct contact", in the shape of a letter handed out to passengers, does nothing of the sort.
Instead of saying TUI is liable to pay compensation and explaining how to claim the cash, it tells them to claim from travel insurance.
There is no need for anyone to trouble their travel insurer, and TUI knows it. The letter looks plainly intended to put passengers off the scent.
The firm told me: "We'll look in to the wording used in letters."
From the evidence I have seen this week, airlines appear to believe they can shrug off their obligations under the European passengers' rights rules with impunity.
The Civil Aviation Authority is required by the European Union to ensure that airlines flying from the UK comply with the rules. I trust the CAA's new chief executive, Richard Moriarty, will remind airlines to treat their passengers with the respect the law demands – and take action when they do not.
Register for free to continue reading
Registration is a free and easy way to support our truly independent journalism
By registering, you will also enjoy limited access to Premium articles, exclusive newsletters, commenting, and virtual events with our leading journalists
Already have an account? sign in
Register for free to continue reading
Registration is a free and easy way to support our truly independent journalism
By registering, you will also enjoy limited access to Premium articles, exclusive newsletters, commenting, and virtual events with our leading journalists
Already have an account? sign in
Join our new commenting forum
Join thought-provoking conversations, follow other Independent readers and see their replies