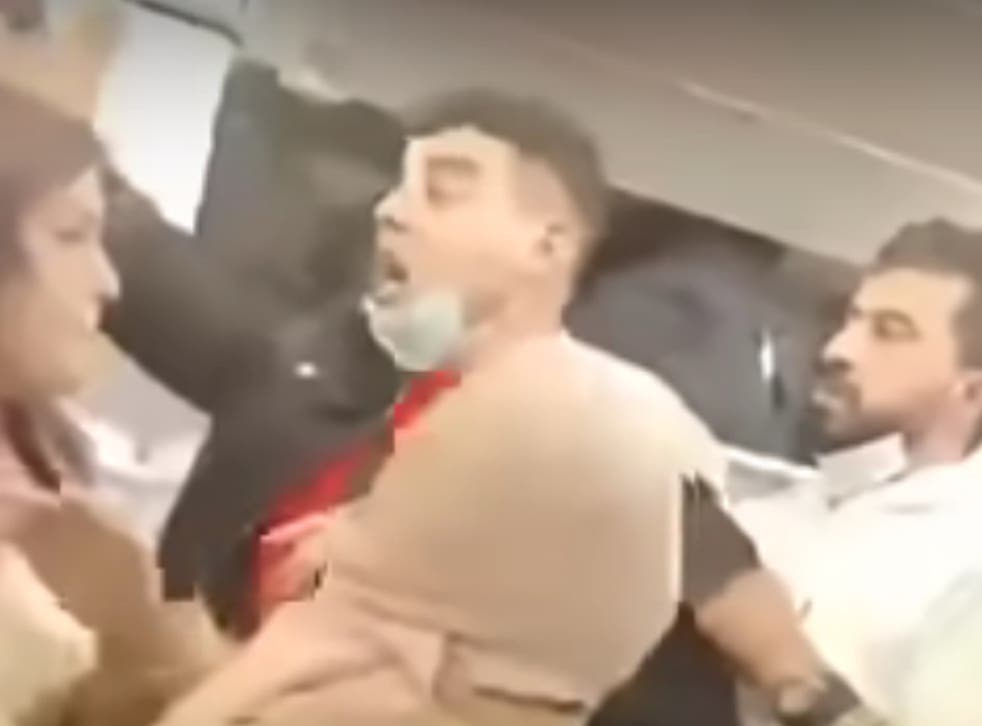 Passengers brawl in plane aisle in row over overhead bin
Video shows passengers pushing each other and pulling each other's hair
A brawl involving numerous passengers broke out on a recent flight over the use of the plane's overhead bins.
The incident on Tunisair flight TU216 saw travellers fighting in the aisle while crew desperately tried to break them up. Some flight attendants were themselves insulted and physically attacked, according to reports.
Video taken onboard the service from Tunis to Istanbul on 10 April and shared on YouTube shows two women initially pushing each other, before the fighting becomes more violent.
Other passengers get involved; at one point, a man pulls hard on another woman's hair.
Screams can be heard throughout the footage.
"An investigation has been opened," an airline spokesperson told View From the Wing, adding that the passengers who started the incident could be prosecuted.
"This fight caused a delay of five hours and financial losses were suffered by the company."
The fight started because of a dispute over the allocation of space in the plane's overhead lockers, reports Business News.
Some passengers had allegedly brought too much carry-on luggage and refused to pay extra to store it in the cabin.
It's not the first brawl to take place on a plane in recent months.
A fight broke out in mid-air that resulted in a pilot allegedly losing a tooth and a flight attendant suffering a broken arm.
The incident happened on a Donghai Airlines flight between the Chinese cities of Nantong in Jiangsu province and Xian in Shaanxi province on 20 February.
According to posts on Chinese social media, an argument between the pilot and flight attendant broke out 50 minutes before landing.
In a statement on Chinese social media site Weibo, Donghei Airlines apologised for the incident and said the pair of flight crew involved had been suspended immediately following an internal investigation.
Register for free to continue reading
Registration is a free and easy way to support our truly independent journalism
By registering, you will also enjoy limited access to Premium articles, exclusive newsletters, commenting, and virtual events with our leading journalists
Already have an account? sign in
Register for free to continue reading
Registration is a free and easy way to support our truly independent journalism
By registering, you will also enjoy limited access to Premium articles, exclusive newsletters, commenting, and virtual events with our leading journalists
Already have an account? sign in
Join our new commenting forum
Join thought-provoking conversations, follow other Independent readers and see their replies