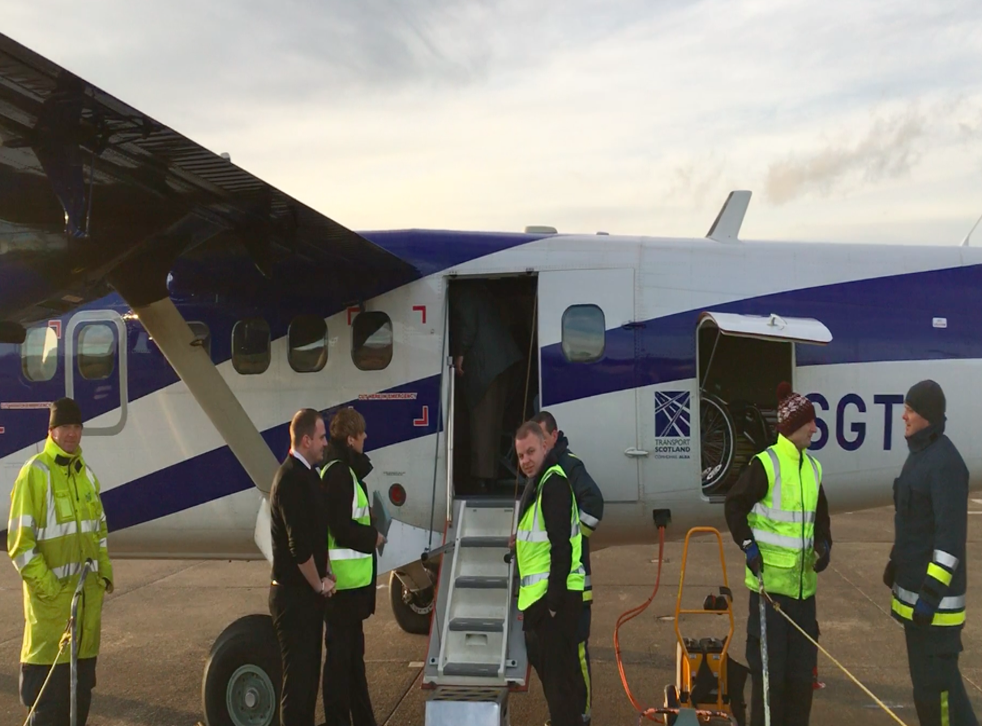 UK airport introduces flights without security checks for first time in almost 50 years
Union warns of a heightened risk of terrorism
At 9.15am on Monday 30 January, a piece of aviation history was made. On a day when the headlines were filled with tougher US restrictions on travellers, including "extreme vetting" of some nationalities, Scottish aviation made a move for more relaxed, passenger-friendly travel.
The unlikely setting was Campbeltown airport in south-west Scotland — henceforth known as "the no-frills airport with subtracted security".
For the first time in nearly half a century, a scheduled flight took off from an airport on the British mainland without the usual security checks for passengers or their possessions.
Loganair flight 6844 departed from Campbeltown, destination Glasgow, with 15 passengers aboard — none of whom had been frisked or had their baggage rummaged through.
The rules banning sharp objects, firearms and liquids in containers over 100ml still apply, but travellers simply make an oral declaration that they are not carrying any of the banned items.
Simon Calder tries out first flight with no security check in 50 years
It is believed to be the first time anyone has breezed through a mainland airport on to a scheduled flight since the early 1970s.
Since Britain ratified the "United Nations' Convention for the Suppression of Unlawful Seizure of Aircraft", more crisply known as the Hague Hijacking Convention, passengers have been subject to personal searches and cabin-baggage checks.
Highlands and Islands Airports Ltd (HIAL), which operates Campbeltown, said: "These new arrangements have been agreed and approved by the Department for Transport and the Civil Aviation Authority. They continue to place safety and security at the forefront of every passenger's journey, whilst offering facilitation benefits in most cases."
Simon Calder's security-free flight from Campbeltown to Glasgow

Show all 9
But the Prospect union, which publicised the abolition of security at Campbeltown and two island airports, claims the move makes a terrorist attack "far more likely", pointing out that flight paths into Glasgow pass close to nuclear power facilities, an oil terminal and Ministry of Defence establishments.
The Prospect negotiator, David Avery, said: "The rules we had have been in place for more than 10 years, since September 11 and the terrorist attacks in America, to stop people taking over planes.
"Even with planes the size of these, which are very small, when they're flying over urban areas, when they're flying over oil depots, the size doesn't particularly matter.
"My view, and my union's view, is that there should have been a public consultation with users, the public and the staff about the change before it was made, rather than it being done behind closed doors with the company and ministers."
Loganair's managing director, Jonathan Hinkles, disagreed, rejecting the concept of what he called a "one-size fits all approach to airline security".
On short, regional flights in Scotland, he said, "Everyone knows each other very well. And the vast majority of customers are using it as purely a local 'bus service'."
Support for the lighter-touch approach came from the leading aviation security expert, Philip Baum. He said: "Routine, predictable security is the enemy of effective security."
"Screening does not have to be performed by examinations by X-ray systems. Where better to perform behavioural analysis than in a community where the travellers are known and where baseline behaviour is easy to identify?
"It is only routine screening which is not going to be performed - there is nothing to prevent the authorities implementing additional procedures as and when concerns arise."
Normally when a domestic flight arrives at Glasgow airport, passengers are free to go straight to another airside departure gate to catch an onward flight. But travellers on flight 6844 were diverted away to the baggage reclaim area and the landside exit. Anyone catching an onward flight from Glasgow must go through the full security check.
Jonathan Hinkles of Loganair said the arithmetic made it sensible to conduct checks at Glasgow, not Campbeltown: "Less than one in 10 of our customers are taking an onward connecting flight."
As Claire Ross, one of the passengers, left the aircraft, she pronounced herself happy with the new regime: "Seemed fine to me. It was great fun.
"It's a small, local flight for local people."
Click here for the latest tours, holidays and cruises from Independent Holidays
Join our new commenting forum
Join thought-provoking conversations, follow other Independent readers and see their replies