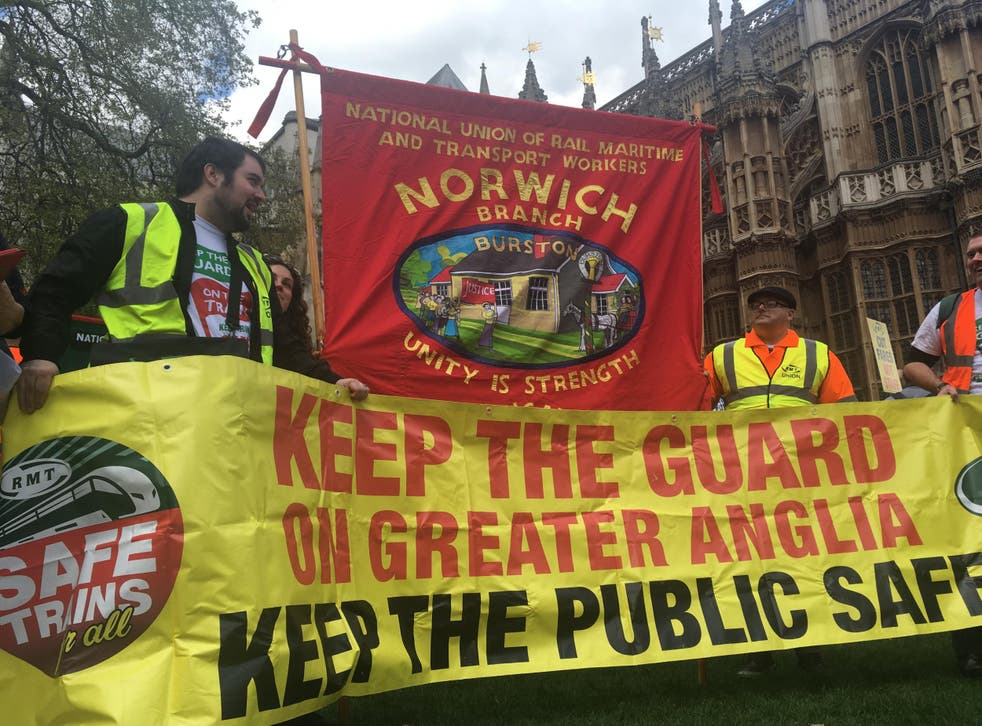 UK rail strikes: New Greater Anglia walk-out over 'guards and safety'
'This long dispute is solely about putting rail safety before private profit,' says RMT union boss, Mick Cash
The bitter dispute over the role of guards between the National Union of Rail, Maritime and Transport Workers (RMT) and the train operator Greater Anglia is being stepped up this month.
The RMT has announced two 24-hour strikes on successive Saturdays, 16 and 23 June. The union's general secretary, Mick Cash, blamed the train firm's "intransigence" and said: "Despite strenuous efforts by RMT reps to reach a negotiated settlement to this dispute the vital safety role of the guard is still under threat.
"Nothing that the company has put forward in recent talks resolved this fundamental issue."
The dispute is over the extension of "Driver-Only Operation" (DOO) and the staffing of trains.
Train operators say DOO makes operations more efficient and reduces delays, as well as allowing on-board staff to focus on customer service and "revenue protection" — tackling fare-dodging.
But the union insists the current arrangements, with guards "retaining full safety-critical responsibilities, along with closing doors, dispatch and platform/train safety" are essential to protect the travelling public.
The RMT is in dispute with several other train operators, and says changes to the present system could disadvantage passengers with reduced mobility.
Mr Cash said: "We have seen in the past two weeks what happens when guards are taken off our trains with the scandal of denying disabled passengers equality and access on Southern Rail."
Jamie Burles, Greater Anglia's managing director, said: "We are very disappointed that the RMT has called two further strikes.
"We'd like to reassure customers that we plan to run a full service using our contingency conductors should the strikes go ahead.
"In recent weeks, we have continued to hold constructive talks with RMT union officials and we hoped to resolve the dispute through these talks.
"We continue to guarantee the role of our highly valued conductors on our trains. We're keeping them on our trains, but we want them to concentrate on customer service rather than opening and closing doors.
Rail unions in France begin their next 48-hour strike at midnight today. Train services to, from and within France will be hit walk-outs every five days through June.
Rail workers are protesting against government plans for modernisation of the state operator, SNCF, and opening up competition.
Eurostar has cancelled four trains between London and Paris on Saturday and five on Sunday.
Join our new commenting forum
Join thought-provoking conversations, follow other Independent readers and see their replies