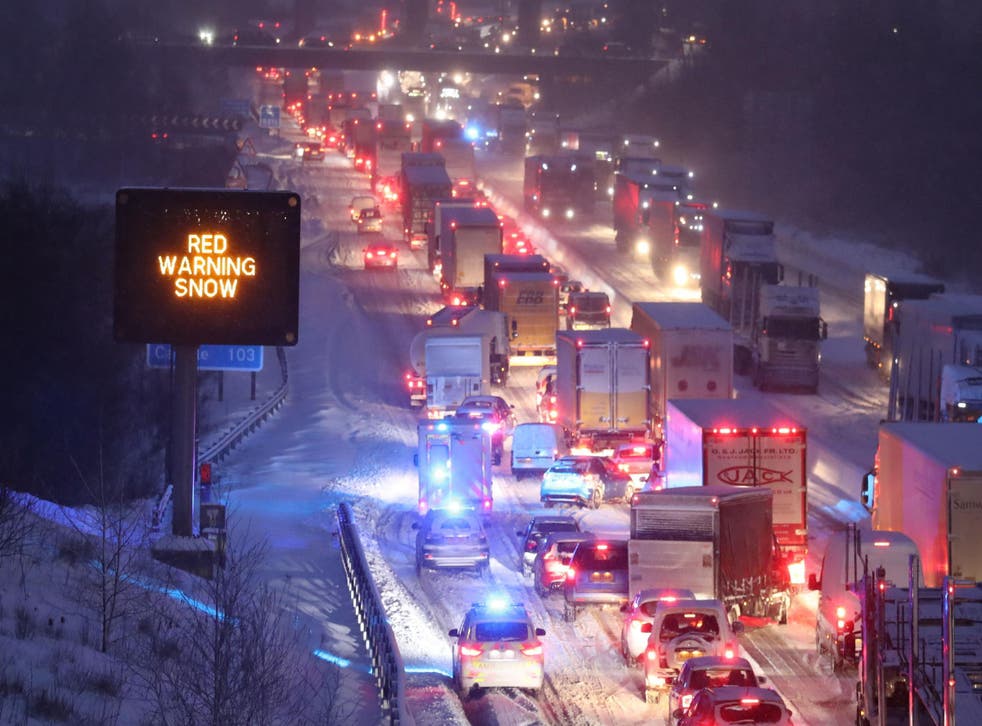 UK weather: Travel chaos intensifies as snow sees hundreds of flights and trains cancelled
Scottish motorists stranded in cars overnight on M80 north east of Glasgow
Simon Calder
Travel Correspondent
Thursday 01 March 2018 09:11 Comments
"Is your journey really necessary?" As atrocious weather sweeps across the UK, the old wartime message is the order of the day.
Hundreds of motorists were stranded in their cars in Scotland overnight, particularly on the M80 north east of Glasgow.
The Scottish Fire and Rescue Service has been providing food and water.
Traffic Scotland is warning of "multiple vehicles losing traction in severe weather conditions" and telling motorists: "Thinking of getting in your car? Ask yourself 'Is my journey worth risking lives for? If not, stay put and #staysafe'."
The authorities are warning motorists to stay in their vehicles.
Further south, the A1 was closed in several locations overnight due to heavy snow and collisions: at Dunbar on the shoulder of southern Scotland, and in West Yorkshire and Nottinghamshire.
Two trans-Pennine routes in northern England, the A66 and the A628, are closed.
Rail services are severely curtailed. No trains are running in the Central Belt of Scotland until 11am at the earliest. Anglo-Scottish services are closed on both the east and west coast main lines.
All the long-distance train operators are offering flexibility with tickets, typically suspending normal conditions and allowing passengers booked on a particular day to travel on other days. Virgin Trains, which runs from London Euston to Birmingham, Manchester and - normally - to Glasgow and Edinburgh, is offering passengers with tickets for today to travel any day up to Sunday.
Transpennine is reporting problems between Leeds and York. In Lincolnshire, Skegness is cut off for a second day.
Commuter services in southern England and Wales are suffering problems, with many operators starting services later than usual. Experience on Wednesday showed that even if lines are open, trains can be disrupted by other factors: crews unable to get to work, and train, points or signal faults from ferocious cold weather.
Greater Anglia, Southeastern and Southern are running reduced timetables. Southern said: "Coastal routes will be affected as older Class 313 trains, do not function well in sub-zero weather conditions. An amended time table will be in effect to allow Southern to run some of our newer Class 377 trains instead."
From the afternoon, attention will turn to Wales and south-west England. Great Western Railway has suspended services on the branch lines to Gunnislake, Looe, Newquay and St Ives.
Scotland's leading airports are subject to widespread cancellations, though some services have been arriving at Edinburgh last night and this morning. Hundreds of passengers spent the night at Glasgow airport after the Emirates service to Dubai was cancelled.
The UK's worst-affected airport is Heathrow, where around 200 flights have been proactively cancelled in a bid to keep the remaining 1,000-plus arrivals and departures on schedule. British Airways has cancelled 150 flights, while Virgin Atlantic has grounded transatlantic flights to Boston, Miami, Seattle and Washington DC.
At Gatwick and Luton, easyJet has cancelled dozens of arrivals and departures.
Arctic blast hits UK – in pictures

Show all 51
Passengers whose flights are cancelled or heavily delayed by bad weather are not entitled to cash compensation. But the cancelling airline has a duty of care to provide meals and, if necessary, overnight accommodation to stranded travellers.
The former Conservative leader, Ian Duncan-Smith has called on the Government to have a "root and branch" look at weather resilience for the UK's transport network.
He told The Independent: "We need to have a plan for 'hiatus events'. We have Heathrow, the major airport in the UK, cancelling flights. It seems daft, If other airports are managing, why isn't our premier airport managing?"
Register for free to continue reading
Registration is a free and easy way to support our truly independent journalism
By registering, you will also enjoy limited access to Premium articles, exclusive newsletters, commenting, and virtual events with our leading journalists
Already have an account? sign in
Join our new commenting forum
Join thought-provoking conversations, follow other Independent readers and see their replies