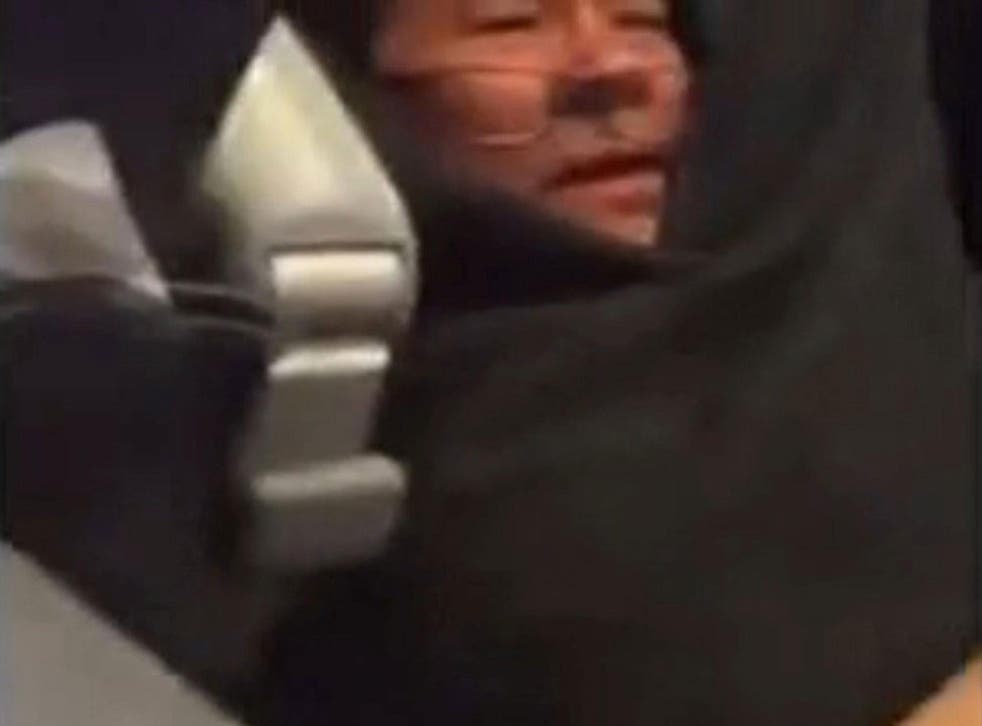 United Airlines: New video shows officer's argument with David Dao escalate before he is dragged off flight
A new video from flight 3411 has emerged, capturing the argument between David Dao and officials before law enforcement officers dragged him off the plane
Julia Buckley
Thursday 13 April 2017 13:18 Comments
As United Airline's stock drops $1.4 billion and other airlines make hay with the incident in which a passenger was forcibly dragged from a plane on Sunday, a new video has emerged taken moments before the violence occurred.
In the 90-second video, posted on Youtube and taken by a passenger in the row behind Dr David Dao on flight 3411 from Chicago to Louisville, Dao can be seen arguing with the police officers and refusing to leave the plane.
Passenger Joya Griffin Cummings' footage captures the doctor breaking off from a phone call to tell the policemen, "I'm a physician, I have to work tomorrow at eight o'clock."
Man brutally dragged off United Airlines flight: "Please kill me"
He goes on to say, "I'll make a lawsuit against United Airlines... I'm not going, I'm not going."
When the police officer says they'll have to drag him off, Dao responds: "Well then you can drag me… I'm not going. I'm staying right there."
He tells the person on the phone: "They're trying to use force."
The officers' voices are harder to pick up, but one of them can be heard saying, "This can be a lot harder if you…" before the sound is lost. Dao responds: "I'd rather go to jail." He is heard complaining about the delay – he won't be able to fly until the next day – and tells the officers he's been travelling for 24 hours.
The video is the first to show the encounter between Dao and police before they forcibly dragged him from the plane, knocking Dao unconscious in the process and leaving him bleeding from the mouth.
Yesterday, Dao filed a lawsuit against United Airlines and the City of Chicago, which operates the airport.
"After being duly processed by the ticket agent, checked in by the attendant, and seated in his assigned passenger seat, Petitioner was forcibly dragged and removed from the said aircraft by City employees, sustaining personal injury," the document reads.
His lawyers will hold a press conference later today.
Register for free to continue reading
Registration is a free and easy way to support our truly independent journalism
By registering, you will also enjoy limited access to Premium articles, exclusive newsletters, commenting, and virtual events with our leading journalists
Already have an account? sign in
Join our new commenting forum
Join thought-provoking conversations, follow other Independent readers and see their replies