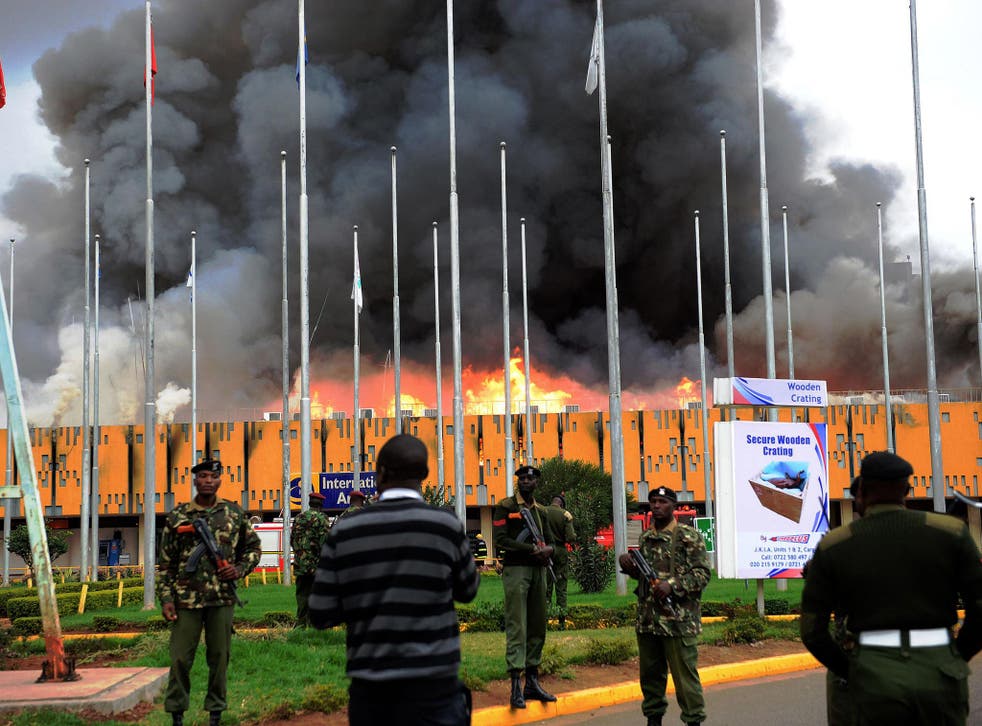 Why Kenya airport blaze will raise questions over Nairobi's future as an east African hub
"The Flight Information Display System is unavailable at the moment. Kindly try again after some time. We are sorry for the inconvenience." That is the bland message on the Kenya Airports Authority website, where normally dozens of flights to and from Jomo Kenyatta airport are listed. After this morning's devastating fire, it begs serious questions.
The first and most obvious: travellers demanding, "How do we get home now?"
Next, communities in Kenya that depend on foreign tourists wondering, "How bad will this be?" Most worrying of all for the nation and its economy, the international community asking, "Is Nairobi the right hub for East Africa?"
The short-term disruption is massive. From an African perspective, this is like Heathrow shutting down - but without the back-up that other airports provide. Nairobi is the aviation crossroads of East Africa. Many of the passengers arriving on long-haul jets from Heathrow, Amsterdam, Paris and Zurich are transferring to dozens of destinations across the region that have few or no direct services from Europe. Rwanda, Burundi and even Tanzania rely upon Nairobi as a key connection to the world. Kenya's own tourist industry is predicated upon a steady flow of well-heeled Europeans into Nairobi. From the capital, they disperse to the resorts along the Indian Ocean coast and to the Masai Mara - one of the world's greatest wildlife destinations. Tourists trying to get home face circuitous journeys or indefinite waits, while others who were about to embark on the trip of a lifetime to Kenya face frustrating and uncertainty.
When will normal business resume? According to the initial statement about the disruption from Kenya Airways, within a couple of days. Astonishingly, its commercial policy insists that anyone booked to fly to or from its home base, and whose flight has been cancelled because of the fire, must depart in the next couple of days: "Outbound Travel should occur no later than Fri, 09th Aug 13," instructs the airline.
Anyone who has flown in and out of Nairobi's main airport, and who has seen the images of the fire, will find that hard to comprehend. Even when "NBO" is working normally, it is a difficult airport to use. Oddly, it shares some characteristics with the older parts of Heathrow. Facilities have failed to keep pace with demand, leading to long queues, cramped conditions and a susceptibility to disruption.
Mombasa airport, to which some of the operation has been diverted, is even more of a 20th-century aviation relic. In the short term, British Airways may switch its East Africa services to Dar-es-Salaam, ironically the city that has recently been erased from BA's route map. The Tanzanian capital may benefit in the longer run if it is seen as a credible alternative to Nairobi. FastJet, the African low-cost airline started by Stelios, established its first base in Dar-es-Salaam and next month begins international flights to Johannesburg.
Addis Ababa, too, will be looking for opportunities: Ethiopian Airlines has long vied with Kenya Airways for supremacy in East Africa, and its hub is a much more efficient airport.
The millions of Kenyan people who depend directly or indirectly upon tourism must be wondering what awaits them next. They have witnessed trade hit by political upheavals, terrorism, kidnapping and crime, and now see the main gateway to their safari camps and beach hotels devastated.
Join our new commenting forum
Join thought-provoking conversations, follow other Independent readers and see their replies