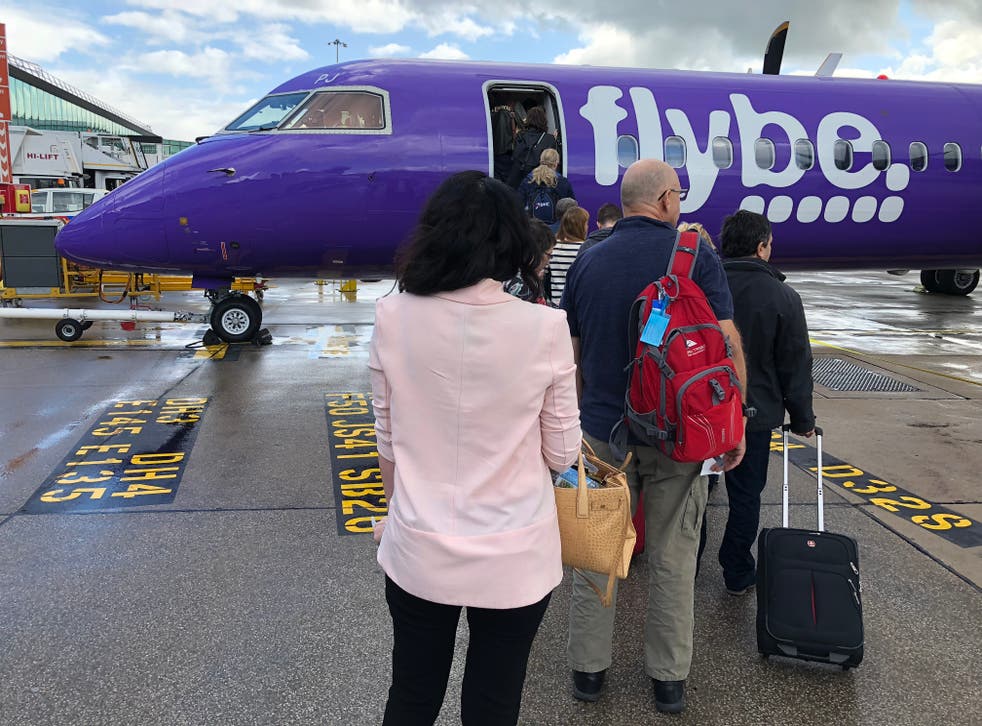 A year in travel: Flybe collapse, 5 March 2020
The first in a series marking the key travel events during the coronavirus pandemic
It's been quite the year since the coronavirus pandemic first swept the globe, closing borders and shutting down international travel at a stroke. One of the first travel industry casualties was beleaguered British airline Flybe. On the first anniversary of its demise, here's what happened.
What happened to Flybe?
Airline collapses tend to happen in the early hours of the morning. There is never a good moment for a carrier to fail. But between around midnight – when the day's activities have finished and the aircraft are parked at their bases – and the start of the next day's flying programme is least damaging. That was how it proved with Monarch in 2017, Thomas Cook in 2019 and, in the early hours of 5 March 2020, Flybe.
Passengers with bookings for the day's flights were told by text at 2am: "All Flybe and Stobart Air operated flights have been cancelled with immediate effect.
"Please do not travel to the airport as your flight will not be operating."
All future departures on the Exeter-based airline were cancelled, leaving more than 2,400 staff facing an uncertain future, and wrecking the travel plans of hundreds of thousands of passengers.
Flybe was the first major travel business for whom what was then still known as "the Wuhan coronavirus" was a factor.
The chief executive, Mark Anderson, said: "Europe's largest independent regional airline has been unable to overcome significant funding challenges to its business.
"This has been compounded by the outbreak of coronavirus which in the last few days has resulted in a significant impact on demand."
Flybe had been losing money for several years. It had been bought in 2018 by a consortium headed by Virgin Atlantic, and involving Stobart Group and the US hedge fund Cyrus Capital.
The new owners pumped in at least £100m to keep Flybe afloat, but it was making such heavy losses that the money soon ran out.
After the failure the government asked bus and train operators to accept Flybe tickets "to ensure passengers can make their journeys as smoothly as possible".
Some UK airports saw the vast majority of the flights on their departure screens vanish. Four out of five of the services to and from George Best Belfast City were operated by Flybe, while the proportion at Southampton was even higher.
A year on, what is the situation?
"Although the pandemic has had a huge impact on the industry as a whole, we're pleased to be keeping the UK regions connected – alongside a number of other airlines – with a wide range of routes which were formerly part of the Flybe network." So says Jonathan Hinkles, chief executive of Loganair, who on 5 March 2020 found himself leading what had just become the UK's largest regional airline.
"It's also great news for our airport partners to see airlines like BA CityFlyer and KLM taking up other routes from airports like Southampton, which will help the UK's regional airports to bounce back strongly just as soon as we can all start to travel again," he added.
Flybe collapses into administration
The outcome appears to be: if it was a profitable route, then Loganair, Eastern Airways, Blue Islands and Aer Lingus Regional have moved in to fill it.
In addition, easyJet has been throwing its considerable weight around, taking on routes such as Manchester-Newquay which would, pre-pandemic, never have featured on a mainstream rather than regional airline.
Shorter routes such as Manchester-Edinburgh, where a perfectly good rail link is available, have not been revised, but Manchester-Aberdeen – a difficult stretch by road or rail – has stuck.
How does the future look?
The collapse of Flybe coincided with the start of the worst year for aviation in history. Business travel – which has provided the year-round basis for many routes – is not expected to return at anything like the same scale. So Continental European routes such as Manchester to Stuttgart or Hannover are unlikely to return.
Flybe itself, though, may return: Cyrus Capital has bought the brand from the Receiver and is promising to revive the airline. Few in aviation give it much of a chance.
Many excellent Flybe staff have yet to find other jobs in aviation, but Jonathan Hinkles of Loganair says: "Although our priority has rightly been to protect employment for existing Loganair team members wherever we possibly can, we're hopeful that we'll see many more former Flybe crew members back in the air before too long."
Join our new commenting forum
Join thought-provoking conversations, follow other Independent readers and see their replies