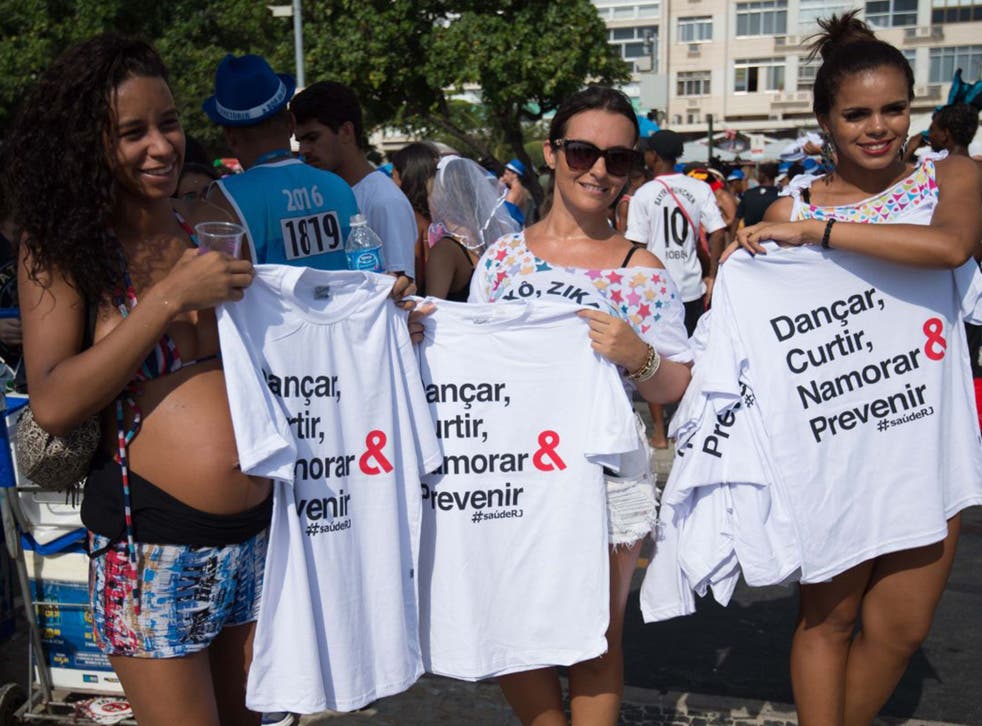 Zika: Pregnant British holidaymakers with bookings to Caribbean and US face uncertainty amid risk of virus spreading
Airlines and holiday companies allowing pregnant women to switch destinations, but only if they are booked to one of the affected countries
Simon Calder
Travel Correspondent
Saturday 06 February 2016 18:46 Comments
As health authorities warn of the possible spread of Zika virus throughout the Caribbean and into the US, pregnant British women with confirmed bookings to the region are facing uncertainty and the risk of heavy financial losses if they cancel planned trips.
Since the start of 2015, 33 countries have reported locally-spread cases of Zika, which is believed to be linked to a birth defect that hampers brain development.
The Caribbean is particularly hard hit, with the infection prevalent in Barbados, Curacao, the Dominican Republic, Guadeloupe, Jamaica, Martinique, Puerto Rico, St Martin and the US Virgin Islands.
All the countries bordering the Caribbean except Belize and the US have so far reported locally-acquired cases of Zika.
UK airlines and holiday companies are allowing pregnant women to switch destinations or postpone planned trips, but only if they are booked to one of the affected countries. Mothers-to-be who have holidays planned in neighbouring locations have no opportunity to change or cancel their trips without penalty.
Alexandra Woolmore took to Twitter on behalf of her sister, Georgina, who is pregnant and is booked to travel to Antigua next month. Antigua is 40 miles north of Guadeloupe, one of the destinations to which "Pregnant women are advised to reconsider travel" by the NHS.
Battling the zika virus - in pictures

Show all 19
The sisters asked British Airways if they could swap tickets, so that Alexandra could travel in place of Georgina. BA refused, a decision that Alexandra described as "Needlessly inflexible and hard-hearted." She told The Independent on Sunday: "I was stunned to find that their non-transfer policy was so rigid that they were unwilling to make exceptions, even in unusual cases such as this.
"They have demonstrated a complete lack of sympathy to Georgina's situation."
British Airways said: "We are keeping the situation under review on a day-by-day basis."
While airlines such as Virgin Atlantic and a number of hotels are offering full refunds to women who have a letter confirming pregnancy, tour operators are not obliged to return payments in full. Jean-Louis Gandon and his partner - who is 16 weeks pregnant - were planning a honeymoon in Barbados next month. Having paid £5,180 for the trip, they cancelled when Zika was confirmed on the island. Initially the travel firm offered to refund only £1,950, but later increased the offer to £4,340 - leaving the couple still £840 out of pocket.
Mr Gandon said they were "extremely disappointed" by the attitude of their holiday company. "To say that we are deeply upset that we now cannot go on our honeymoon for health reasons, brought about by the Zika virus, is an understatement."
The Pan American Health Organization warns the infection could spread everywhere in the Americas except Chile and Canada - including the US, and in particular Florida.
On Friday, a case of Zika was reported in central Florida - home to Orlando, the theme-park capital. The Florida Department of Health said the infection had been contracted abroad, and that the victim was not a pregnant woman.
Register for free to continue reading
Registration is a free and easy way to support our truly independent journalism
By registering, you will also enjoy limited access to Premium articles, exclusive newsletters, commenting, and virtual events with our leading journalists
Already have an account? sign in
Register for free to continue reading
Registration is a free and easy way to support our truly independent journalism
By registering, you will also enjoy limited access to Premium articles, exclusive newsletters, commenting, and virtual events with our leading journalists
Already have an account? sign in
Join our new commenting forum
Join thought-provoking conversations, follow other Independent readers and see their replies