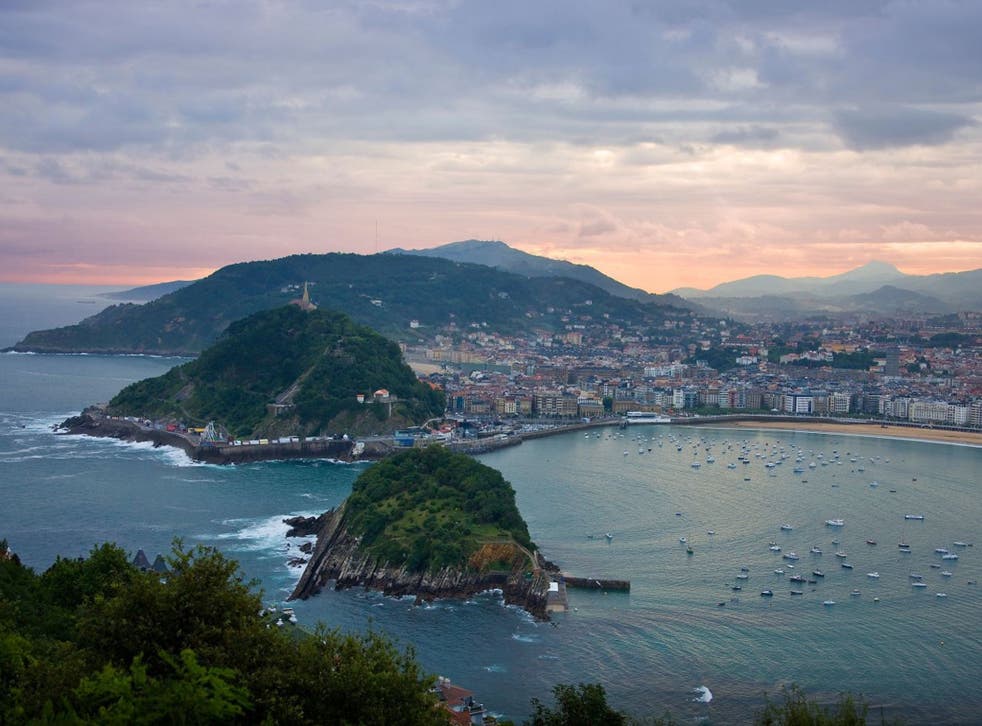 San Sebastian: a bay window on a Basque beauty
San Sebastian is well known for its gastronomy, but that is only one element of celebrations taking place during the city's year as European Capital of Culture 
Gerard Gilbert
Tuesday 15 March 2016 13:34 Comments
My first job out of university in the 1980s was as an English teacher in Bilbao, the Basque city then at the nadir of its post-industrial, pre-Guggenheim decline. Armoured cars were stationed on the city's main intersections and I well remember having a cigarette by the open window of my lodgings and hearing a bomb explode harmlessly at a nearby railway marshalling yard – just one more incident in Basque separatist movement ETA's 50-year war against the Spanish state, which officially ended in 2011.
An hour along the coast, San Sebastián, or Donostia as it's known locally, had it worse than Bilbao, and a disproportionate number of the 829 victims of ETA's bombings, kidnapping and assassinations were from this charming and prosperous seaside city.
Since the turn of the millennium, however, San Sebastián has become better -known for gastronomy than terrorism, with the luxurious pintxos that I snacked on as an impoverished Tefl teacher now rightly gaining international renown, while there are famously more Michelin stars per capita in San Sebastián than in Paris – or anywhere else in the world other than Tokyo, for that matter.
With its sweeping sandy beaches and Atlantic rollers, this gorgeous natural amphitheatre, a crescent backed by Belle Epoque villas and bookended by green headlands (try to imagine if you can that Broadstairs and Rio de Janeiro had collided on the northern coast of Spain in the 1870s), the city has also recently become a destination for surfers. But culturally? Are there any reasons for art-loving visitors to the Guggenheim in Bilbao to make an hour-long detour to San Sebastián?
That may seem a strange question in the year in which the city is one of two European Capitals of Culture, an honour it is sharing with Wroclaw in Poland. But then, as one of the project managers for what has been abbreviated to DSS2016.EU, tells me, the idea is not to draw tourists to San Sebastián, but to open the minds and hearts of its residents.
"San Sebastián already has enough visitors", she says. "What we wanted to do is make people already here aware that there are different ways of doing things... to make them more empathetic.
"Bilbao was poor, grey and run-down, and it needed a game-changer. San Sebastián is rich and doesn't need a Guggenheim... we don't need more cultural centres."
Instead, the city is embracing more nebulous concepts, such as "dialogue", "respect" and "peace" – empty slogans in some places, perhaps, but not in San Sebastián. "It's not as easy as throwing arms away," says the project manager, Saioa Torre of the post-ceasefire Basque region. "Not living in violence doesn't mean we are living in peace."
That troubled history is addressed at the renovated 16th-century Dominican convent that now houses the Museum San Telmo, in an exhibition bringing together the work of contemporary European artists with the ephemeral "Gaur group" of mainly Basque artists of the 1950s and 1960s (including Jorge Oteiza, Eduardo Chillida, Nestor Basterretxea and José Luiz Zumeta) who wanted to break away from the stifling conformity of Franco's Spain and embrace the avant garde. Highly recommended, "1966/Constellations Gaur/2016" runs until the middle of May.
San Sebastián's other showcase gallery – its Tate Modern, if you like – is Tabakalera, an enormous converted tobacco factory on the banks of the River Urumea, but unlike the Guggenheim, it seems that this new International Centre of Contemporary Culture is struggling somewhat to find works worthy of its vast spaces. Still, its fifth-floor terrace provided an unbeatable vantage point for watching this year's opening event – an eagerly anticipated but disappointingly underwhelming son et lumière devised by the Catalan artistic director, Hansel Cereza, who choreographed the opening ceremony of the 1992 Barcelona Olympics.
Such exhibitions and spectacles are, however, only a small part of the mix, whose other highlights include: a production of A Midsummer Night's Dream in Cristina Enea Park to mark the 400th anniversary of Shakespeare's death, in which the 250-strong audience will be invited to join in the wedding feast of Hermia and Demetrius (21 June-24 July); A Stop War Festival featuring Basque musicians, along with international stars such as Sir Bob Geldof and Nick Lowe (25-27 March); and, acknowledging San Sebastián's rich gastronomic heritage, Time Machine Soup, a journey through history with tastings of 12 soups, from a broth that might have been boiled in caves to the instant soup of the 21st century (25-27 March).
A misconception about Bilbao is that the Guggenheim was single-handedly responsible for turning it from post-industrial decline into a shiny modern city. In fact, Bilbao's regeneration began much earlier than Frank Gehry's now iconic showstopper, with far less glamorous schemes such as moving the port and heavy industry away from the centre of the city, cleaning up the river and building a Metro system to link this messy conurbation that snakes along a narrow natural corridor. The Guggenheim's main effect was to change international perceptions about Bilbao – to put it on the map.
With an International Film Festival (in September) and Jazz Festival (in July) you could argue that San Sebastián is already on the map, that indeed it punches above its weight culturally – and if the organisers of DSS2016.EU succeed in their aim of transforming the city inhabitants into eager culture vultures, then that will be the icing on the cake.
And what of Basque culture, which was so fiercely suppressed by Franco, even as the Generalissimo chose to holiday in San Sebastián? Will DSS2016.EU be the moment to restore Basque culture predominance? "We are trying to promote multiculturalism". Says Saioa Torre. "And one of those cultures is Basque."
Register for free to continue reading
Registration is a free and easy way to support our truly independent journalism
By registering, you will also enjoy limited access to Premium articles, exclusive newsletters, commenting, and virtual events with our leading journalists
Already have an account? sign in
Join our new commenting forum
Join thought-provoking conversations, follow other Independent readers and see their replies