The Independent's journalism is supported by our readers. When you purchase through links on our site, we may earn commission.
Argentina travel guide: Everything you need to know before you go
From the mega metropolis of Buenos Aires to its jungle regions and high-altitude plateaus, Argentina is a fusion of culture, wildlife and natural wonder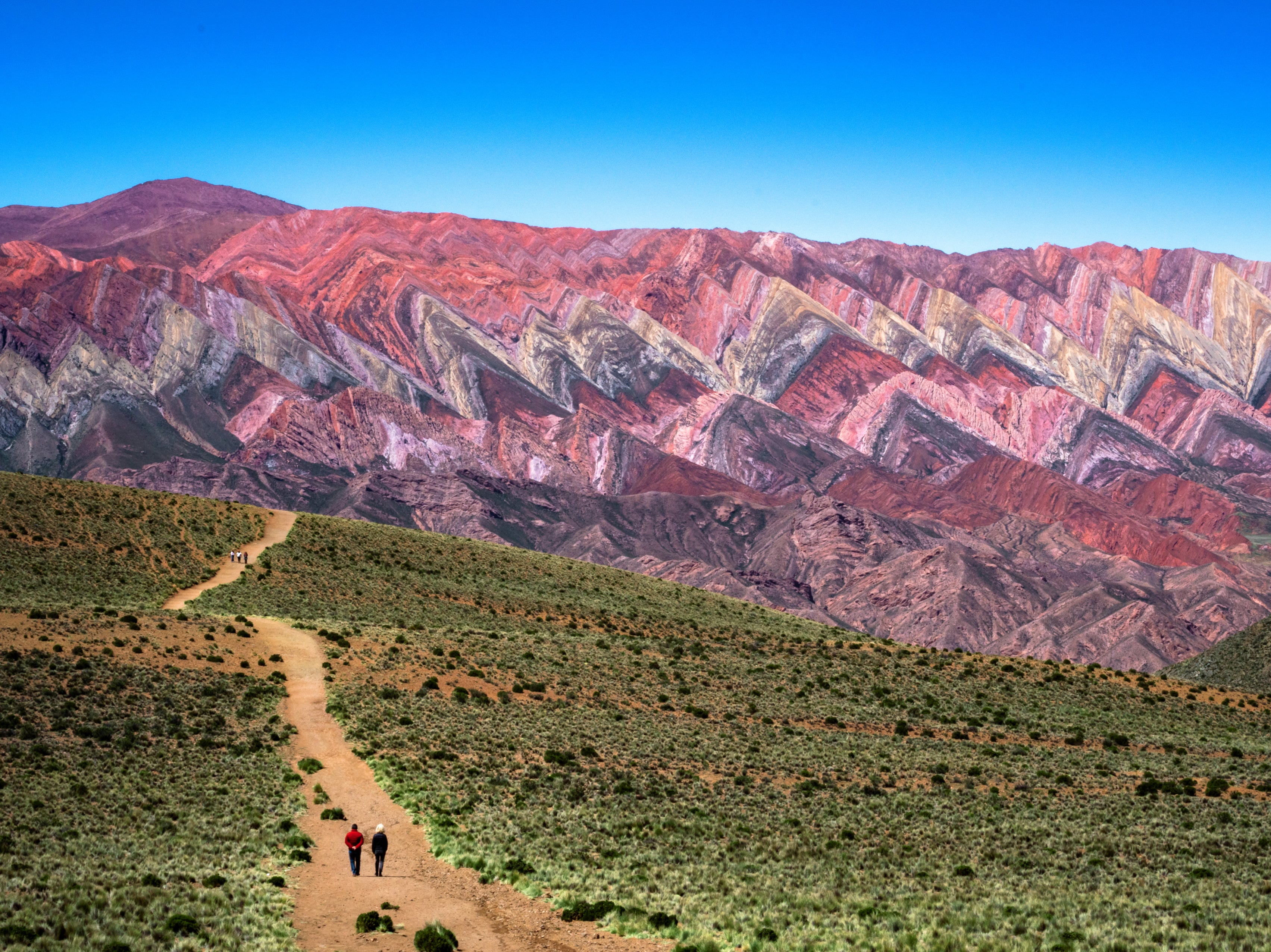 Tango, steak, football, Maradona, Evita… a whole host of stereotypes are stuck to Argentina, but what makes the South American country really special is uncovering its contrasts and diversity.
Given its vast size, there are landscapes, climates and activities to suit all tastes, from mountains to lakes, beaches to forests and jungle – which makes it a year-round destination.
Metropolis lovers will relish the culture and architecture of capital Buenos Aires, but a two-hour flight in any direction can land you in wine country, high-altitude plateau, sub-tropical jungle or ski resorts. It's also often overlooked just how fun and friendly Argentines are, some of the most hospitable people in the world.
Travel restrictions and entry requirements
If you are visiting Argentina, your passport should be valid for the proposed duration of your stay. You don't need a visa to enter or travel through Argentina as a tourist for up to three months; if you wish to extend your stay for another 90-day period, get advice from the Argentine Migration Office before your current stay ends.
Read more on South America travel:
Best time to go
Argentina is in the southern hemisphere, so the seasons are the reverse of the UK. Given the diverse latitudes of the world's eighth-largest country, it is usually cold and snowy year-round in the southerly Patagonian province Tierra del Fuego, yet humid and warm in Misiones, home to the impressive Iguazú waterfalls.
Buenos Aires is, however, seasonal and the best time to enjoy the capital is spring (late October to December) and autumn (March and April). Many Argentine towns don their glad rags for Carnaval, evidence that it isn't unique to Brazil, while March in Mendoza focuses on the annual vendimia, or grape harvest festival, where many of the province's districts are invited to participate and show off their own agricultural prowess.
Top destinations
Buenos Aires
Despite being a buzzy cosmopolitan metropolis, flat riverside capital Buenos Aires is ideal for walking and cycling. Slow the pace down and soak up the distinctive vibes of neighbourhoods such as cool Palermo, well-heeled Recoleta, boho San Telmo and hipster Chacarita. Enjoy the diverse architecture, old-school and trendy cafés, indoor and outdoor flea markets and food halls, and spontaneous attitude that drives this city. Porteños (Buenos Aires residents) are sociable, and despite the country's spiralling inflation, always find a way to have a good time, whether it's to gossip over a coffee, share a deep-pan cheese pizza or catch a gig. There's rarely a dull moment in this exciting city.
Cordoba
Thanks to a contrasting mix of rolling hills and steep mountains, rocky rivers and lakes, the province of Córdoba is a gem that's worth touring by car. Kick off in the eponymous city – Argentina's second-largest – by exploring the 16th-century Jesuit block by day then indulging in the buzzing nightlife scene. Further afield, Calamuchita is home to Villa General Belgrano, which hosts Argentina's biggest Oktoberfest; wine lovers should check out Traslasierra's bodega (winery) scene. There's an array of ranches and estancias to chill out at in Sierras Chicas, and folk music fans should definitely book tickets to Cosquín's legendary summer festival.
Iguazu National Park
A World Heritage Site, the Cataratas del Iguazú are the most impressive waterfalls in the world, whose 275 cascades are shared by Argentina and Brazil; the biggest draw is called the Devil's Throat. Catch the roaring waters early in the morning before the crowds thunder down the walkway, then explore the tropical national park that's home to 450 bird species, including toucan, as well as giant anteaters and howler monkeys. Stay at the Gran Meliá hotel in the park, which gives you direct access to the falls, or in nearby Puerto Iguazú town. The best time to visit is spring or autumn.
Mendoza
Wine aficionados must visit Mendoza, the western province framed by the Andes where 76 per cent of Argentine wine is produced. While the city is worth an afternoon's wander, the real beauty is found in the vineyard districts of Luján de Cuyo, Maipú and Uco Valley. Many bodegas make the most of their stunning backdrops and offer short, guided visits ahead of a paired lunch – fantastic bodega dining experiences include Zonda at Lagarde, Riccitelli Bistró and Piedra Infinita at Zuccardi. Outdoor lovers will relish hiking or horseback riding across the Andes, while serious mountaineers should look to conquer the southern hemisphere's highest peak, Aconcagua.
Patagonia
Whether it's undertaking a whale-watching expedition alongside the rugged Atlantic coastline, retracing the steps of the world's biggest dinosaur or weaving down Bariloche's ski slopes, Latin America's answer to the Alps, the vast Patagoniaregion always offers a solid dose of remoteness and a refreshing close-up with land- and water-dwelling nature. Unesco-protected Valdés Peninsula is a seasonal safe haven for orca and southern-right whales; get up close with fun-loving Commerson's dolphins and a Magellanic penguin colony further south in Playa Unión and Punta Tombo. A cluster of towns proudly bear Welsh ancestry: a fun road trip would include Puerto Madryn, Trelew, Gaiman and Trevelin. Santa Cruz is home to the otherworldly Perito Moreno Glacier, while Ushuaia, the world's most southerly city, is the embarkation point for Antarctic cruises.
Best under-the-radar destinations
Cabo Raso, Chubut
With barely a signpost to its name and certainly no phone signal, the two-person populated Cabo Raso is a true antidote to the modern world. A 90-minute drive south of Welsh-founded town Trelew in Chubut province, stay at the welcoming no-frills lodge that overlooks the Atlantic Ocean and really unwind. Blow out the cobwebs with a blustery beach walk, stopping off at the nuclear bunker built by former president Juan Perón and a shipwreck, before hunkering down over a barbecue. For a similar yet more well-heeled experience, book into eco-lodge Bahía Bustamante, which houses its own penguin island.
Puna, Jujuy
Many visitors to Jujuy head directly to the elevated Salinas Grandes salt flats to obtain the perfect perspective photo, but turn this easy day trip into a breath-taking overnight experience visiting high-plateau indigenous communities. Overlooked by majestic Mount Huancar, whose slopes are a destination for sand boarders, Abra Pampa is the Puna's largest settlement. Visit the Leopoldo Abánque archeological museum, then check out the stunning reflections in Pozuelos lake. Every August, the community in nearby Casabindo pays its respects to patron saint Virgen de la Asunción before undertaking a bull run and fight in the main plaza. For a luxury Puna experience, book a dome at recently opened Pristine Camps.
Esteros del Iberá, Corrientes
When the Conservation Land Trust discovered endemic species were dramatically dwindling due to hunting in one of the world's largest wetlands sites, it purchased land to privately restore it before gifting it back to Argentina as a national park. While Esteros del Iberá continues to be a work in progress, jaguars have beenreintroduced to the ecosystem, while breeding projects restore numbers of giant anteaters and one-ring pecorí pigs. Iberá gateways include Colonia Pellegrini and Concepción del Yaguareté Corá: stay in these towns to access wetland activities, such as epic three-day horseback expeditions through rivers or experiencing the virtuous circle local communities have created by swapping hunting for sustainable tourism.
Best things to do
Carnival in Gualeguaychú
In the run-up to Easter, the shimmying takes on greater intensity as the residents of Gualeguaychú finalise preparations for the Carnaval extravaganza. Skimpy, sequined clothing and feathers are obligatory.
Drive the Ruta 40
While it runs the vast 2,360-mile length of Argentina, even traversing a portion of the legendary Ruta 40 and its ever-changing landscapes earns you off-roading stripes. Best achieved in a 4x4, try the northwest road from Salta to Cafayate, taking in lunarscapes, colourful pepper-drying farms, and elevated vineyards.
Festival de la tradición in San Antonio de Areco
Gauchos gather in this traditional town, located a 90-minute drive north of Buenos Aires. to showcase their horsemanship in the first week of November, and no such festival would be complete without an obligatory array of bronco bucking and asados (barbecues).
Truffle hunting in Espartillar
A five-hour drive southwest of Buenos Aires is the tiny rural town of Espartillar, which is home to Argentina's leading truffle route. Tour Trufas del Nuevo Mundo's land between June and late August with Lola, the Brittany spaniel, before sampling wares over a three-course tasting menu. Nearby Pigüé is home to a mega foodie event in December: it holds an annual giant omelette contest.
Vineyards visits in the Quebrada de Humahuaca
While this dramatic canyon in the northwest province of Jujuy is already a destination to visit time warp villages such as Purmamarca and Tilcara, there's also a flourishing wine route. Vineyards start at around 2,200 metres above sea level and climb; family-run Bodega Kindgard is a recent addition, while Viñas de Uraqui is home to the continent's highest vineyard, which clocks in at 3,329 metres above sea level.
Getting around
While it's normal to travel for between 18 and 24 hours by comfy micro, or long-distance coach, from Buenos Aires to reach far-flung destinations (such as Bariloche or Salta), the introduction of low-cost airlines over the past few years has made domestic travel less time consuming; FlyBondi and JetSmart lead the pack. The dilapidated rail network has received little investment to make national travel feasible, but if you're really keen to ride the Argentine railway, catch a train from Buenos Aires to Rosario (seven hours) or Mar del Plata (six hours).
How to get there
The quickest way to get to Argentina is to fly into Buenos Aires' Ministro Pistarini airport (also known as Ezeiza) with British Airways, with a daily flight that currently makes a 90-minute stopover in São Paulo, Brazil; passengers continuing on to Argentina stay on the aircraft. Other European carriers flying to Buenos Aires include Iberia via Madrid, Lufthansa via Frankfurt and KLM via Amsterdam. It can be worth looking at US carriers such as American Airlines, which can be a little cheaper but add hours onto a door-to-door journey.
Money-saving tip
Argentina's economy is led by spiralling inflation, a peso that devalues on a daily basis and a dizzying array of exchange rates including eólarl oficial (official rate, 142.50 pesos to the dollar on 20 September 2022) and dólar blue (black market US dollar at 282 pesos). This is why Argentines appreciate the stable currency of hard cash in the shape of US dollars and many change their hard-acquired green bills at cuevas, illegal exchanges whose use is the norm, at a rate that can be close to double that of the official. Ask at your hotel before embarking on any exchanges.
FAQs
What's the weather like?
Depending when and where you are in the country, it might be snowing in Patagonia but wet and warm in Iguazú.
What time zone is it in?
GMT-3.
What currency do I need?
Pesos, but take US dollars in cash then change them in Argentina.
What language is spoken?
Spanish.
Read more on the best winter sun hotels
Join our commenting forum
Join thought-provoking conversations, follow other Independent readers and see their replies