The best tips for going hiking in the UK this summer
As staycations are set to be the choice du jour this year, whether it's the Scottish Cairngorms or the South West Coast Path, this is what you need to know and pack
Thursday 06 May 2021 14:07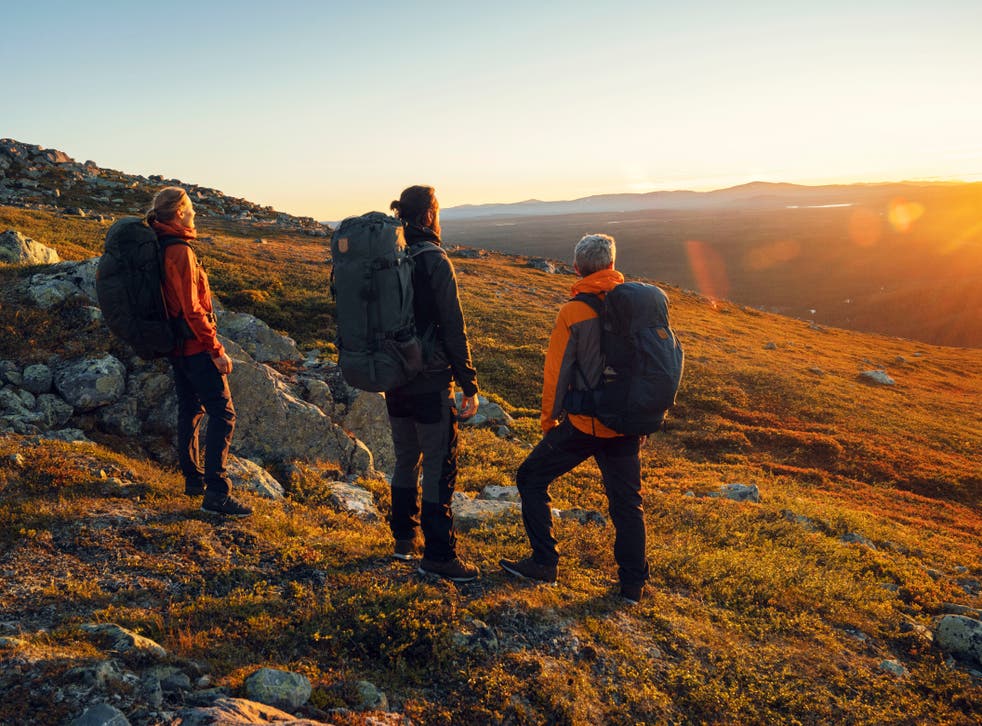 Without a shadow of doubt, the past year has been tough on us all, for many reasons. But one of the things many of us have missed most is adventures in the outdoors. The fresh air, wide open spaces, greenery, nature, wildlife and all that comes with it.
Now the end of restrictions is in sight, it's time to get planning and make the most of the wonderful outdoors again. Staycations are set to be the choice du jour this year, and with the likes of the Lake District, Scotland's Cairngorms, North Wales and the South West Coast Path, we're lucky enough in the UK to have a wealth of incredible locations to explore all within easy reach.
But seeing as it's been months and months since anyone has been able to travel around the UK and explore new trekking routes, or return to their favourites, it's important to remember how to look after the countryside as we enjoy it, as well as how to prepare ourselves and what to take.
To help you be as prepared as you can be, we've got the lowdown from Ross Bowyer, an ambassador of Swedish outdoors brand, Fjällräven, and a professional bushcraft instructor, so he certainly knows a thing or two about Britain's best locations for trekking, how to look after yourself if you got into trouble, and the all-important kit you need to best enjoy your trip, too.
First up is where to go. If you're new to trekking, Ross advises picking the National Park or Area of Outstanding Beauty you want to visit, whether that's the South Downs or Snowdonia, and then booking a B&B, campsite or hotel to use as your base. Then "start stretching your legs again on day walks to build up your hill-fitness again".
For more experienced, walkers, Ross also recommends trying the Pennine way, a 430km route running up the centre of the country. "Or if you're looking for somewhere wilder, try exploring Knoydart, a remote peninsula in the north west of Scotland that's often cited as Britain's last wilderness".
Regardless of your experience, ability or destination, one thing that applies to everyone is to look after the countryside. Of course, that means no littering and only leaving footsteps. But even then, be conscious of where you're stepping and stick to paths at all times to avoid disrupting wildlife. Ross also suggests picking up litter where you see it too, as people are more likely to leave rubbish in an area that's already littered.
As British beauty areas will have an increased footfall this summer as holidays abroad are still unlikely for most, Ross says it's very important that "everyone who visits the outdoors should be aware of the Countryside Code which has just been revamped". You can find this on the Gov.uk website, and it is full of useful things to know, like not feeding livestock or clearing up after your dog. 
Once you've read up on the code, you need to have the right kit too. Plenty of people set out hill walking in flip flops, or misjudge the weather and leave home without the right equipment. "I try to always remember to pack a waterproof. I love the Fjällräven High Coast Hydratic Jacket as it packs down small and can be thrown on at the first sign of a summer shower. If the weather forecast looks bad from the start then I'll pack my Fjällräven Keb Eco-Shell Jacket which keeps me dry in heavy rain," says Ross. If you're expecting mild, but mixed, weather in the warmer months, which we all know in Britain means a likelihood of brief showers and chilly winds, Fjällräven's Abisko Lite Trekking Jacket still offers great protection while still being lightweight and breathable. When it comes to the bottom half, Ross' favourite trousers are the Fjällräven Keb Trousers. "They are so comfortable and stretch in all the right places. The G-1000 fabric is super tough so I know that they'll last for years."
Of course, it's important not to overpack too, which can weigh and slow you down. "Remember you've probably lost some of your hill fitness, so to avoid a walk up Helvellyn feeling like you're summiting Everest try to reduce the amount of non-essential kit you're carrying," says Ross.
First of all, you need the right backpack. Ross's go-to for walks longer than three days is the Fjällräven Keb 52 Backpack as "it's super comfortable and has enough pockets to stop me from having to empty everything out to get to the hat at the bottom!" Even if you're just going for a day hike, there are some essentials you should always pack in your bag though. Ross recommends packing:
Map and compass (knowing how to use them helps!)
Phone (in an emergency dial 999 or 112 ask for police and then Mountain Rescue)
Waterproof jacket and trousers 
Warm jacket
Woolly hat and gloves
Water (Thermos if it's cold)
Food
Small first aid kit
Headtorch
After you've packed your bag, you just need to know your route. For Ross, planning this is half the fun and he loves getting maps out and seeing the routes. Of course there's plenty of great suggestions available on the internet, too and Ross says "it's also worth checking out the Foxtrail articles on Fjällräven's website, as there are loads of great tips and tricks there too".
So wherever you go this summer, have fun, look after the countryside and remember to leave nothing but footprints and help preserve these beautiful areas for everyone else to share.
For more outdoor-advice and to explore the full Fjällräven collection visit www.fjallraven.com
Register for free to continue reading
Registration is a free and easy way to support our truly independent journalism
By registering, you will also enjoy limited access to Premium articles, exclusive newsletters, commenting, and virtual events with our leading journalists
Already have an account? sign in
Register for free to continue reading
Registration is a free and easy way to support our truly independent journalism
By registering, you will also enjoy limited access to Premium articles, exclusive newsletters, commenting, and virtual events with our leading journalists
Already have an account? sign in