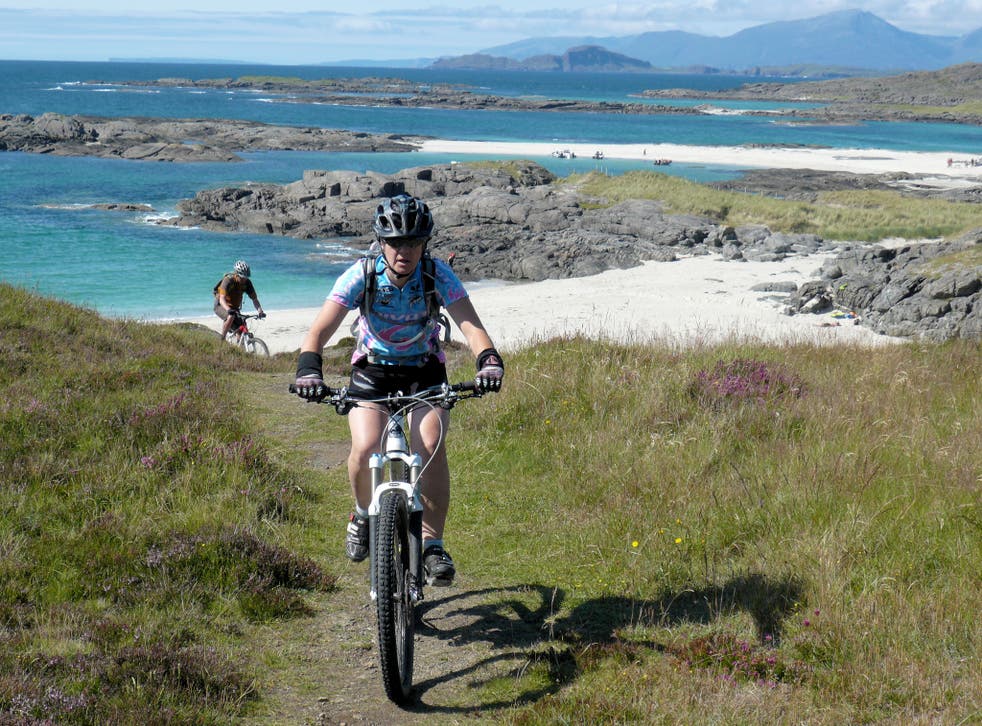 Active Traveller: Mud, midges and majesty - cycling in Scotland
Riding coast-to-coast in Scotland is anything but bog-standard
"I can't believe I flew all the way from my home in California just to take my bike for a walk!" It's remarkable that James has the energy to crack a joke. We're both breathless from hauling our bikes across the endless sodden bog. The freezing rain has started to hammer down again and we've got to wade across another swollen stream with our bikes slung over our shoulders.
We're in the remote and empty heart of the Highlands, midway through a monster mountain bike ride across Scotland. This is mud-splattered, muscle-straining mountain biking in the raw - a world away from cycling in purpose-built trail centres.
If you like your outdoor action served up in great big chunks of adrenaline-fuelled adventure, then you'll love getting your teeth into the Scottish coast-to-coast route, an epic off-road trip that starts from Aberdeen on the east coast and ends up in Ardnamurchan way over on the west. Covering a massive 375km in six long days, the route takes in every kind of trail, from sweetly swooping singletrack and lung-busting rocky climbs, to punishingly long hauls across moor and bog.
The adventure began easily enough at the Girdle Ness lighthouse, which stands watch over Aberdeen's harbour. From here our group of five Brits, plus James from California, rode out in bright spring sunshine past a flotilla of plump eider ducks happily bobbing about in the crashing surf. Led by our guide Dave, we crossed over the peat-stained river Dee and soon picked up the Deeside Way, a cycle track built along the old railway line to Braemar. This is a supported ride, so our luggage was being ferried ahead in a van, leaving us free to carry feather-light daypacks.
We'd all trained for the ride, so we clocked up these first kilometres fairly easily. Then the trail cranked up a gear as we climbed steeply through the Forest of Birse before emerging at the top by a small shooting lodge. With the clear evening sky filled with calling curlews and a stunning view of the distant hills, we could have happily lingered. We had to keep moving, though, if we weren't to miss dinner. A cracking descent through the forest delivered us to our hotel in the genteel town of Aboyne and after a quick shower I was soon enjoying a plate of Scottish salmon steak, washed down with locally brewed beer at the cosy Boat Inn.
Next morning the blue skies were replaced by monochrome cloud and a warning, delivered over porridge. "There's a vicious storm heading our way, so things could get a little interesting," said Dave, with what turned out to be measured understatement. At first there wasn't any hint of scary weather as we re-joined the Deeside Way, riding past dippers as they whirred up and down the Dee. But as soon as we climbed out from the shelter of the valley and headed into Glen Muick, things got interesting pretty quickly.
What would have been a good, steady climb, turned into one long, grunting slog against a merciless headwind. There was more relentless grind as we later pushed our bikes up a steep rocky track to a col on the misty and snowy flanks of Lochnagar. At 700m the col marked the highest point of the ride. Our reward was a long, fabulously fast descent down a rough moorland track - except for one member of our group who was blown over by a gust of wind as they bombed downhill.
By the time we finally approached the Highland village of Braemar, my fuel tanks were nearing empty. But no sooner had we checked into the Moorfield House Hotel than I was being revived with a mug of steaming tea, a vast slice of cake and a blissfully warming fire.
This is what really makes the trip such a success: no matter how cold, wet and tired you got during the day, come evening there's always a good hotel, great food and a warm bed to look forward to.
We were still buffeted by the wind the next morning as we followed the Dee west, skirting the mighty Cairngorms that reared up just to the north. Lapwings and oystercatchers flew up and scolded us as we rode along the easy tracks that ran by the side of the river. The tracks soon petered out as we swung north and headed off-road, where we had to rely on faint trails which disappeared as we pushed our bikes for three sweaty hours across a bog. Eventually we made it into the remote and stunning Glen Feshie, with gnarled old Caledonian pines and - thank goodness - dry, bog-free trails.
The day finished fabulously with a superb descent through the forests above Newtonmore, with a spectacular view of the snow-topped Cairngorms before our final drop down to the town.
From Newtonmore we snaked our way through lonely glens riding along ancient drovers' trails that led us right under the shadow of some of Scotland's biggest mountains, including the mighty Ben Nevis.
After a short ferry hop across Loch Eil, we left these Scottish giants behind and from then on we had a sea-breeze in our faces and a soundtrack of seagulls and oystercatchers as we rode alongside sea lochs towards of our goal of Ardnamurchan Point, the most westerly point on the UK mainland. Here we'd been promised riding along deserted golden beaches and cliff-top singletrack with superlative views of the islands of the Inner Hebrides. However, as we rode out from our base in Strontian on our final day we were greeted instead by with clouds of drenching drizzle, mist and that curse of the Scottish Highlands: midges.
Despite the drizzle, Dave still managed to celebrate our arrival at Ardnamurchan lighthouse by whipping out a bottle of cava. "It's awesome what we've achieved," concluded Richard from Manchester as Dave topped up his glass. "Why go overseas when you can have an adventure like this in the UK?"
And did James think it was worth flying all the way here from LA?
"Definitely," he replied in a John Wayne- style drawl. "The way that we were able to get away from people reminded me of the remote backcountry in California."
"Pushing the bikes across the bog though," he added, finishing his cava. "Now, that was pure baloney."
TRAVEL ESSENTIALS
Cycling there
The Coast to Coast mountain biking adventure in the Scottish Highlands with Wilderness Scotland (01479 420020; wildernessscotland.com) costs £925 per person including six nights' B&B accommodation, six lunches, and the services of a qualified guide. The trip starts and finishes in Inverness. Scheduled departures with availability are: 15-21 Jun, 10-16 Aug and 7-13 Sep.
More information
Join our new commenting forum
Join thought-provoking conversations, follow other Independent readers and see their replies