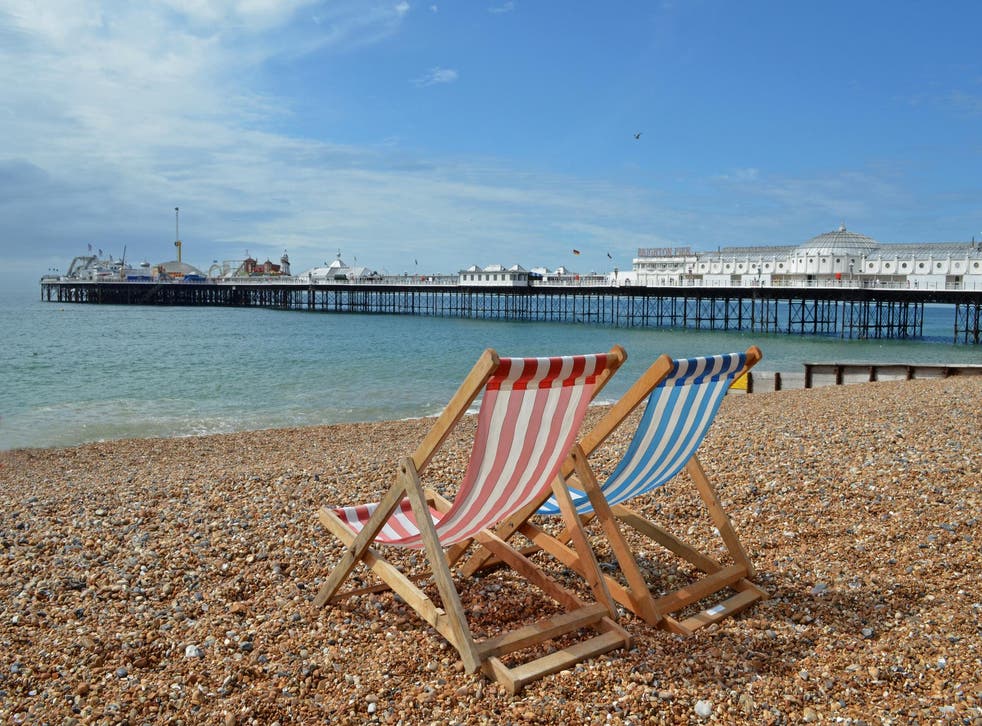 UK's best seaside towns: From Brighton to Newquay
From Cornwall to County Down, here are some of the best weekend escapes
The sun is finally here after a pretty unforgiving winter. And in keeping with the great British tradition of stripping straight off, it'll feel like half the UK population is hitting a beach this weekend.
With this in mind, here are some of the best seaside towns to visit in Britain, should you wish to join in with the fun.
Brighton
Brighton's famous for its seafront, of course, but there's far more to it than the beach. The Lanes may be teeming in the summer months, but the narrow, famous shopping streets are home to excellent boutique shops and antique markets.
The 450-foot 360 degree British Airways i360, meanwhile, provides panoramic views of the city and the seafront, and although the West Pier remains closed following a fire in 2003, Brighton Palace Pier continues to attract visitors with its rides and attractions, which is illuminated at night by 67,000 lights.
Bangor
Twinned with Virginia Beach in the US, Bangor – in County Down, rather than the Welsh Bangor – is both a commuter town for Belfast and a popular tourist resort, particularly in the summer months.
The marina is the biggest in Northern Ireland, while the bay area has a number of traditional and craft beer pubs, while families will enjoy Pickie Funpark with its water walking and swan pedalo activities.
Llandudno
Known for its 19th-century pier, this Welsh seaside town was a favourite of Victorian and Edwardian holidaymakers.
Visitors today can still step back in time, with things on offer including Punch and Judy shows and afternoon tea.
Those looking for more modern attractions may prefer to head to Oriel Mostyn gallery, take a stroll along Llandudno Pier, or settle down on a deckchair.
Newquay
Generally considered to be the UK capital of surfing, Newquay is one of the most popular seaside towns in the country – and it's easy to get to, too, with direct flights from cities including London, Manchester and Birmingham.
As well as its beaches (Fistral's the most famous, though the privately owned Lusty Glaze is also a must-visit), the town has a popular aquarium, a boating lake and Trenance Gardens, with its picturesque rose walk.
Southend-on-Sea
With an increasing number of routes going out of Southend Airport, it's easy to forget that there's no need to fly out – the Essex town is an ideal seaside destination on sunny days.
Adventure Island is popular with families for its rides, golf and go karting, while Cliffs Pavilion shows musicals, ballets and concerts should the English weather let you down.
Home to the longest pleasure pier in the world, Southend-on-Sea is also known for its traditional seafront arcades.
Aldeburgh
A historic coastal town in Suffolk, modern-day Aldeburgh is famed for its excellent fresh fish, caught daily and sold from huts on the shingle beach.
Aldeburgh Fish & Chips and Golden Galleon are routinely recognised as among the best fish and chip shops in the UK, while the town also has a number of charming pubs and cafes.
With shingle shore beaches, Aldeburgh may not be a sunbathing hotspot, but its genteel charm and calming atmosphere make it ideal for a relaxing seaside stroll.
Minehead
With its flat, sandy beaches, Minehead in Somerset is ideal for picnics and has idyllic views of Exmoor, rearing up behind it. It's also known for its pleasure boat cruises and paddle steamers, and is a short stroll from Blenheim Gardens.
The Avenue has a number of restaurants and bars, while Merlins Amusements is another popular spot, with old-school arcade and video games. Oh, and there's a Butlin's, too.
Exmouth
Daytrippers to the Devon town of Exmouth will enjoy a two-mile stretch of golden sand at Exmouth Beach, while the town has a variety of restaurants and cafes including Mediterranean-style El Olivo and The Point Bar & Grill, right beside the sea.
Exmouth is also popular for wakeboarding and waterskiing, while visitors should consider a cruise along the scenic Jurassic Coast.
Cromer
A traditional seaside town in Norfolk, Cromer is famous for its pier and its educational lifeboat station, making it an ideal weekend trip for families.
Also popular with visitors to Cromer is the Pavilion Theatre, while the town is also known for the Cromer crab – often considered the best in the UK.
Lyme Regis
Declared an "Area of Outstanding Natural Beauty", Dorset's Lyme Regis sits at the heart of the Jurassic Coast, and is one of the most historical seaside towns in the UK, dating back to the eighth century. It was also famously immortalised in the work of regular visitor Jane Austen.
A popular town for boating and fishing, visitors to Lyme Regis may enjoy a walk along The Cobb pier – the location of a pivotal scene in Persuasion – or Monmouth Beach, which is popular with fossil hunters.
Join our new commenting forum
Join thought-provoking conversations, follow other Independent readers and see their replies