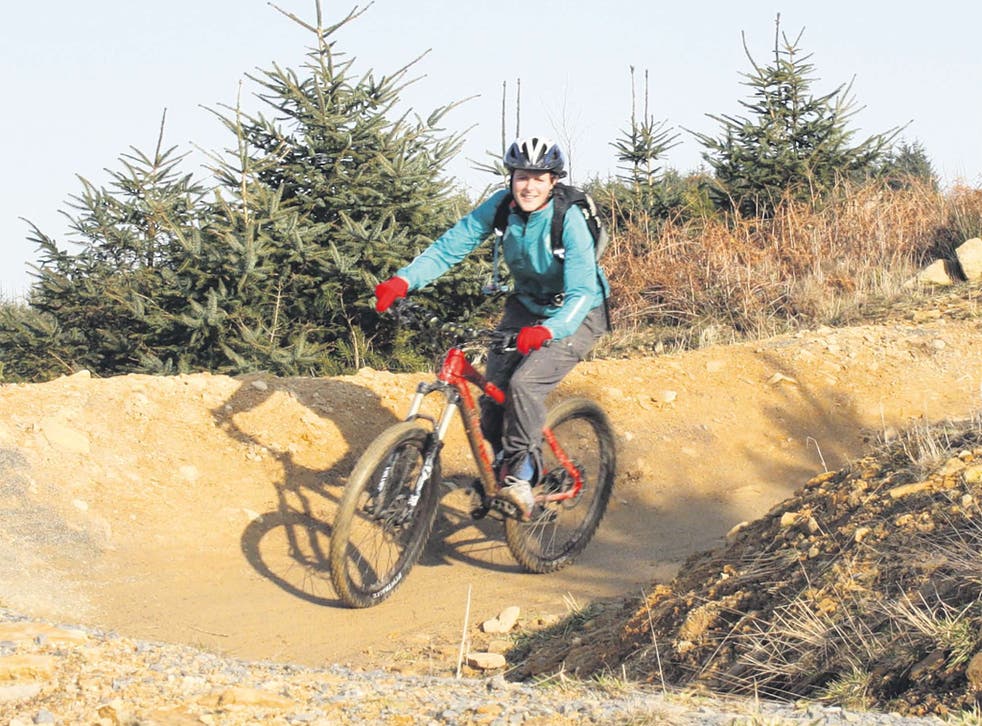 Blazing trails in the Dales: Durham by bike
Lucy Grewcock hits the forest for mud and mayhem on two wheels
Lucy Grewcock
Friday 08 March 2013 16:18 Comments
Leaning back on a log, I inhale a lungful of pine-scented air. Beneath this dense canopy, the forest seems almost eerie in its stillness, until a mountain-biker wearing a full-face helmet explodes out of the trees and leaps half a metre into the air. After a nifty aerial twist of the handlebars, he lands on the track with a satisfying squash of suspension before disappearing back into the undergrowth.
I was in Hamsterley Forest in the Durham Dales, an impressive tract of woodland managed by the Forestry Commission, where around 30 miles of waymarked mountain bike trails snake beneath the evergreens and oaks. Colour-graded from easygoing blues to technical blacks, there's a trail here for all abilities, from first-timers to dedicated downhill riders.
"We're working to create trails that compete with national centres like Glentres in Scotland," explains Ollie Graham, a trail builder with local volunteer group Hamsterley Trailblazers, who's offered to ride with me for the day. We meet in the car park to examine the maps and information boards by the bike hire centre, where everything from tandems to dirt jump bikes are being dished out.
Ollie suggests trying a red-graded route, which combines forest roads and singletrack – narrow sections of manmade trail. But no sooner have we cycled past the first red arrow marking our route, than Ollie suggests a diversion. "Let's sneak in here a sec," he says, turning left at a sign for "The Loop" – a mile-long skills circuit, a bit like an obstacle course.
While Ollie sails along the narrow wooden benches and whizzes over the ramps, I carefully read the instruction panels which accompany each obstacle, before rolling over the easiest features at walking pace. "The Loop's great for building confidence. Some kids go round it all day," Ollie explains.
Rejoining the main trail, I quickly discover that our red route includes a fair bit of uphill pedalling. But it's worth the slog. Just when my thighs can't take another revolution, I look up to find that the trail has led us to a high plateau at the perimeter of the forest. Giving sweeping views across the North Pennines Area of Oustanding Natural Beauty, the rusty coloured heathland of Eggleston Moor rolls away to the horizon and rutted paths break away from the woods. "That bridleway leads down to the pub at Eggleston village," Ollie points out.
We turn back into the forest and are soon flowing past tree-trunks on snaking singletracks. As Ollie tackles a gauntlet of bomb holes (6ft craters in the track) and ladder drops (wooden platforms that finish in mid-air), I stick mainly to the "chicken runs" – easier routes that run alongside.
And it's not only man-made obstacles we have to look out for. Where our path crosses Bedburn Beck – a tributary of the River Wear which carries spawning salmon in autumn – Ollie's front wheel gets caught in the river bed and his bike bucks him off, rodeo-style. Moments later it's my turn: my bike loses momentum in the muddiest bog in Durham, and I fall in slow-motion, plunging a trainer into a chocolatey soup that sucks and burps as it digests my leg up to the calf.
Hamsterley's trails are in a continual state of development and maintenance – a process that relies on partnerships between the Forestry Commission, local users and volunteer groups including the Hamsterley Trailblazers.
"We aim to build around 2km of new singletrack a year," says Ollie.
Recovered from our falls, we flow down an almost continuous section of singletrack that winds for over a mile back to the car park. This time I pluck up the courage to try some of the smaller dirt jumps. "The slabs at the top will give you an extra kick-up," Ollie calls over his shoulder. But at the pace I'm going, I'm in no risk of taking off.
Back in the car park I join a mud-spattered crowd outside the visitor centre, refuelling with hot drinks and pasties from the café. Among them is Ollie's mum, peeling off her helmet and shaking mud out of her hair.
You have to hand it to Ollie and his team, dedicating their weekends to help maintain and improve the trails for everyone's enjoyment. But, as I sip my tea and rub some of the mud off my leg, I can't help thinking that if I had trails this good in my local forest, I'd want to keep them all to myself.
Alternative cycle routes
North Sea cycle route
The world's longest cycle route passes through eight countries. Durham's 20-mile section from Seaham to Stockton takes in a reservoir, woodlands and pub stop. Allow four to five hours.
Consett to Sunderland railway path
This largely downhill, 25-mile track follows a disused railway line and takes in part of the Sea to Sea Cycle Route. Allow half a day.
Beamish loop
A seven-mile trip starting and finishing at Beamish, The Living Museum of the North, with farm tracks and bridleways. Allow two to three hours.
Derwent reservoir
An easy two-mile route that runs from the visitor centre along the dam to Pow Hill Country Park, with stunning views of the reservoir.
Staying there
Headlam Hall Hotel (01325 730238; headlamhall.co.uk) is a 20-minute drive from the forest. Doubles from £100 including breakfast.
Cycling there
At Wood N Wheels (0333 800 8222; woodnwheels.org.uk) bikes cost from £15 for two hours.
More information
Visitor centre (01388 488822; www.forestry.gov.uk/hamsterleyforest)
Visit www.thisisdurham.com/outdoors/cycling for more information on these and other routes
Register for free to continue reading
Registration is a free and easy way to support our truly independent journalism
By registering, you will also enjoy limited access to Premium articles, exclusive newsletters, commenting, and virtual events with our leading journalists
Already have an account? sign in
Join our new commenting forum
Join thought-provoking conversations, follow other Independent readers and see their replies