The Independent's journalism is supported by our readers. When you purchase through links on our site, we may earn commission.
Caledonian Sleeper: Why catching the overnight train from London to Scotland is better than flying
As the Caledonian Sleeper announces a dramatic refurbishment for next year, Ellie Broughton explains why it beats flying every time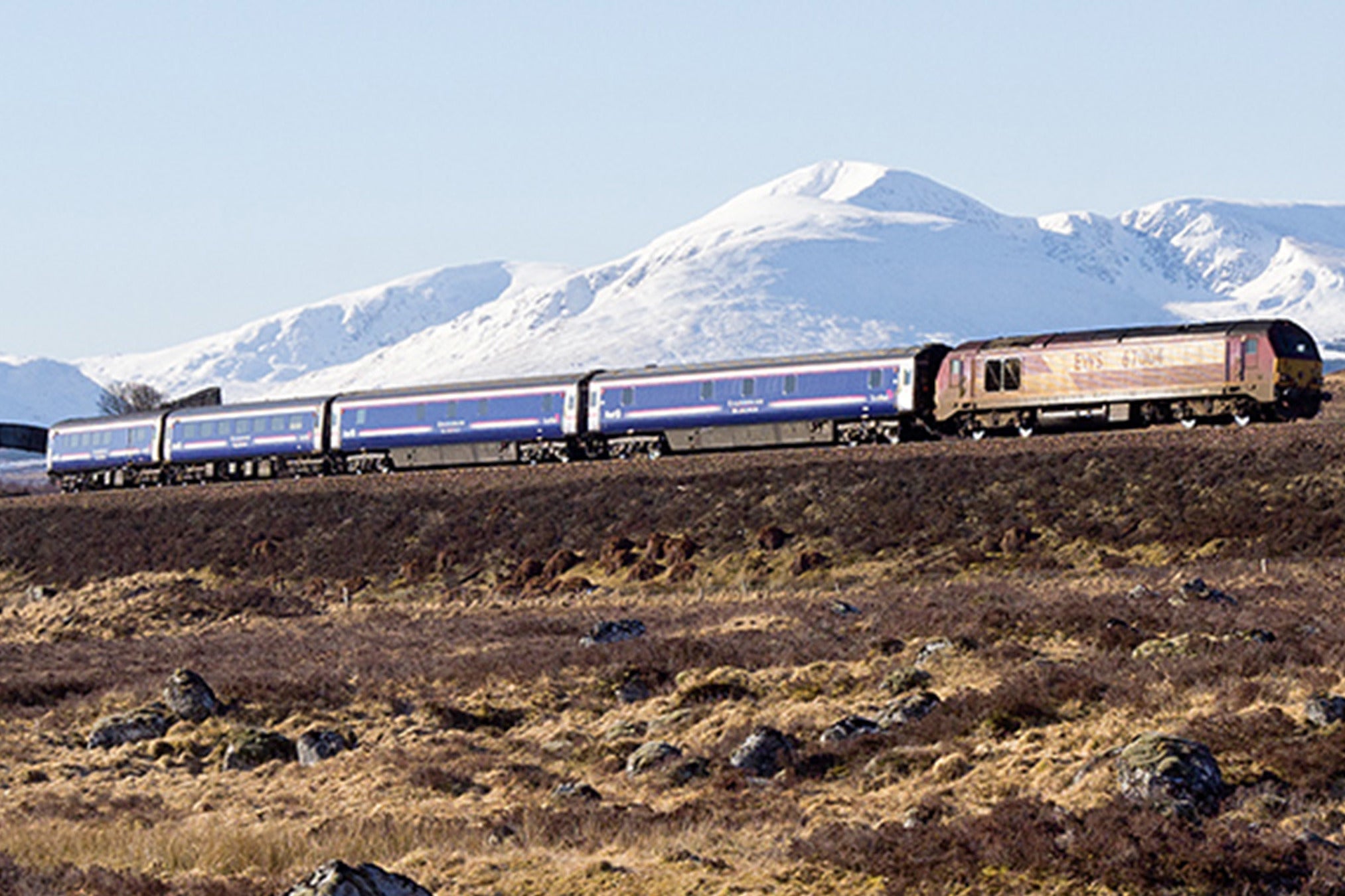 Right about now I'd usually be in my pjs, watching a last episode of Rick & Morty before bed. But instead I'm heading down the Victoria line with a suitcase, emerging onto a quiet concourse at Euston peppered with the occasional drunk accountant who's missed the last train back to St Albans.
After almost every other train has slid into the night, the Sleeper is waiting. Staff in immaculate uniforms wait with clipboards to usher crumpled passengers onboard. The routine, unchanged for years, is reassuring: here's your bunk. Here's your soap. Would you like tea or coffee in the morning?
For many people the Caledonian Sleeper, connecting London with a variety of destinations in Scotland via the Highland and Lowland routes, is a necessary bit of work travel in a packed calendar of meetings and deadlines. But for people like me, it's a treasured novelty. Lucky, then, that Britain's sleeper trains have survived where many services on the continent (Berlin to Budapest, Amsterdam to Zurich, Cologne to Warsaw and Prague) have folded.
Once you're settled in, there's an obligatory trip to the whisky car for a nightcap. Passengers rub shoulders, breaking the ice with small talk about the wedding they're heading to, the first time they took the Sleeper, the last time they had a dram at midnight. Eventually I toddle off to bed, bunking up under starched white sheets and waking occasionally to feel jolts along the tracks.
Twenty years after it was privatised, the Caledonian Sleeper has just announced new-look refurbished carriages will be launched next year – including en-suite rooms and double beds (a first for a standard sleeper service). They won't even have carpet running up the walls anymore.
"People don't really like flying," Caledonian Sleeper's chairperson, Peter Strachan, says. "I would say that, wouldn't I?" he adds. "You've got to accept flying for what it is, but the convenience of rail wins people over."
When I ask him his favourite rail journey, he waxes lyrical about the Sleeper to the Highlands: "Leaving London at 9.15pm and arriving in the Highlands either on the Fort William route or the Inverness route. You wake up and you're coming through the pass at Drumochter, into Dalwhinnie, just as sunrise is coming. There are deer scampering and you're just having your breakfast. It's magical."
Since Strachan joined in 2015 the service has bucked five years of decline, growing by 26 per cent in the last two years alone. Since Brexit, European customers have flocked to Scotland to take advantage of a weak pound, but even British customers have been increasingly interested in staycations such as Scottish skiing holidays – the subject of a campaign Caledonian will repeat for a second season this winter.
And whether or not consumers are switching for environmental reasons, trains' growing popularity benefits us all. Last month Transform Scotland revealed that rail journeys between central Scotland and London rose from a 20 per cent market share to 33 per cent between 2005 and 2015, a shift which saved more than 680,000 tonnes of emissions.
"The two UK sleeper routes have had a hard time since they were drastically reduced in 1995, around the time budget flights appeared," explains Mark Smith, founder and editor of seat61.com, an independent site for train travel. "But they have been fighting back with better on board services and passenger numbers have grown. Better food and drink, softer mattresses, snug duvets replacing blankets and much easier booking systems have improved the Sleeper experience, with brand new trains due to come in on the Caledonian Sleeper in 2018 and a complete refurbishment of the Night Riviera almost complete now."
Stats show a clear shift towards rail travel and Smith says his typical user has changed from people who are afraid of flying or are unable to fly, to mainstream travellers who are fed up with the hassle of flying and who'd like to cut their carbon footprint.
Smith nods to recent studies by EuroStar and Virgin Trains East Coast that showed taking trains from London to Paris and Edinburgh respectively could slash carbon emissions. Bear in mind that emissions at altitude create two or three times the damage of emissions at ground level; another reason choosing trains over planes makes such a difference.
In the morning, the whisky car transforms into a bustling breakfast room. The train seems smoother when you're sat upright. Oaks and bracken in the Borders zip by in a milky-tea fog.
Or, in winter, you arrive to Waverley in the dark, and watch dawn turn the sky from slate to grape to grey behind the stubborn black lace of the Scott monument.
But if you're a fan of the midnight lurch down the corridor to the loo, better get booking. Old Sleepers are due for a rude awakening next spring – and I can't wait.
Travel essentials
The Sleeper service runs both ways between Inverness, Aberdeen, Fort William, Glasgow, Edinburgh and London Euston every night bar Saturdays, with a journey time of seven hours and 29 minutes between London and Edinburgh. Single berths cost from £75 one way. Bookings can be made up to 12 months in advance on sleeper.scot.
Join our commenting forum
Join thought-provoking conversations, follow other Independent readers and see their replies