The Independent's journalism is supported by our readers. When you purchase through links on our site, we may earn commission.
Home towns
Welcome to my home town: Why living in Carlisle makes me hopeful for the future
Ruth Bushi shares what coming back to this border city has taught her about belonging, resilience and regeneration
Thursday 01 April 2021 09:35 Comments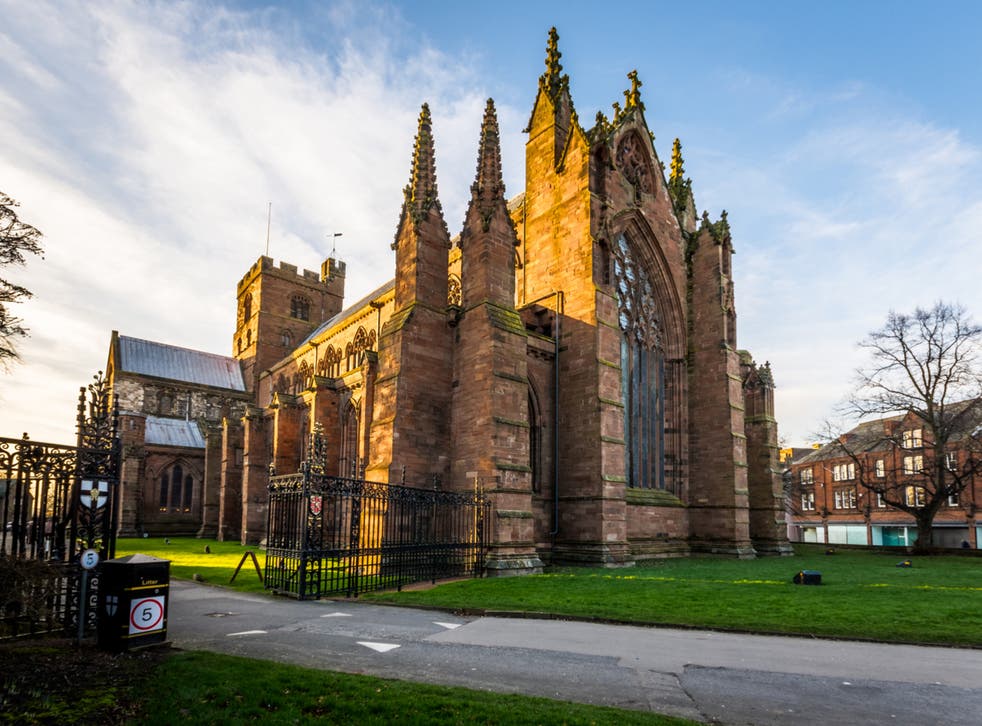 During lockdown, many of us made the pilgrimage back to our family homes – and rediscovered them through fresh eyes. Part guide, part love letter, "Home towns" is a new series in which we celebrate where we're from. After all, it could still be a while before we can go anywhere else…
When I tell people I live in Carlisle, I usually add that I was born in India, grew up in Northumbria, and "worked in London for a long time". Sometimes I throw in that I only moved back here a few years ago because the rest of my family refuse to leave.
The truth is I have history here. I lived in Carlisle between the ages of eight and 18, and now live within walking distance of my childhood home. This is a twist that the immigrant, itinerant part of me never saw coming – yet the city's origin story has parallels with my own.
Carlisle, the "Great Border City", sits atop the M6 and marks the end of England. It's the county seat of Cumbria, and is a gateway city. This means people come here to go somewhere else, but there's no insult in it. Scotland is within walking distance. The Lake District is a short drive away, and there are wild, open spaces all around. House-hunters, cut loose from London offices during the pandemic, fall in love with the area's beauty and how well connected we are.
The Romans knew this back in the first century. By AD79 they'd built the settlement of Luguvalium here. Later, Hadrian's Wall, the empire's greatest calling card, cut through what is now the suburb of Stanwix.
The Celts who came afterwards called the town Caer Luel, in which you can still hear the melody of the present name. There were waves of Saxons, then Vikings. By 1066, Carlisle was part of Scotland – this is the reason we're not in the Domesday Book – but England repeatedly fought for and finally won this strategic city. This kind of empire-grabbing feels particularly familiar to me as an Indian.
Read more:
We were one of a handful of non-white families in Carlisle in the 1980s, though any racism was mostly background static rather than all-out aggression. Our babysitter, an older white lady who liked to sing hymns, was once spotted out with us brown kids. She laughed awkwardly and called down the street after a gawping neighbour: "They're not mine!"
Things seem brighter and more forward-looking now. The region remains one of the UK's least diverse, yet in July 2020, hundreds of people flocked to the city centre to stand in solidarity after the death of George Floyd.
Similarly, when Carlisle flooded in 2005, and again a few years later, the city came back from devastation hardier and more rejuvenated. Regeneration has helped. The change of heart also feels as though it is partly due to the creation of Cumbria University in 2007, and the influx of students from elsewhere.
The history of the area is a rolling wave, with each era tacking up its own frontage. The triangle of cathedral, castle and museum encloses the medieval quarter of the city with its narrow, cobbled streets. From here, remnants of the city wall reach out, as if to catch a town that's long outgrown its embrace.
There are sleek, vibrant bars and cafes dotted among Victorian arcades and temperance-era buildings. Laser Quest – like paintball without the paint – lives on, but now there are escape rooms and VR suites to boot. It's a far cry from The Twisted Wheel, the sticky-floored nightclub where I'd gulp noxious booze before getting picked up by my stern-faced, surgeon dad in the early hours. At the time I was astonished at my ability to convince him of how sober I was, but now realise I was both very naive and incredibly drunk.
My dad was still my taxi driver just a year or two later when he drove me to Lancaster to start university. He died six weeks into my first term. Having spent his working life in hospitals, he had a heart attack while walking the Wrynose Pass in the Lake District, and is buried in Carlisle. It's an unexpected bookmark in the history of this place and my life.
For immigrants, it can be hard to say where you're from and where home is. How do you filter all your meaningful experiences down to a single square on the map? I think we understand more than most what borders mean, and what they can't give you. Home is the place where you love or feel loved, and of course that changes over time. But home is also the places that claim you, that weave their fragments into the story you tell yourself and others. And, by that score, Carlisle is most definitely "home" for me.
There's so much to see and do in this city. Here are just a few highlights.
Stay a while
There are budget beds all over town, costing from £30-£40. Premier Inn and ibis in the city centre are well rated and within this price range.
The Halston costs more, but gives good face for the money. Formerly a post office, the building is now home to self-catering apartments, a spa, bar, cocktail classes, afternoon tea and fancy nosh. Doubles from £140.
Willowbeck Lodge on the outskirts offers lakeside luxury and lush, tranquil vibes in its eight bright and airy rooms. Doubles from £100.
(Hotels are currently closed in England)
Eat and drink
Regeneration has thrown up an exciting mix of farmers' markets, food festivals and indie dining establishments.
The Thin White Duke does reliably delicious gourmet pub grub and fancy drinks. Nearby Circle Bar does eclectic food – chana masala and buttermilk chicken are among the dishes – and is handy for mixed groups and fusspots. Across the road, The Last Zebra is highly rated and rather chi-chi.
Abbey Street, behind the cathedral, dances to a different beat. Vinyl Cafe is a record shop, cafe and live music venue in one, while Foxes Cafe Lounge is a beacon for Sunday brunchers. And family-run Amato's on the corner is worth booking ahead for Sicilian cuisine.
Art and delights
Tullie House Museum and Art Gallery is a proper smorgasbord of things to do. The old building houses traditional art and collections, while the new building has hosted everything from indie film showings to Rembrandt and Turner exhibitions. It's particularly good at bringing local history to life, from the Romans to the present day. Entrance is free for under-18s or £10 for adults, and you can easily while away a few hours here.
If you're short on time, head for the terrace to grab a view of Carlisle Castle and the Millennium Bridge. Or pop into the underpass outside to see the Cursing Stone. This 2001 sculpture is inscribed with a 16th-century curse that's been blamed for murder, mayhem and all manner of bad luck.
For live music, comedy, cabaret and lively shenanigans, you'll want the Old Fire Station.
Where to walk
Bitts Park, in the shadow of the castle, is good for Sunday strolls and park runs. From here, duck under the Eden Bridge to stretch your legs in Rickerby Park.
The Lake District, fells, tarns, mountains and woodlands are all within easy reach, but I'd recommend heading to Caldbeck Fells. This high, wild land is home to cattle and sweeping views, and is gloriously free of crowds.
Register for free to continue reading
Registration is a free and easy way to support our truly independent journalism
By registering, you will also enjoy limited access to Premium articles, exclusive newsletters, commenting, and virtual events with our leading journalists
Already have an account? sign in
Register for free to continue reading
Registration is a free and easy way to support our truly independent journalism
By registering, you will also enjoy limited access to Premium articles, exclusive newsletters, commenting, and virtual events with our leading journalists
Already have an account? sign in
Join our new commenting forum
Join thought-provoking conversations, follow other Independent readers and see their replies