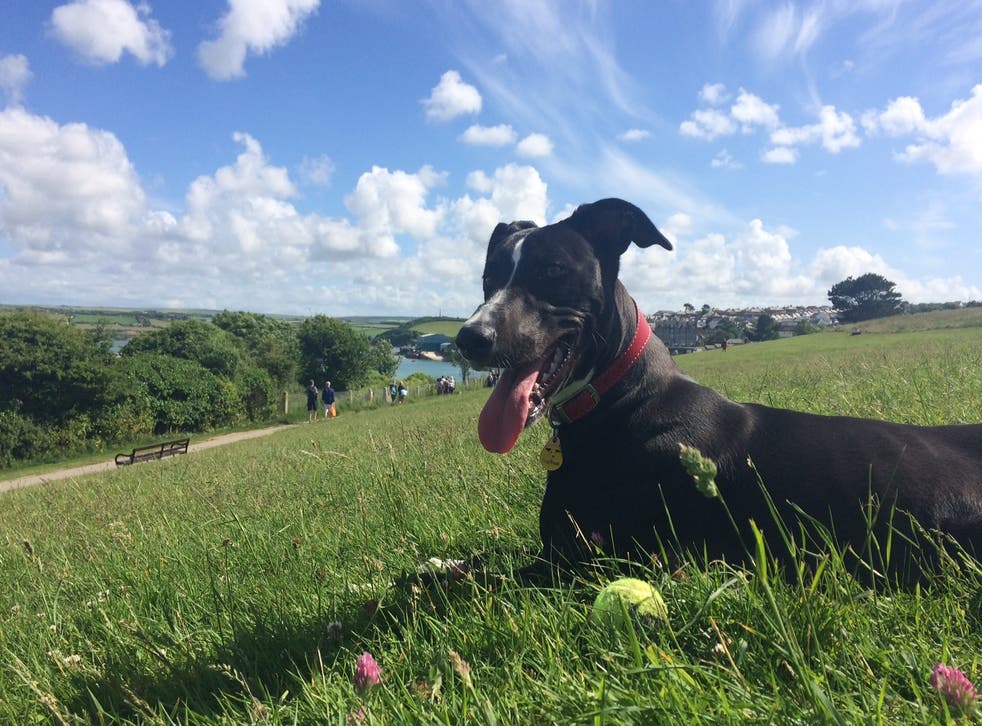 Dog-friendly holidays: Why Newquay in Cornwall is best
A trip to the coast was as much fun for Dorrit the dog as it was for owner Rosamund Urwin
Getting a dog entails a series of small sacrifices. Since my boyfriend and I adopted Dorrit (our now nine-month-old whippet-cross pup) last December, lie-ins have been curtailed by this canine alarm clock. Her chew list includes shoes, books, bras and skirting board. Half-gnawed squeaky toys are her booby-traps, scattered all over our living room floor.
One of the biggest adjustments, though, has been on holidays. The stamps in my passport have stopped accumulating. Trips will no longer begin at the airport. Unless you can bear to put your pooch in kennels (I can't), a dog is an anchor, mooring you to Britain and its surrounds.
But every dog has its (holi)day. And if you overlook the way a canine chaperone reins in alcoholic excesses, they are superior holiday companions. Enthusiastic, the first to the beach, always popular, and a magnet for groupies. They are overjoyed just to be outside, which makes you overjoyed to be outside.
Dorrit showed all this recently in Newquay, Cornwall, on a long weekend that proved the town is one of the best places in Britain for the four-pawed. It is so "team dog" that not only is your hound welcomed onto beaches and into hotels but you can even buy them a canine ice-cream and pizza nearby. There's a rare happiness that comes from making another creature tail-waggingly, bottom-wrigglingly mad with excitement. We felt it a lot that weekend.
We stayed at The Headland Hotel, a Victorian red-brick converted mansion. As a dog-owner, the first question you ask of a hotel or B&B is: "What's your policy on pets?" The Headland could answer: "We treat dogs like they're Benedict Cumberbatch at a Sherlock convention". Staff fussed over Dorrit all weekend. At its entrance stand statues crafted in her likeness. In the room, there were poo bags, biscuits and towels on tap. Dorrit was so happy there that by the end of our stay, she was greeting other guests at the door as though she was the maître d'. Dogs aren't allowed in the main Samphire restaurant, but you can dine with hound in the neighbouring rooms. I recommend the mussels – fresh and fat – and the full-English breakfast is worth breaking the diet for.
The Headland sits above Fistral Beach; the weather while we were there was the kind that could only tempt surfers and sun-starved Brits into the sea, but the pretty beach itself was Dorrit arcadia. She sniffed. She rolled. She chased after her ball. She ran rings around us, leaping into the waves and springing off the sand. Dorrit hadn't been to the sea before, and the tide seemed to transfix her – she'd stare as it moved under her feet, then jump to follow it. A Crufts intelligence rosette may be a little way off, then.
Other local beaches that welcome dogs all year round include Great Western, Towan, Newquay Harbour and nearby Crantock. On a Saturday afternoon, we walked along the busy Watergate Bay too, although Dorrit's puppyish enthusiasm took a knock from a bullying malamute determined to show this was his territory. Afterwards we stopped for lunch at The Beach Hut, another dog-friendly restaurant, which overlooks Watergate Bay. Dorrit may have been slipped some of the mackerel in my excellent salad as a behavioural bribe (it keeps her coat looking glossy – that's the excuse, anyway).
Later, we headed to Bridge Bike Hire to cycle from Wadebridge to Padstow. Known as the Camel Trail, it's the most cycled off-road trail in the UK and an easy, mostly flat ride, with trees lining the route. Dogs can either travel in carriers attached to a bike, or run alongside, staying on leads. Persuading Dorrit to go at riding pace was tricky – she's more a sprinter than a jogger – and I was perpetually fretting that she might put a paw in my front wheel. Progress was slow. When we eventually arrived, the reward was Padstow, which would certainly be a top contender for the BBC spoof series W1A's never-to-air programme to find Britain's best villages.
It even has an excellent pet shop, Slickers Doghouse, where the sign outside reads: "Humans welcome, preferably accompanied by their dog". There we found dog "ice-cream" in apple, banana and carrot flavours, alongside the usual treats and toys. Its maker Billy + Margot isn't technically allowed to call it ice cream as it's dairy free, but it did give Dorrit something to lick while we ate our own ice-creams (mint choc chip from the wonderful Roskilly) in the harbour.
The evening brought Dorrit's final, most exciting treat: pizza. The Wet Dog Pizza is a small pizzeria which is so welcoming to mutts that there's a section of the menu just for them. Ingredients of the dog pizza include coconut oil, peanut butter, dried capelin fish and whitefish jerky, and your dog can wash it down with a mini bottle of Pawsecco or a Snuffle Dog beer (both non-alcoholic, obviously); 10 per cent of dog-related sales go to St Francis Home For Animals in Newquay.
When the pizza arrived, Dorrit sniffed it gingerly. She was nervous due to a noisy stag do at the neighbouring table (though she befriended one of the men who was wearing a leopard-print toga – dogs are laudably non-judgmental). We initially hand-fed a slice to her, and then she wolfed down the rest. The human-targeted pizzas were equally well-received.
It wasn't only at the hotel where Dorrit was treated like a star. Everywhere she went locals and tourists alike petted her and complimented her. After dinner, we headed down to the beach for a dusk-time walk. Suddenly, "Dorrit! Dorrit!" rang out from the balcony of a nearby hotel that overlooked the beach. We turned to find the stag party's leopard-print toga-wearer overjoyed at spotting our pup, screaming her name as though she was Justin Bieber. Luckily, this hasn't (yet) gone to her head.
Travel essentials
Getting there
Flybe (flybe.com) flies from London Gatwick to Newquay in an hour and 10 minutes, from £60 return. The train takes from approximately five hours and 10 minutes with a change at Par. Great Western (gwr.com) offers advance return fares from £63.50.
Staying there
The Headland Hotel (01637 872 211; headlandhotel.co.uk) offers doubles from £280, B&B; the hotel charges £24 per dog per night.
More information
Basic bikes can be hired for £12 a day through Bridge Bike Hire (01208 813 050; bridgebikehire.co.uk).
Register for free to continue reading
Registration is a free and easy way to support our truly independent journalism
By registering, you will also enjoy limited access to Premium articles, exclusive newsletters, commenting, and virtual events with our leading journalists
Already have an account? sign in
Register for free to continue reading
Registration is a free and easy way to support our truly independent journalism
By registering, you will also enjoy limited access to Premium articles, exclusive newsletters, commenting, and virtual events with our leading journalists
Already have an account? sign in
Join our new commenting forum
Join thought-provoking conversations, follow other Independent readers and see their replies