Is Brighton really the most hipster city in the world?
As the UK city tops a new 'hipster' index, The Independent puts Brighton's trendiness credentials to the test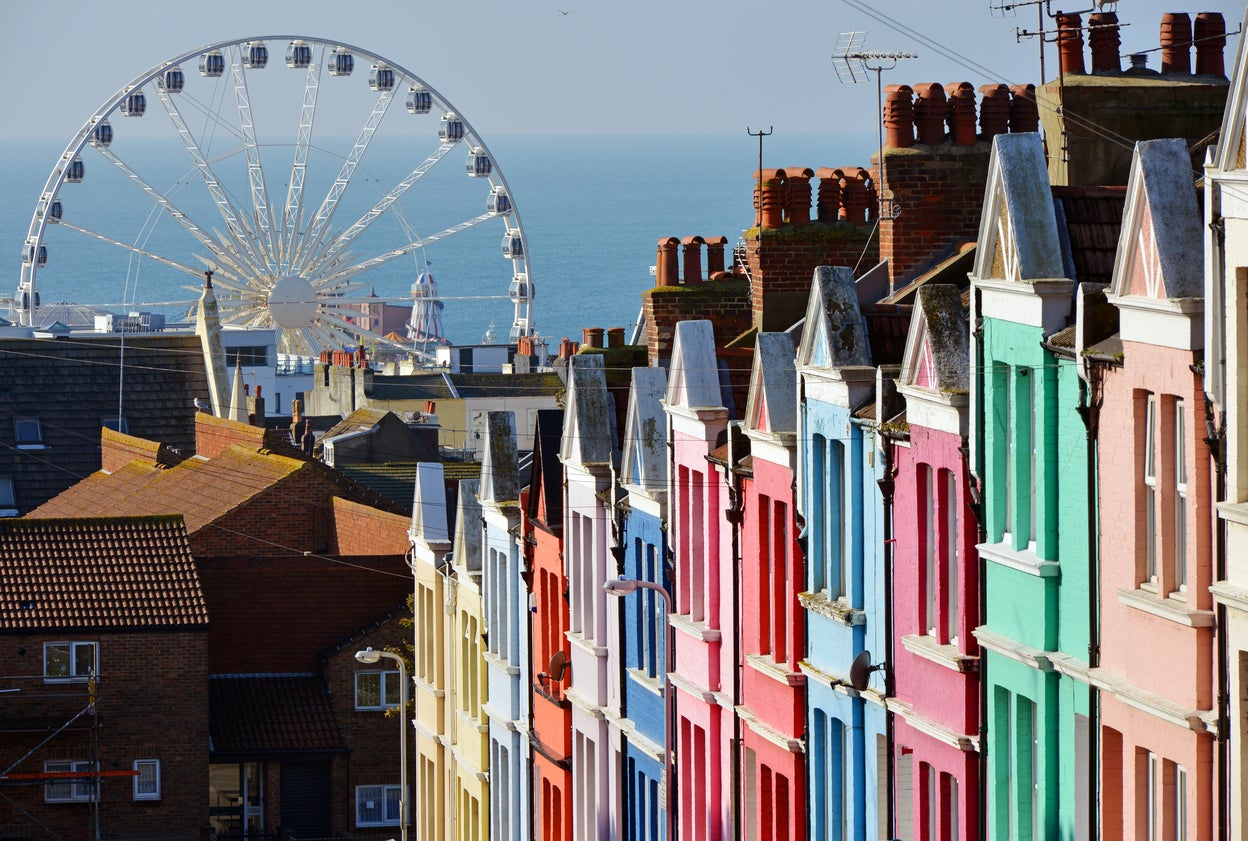 I'm sitting in an indy coffee shop, sipping a flat white complete with intricately feathered milk design and surrounded by people a lot cooler than me – men sporting facial hair gleaming with beard oil, women adorned with beautifully inked tattoos. Overhead, bare bulbs hang from exposed wires; stainless steel pipes run across the ceiling. An impossibly trendy looking girl glides down the street on a skateboard and skips inside, hollering hello to the baristas.
It feels like the set-up to a skit on comedy show Portlandia, which lovingly ribbed the US city for its ludicrous hipster pretensions.
But I'm not in Portland – I'm in Brighton, which, as it turns out, is the new heir to the crown of cool. The East Sussex city just beat the Oregon trendsetter in a hipster index of 446 cities worldwide.
The list, released by MoveHub, judged cities' "hipsterness" based on the number of record shops, vintage boutiques, vegan restaurants, coffee shops and tattoo parlours they have per 100,000 residents. And, somehow, Brighton pipped the likes of Lisbon, Seattle and Helsinki to the post, with a score of 8.1632 – admittedly just one-thousandth of a point more than Portland.
But can you really quantify hipster? And, if so, does a day out in Brighton make an anorak-wearing woman with no skin art feel hopelessly uncool? There's only one way to find out.
First stop is Small Batch Coffee, the aforementioned café full of cool clientele. Despite the all too familiar industrial chic décor, the atmosphere is far from exclusive. It's a relaxing haunt, with the likes of Sharon Van Etten and First Aid Kit crooning softly from the speakers and a long bar next to the full-length glass façade for excellent people watching (although the Tesco Metro opposite slightly mars the trendy vibe).
And boy, is the coffee good. I sometimes forget what a decent brew tastes like, inoculated by regular chain-store lattes that are essentially cups of milky swill for £3 a pop. If hipsterfication is bringing us better beverages, I could get on board.
The 20-pump latte: Hacking the Starbucks app to create a 750 calorie drink
Caffeine fix taken care of, with a vegan banana and pecan cookie to go, I set off in search of Brighton's other delights.
To truly embrace my inner hipster, I have to force myself to tackle one of my least favourite activities – vintage shopping.
It's not that I don't like vintage clothes; more that, in London at any rate, secondhand boutiques seem to be staffed exclusively by painfully cool, thin, unsmiling young women who seem to exist purely to raise an ironic eyebrow when you enquire whether they have any bigger sizes. Thus, a fear of vintage was born.
Nevertheless, I go in search of Snoopers Attic, a vintage store located on the upper floor of antique-cum-junk shop Snoopers Paradise.
The place is huge – roomy enough that you can wander in without anyone taking a blind bit of notice and browse to your heart's content. Records jostle with crockery and assorted bric-a-brac, with the end result being reminiscent of a granny's shabby-chic living room.
Heading up to the attic, I'm gratified to be greeted cheerily by a woman in her forties, who proceeds to sing along to Ella Fitzgerald and lovingly fold a pile of scarves. It's such a different atmosphere to my previous experiences that I'm soon caught up in the faded glamour of it all, sweeping into the changing room with a sparkly peach dress and cream silk camisole. Neither of them fit, obviously, but for once I don't feel myself flushing with embarrassment. It's not that kind of place.
I have similarly enriching experiences at other vintage stalwarts Dirty Harry (where I covet the rack of dungarees) and Flock (where I linger over the bespoke jewellery table), and although I don't buy anything, I genuinely enjoy having a good nose around.
Time for my second coffee of the day, this time at Marwood. This insanely quirky cafe-bar has Blondie blaring and is crammed with mismatching furniture and odds and ends, including a giant shark's head on the wall. The flat white doesn't quite match up to Small Batch but the interior more than makes up for it. And again, despite the coolness of it all, I don't feel left out – even in my daggy waterproof. Everyone's just so darn friendly.
Next up, it's time to assess Brighton's record shop game. Cult Hero is small and a bit too cool for my tastes, with a slim selection of box-fresh vinyls. Resident is more my scene – it's an oasis of calm, dotted with bearded men patiently flipping through rack after rack. They look very happy. But it's Vinyl Revolution that steals the show, boasting a great selection of vintage offerings from the Seventies and Eighties. I toy with the idea of purchasing a Neil Diamond greatest hits collection, but decide that, even by my standards, it would be a pretty nerdy move.
For lunch, only vegan will do; and on this score, the city outdoes itself. Brighton was a haven for veggies well before ethical eating became mainstream and has had an established alternative foodie scene for years. It seems disingenuous to label it "hipster", which sounds faddy and try-hard – most of these eateries were borne out of real passion rather than the desire to attract a certain millennial set.
We try the UK's first vegan bleeding burger
I try out Food For Friends, a firm favourite with locals that does a great line in flavourful dishes for vegetarians and vegans. Far from being hipster, patrons seem to be a mix of families and middle-aged women soaking in the sun through the vast windows. One portion of crispy tofu and a pumpkin and sage arancini later, I'm officially a fan. Rounding off my meal with a vegan pistachio gelato from Gelato Gusto just up the road, I can honestly say I'd go vegan tomorrow if I could eat this well all the time.
Last of the hipster index criteria to verify is tattoo parlours. I'll be honest – I don't have any ink and I'm unlikely to get some at this stage of the game. Still, I lurk around Blue Dragon, Blind Pig and Dead Slow just to verify that yes, these places are definitely too coolly intimidating for the likes of me.
Strolling back to the station in the sunshine, I have to concede that Brighton is indeed pretty "hipster" if you were ticking boxes from a generic list of criteria. It has craft beer and artisanal coffees in abundance; it has thrift stores and sustainable dining options aplenty. But there's an authenticity behind Brighton's brand of trendy; because these things have always been part of the city's DNA, none of it's forced or pretentious. Nothing is designed to make the visitor feel unwelcome or unhip.
More hipster than Portland? Could be. But Brighton's real charm lies in its openness and inclusivity – and what could be cooler than that?
Join our commenting forum
Join thought-provoking conversations, follow other Independent readers and see their replies