The Independent's journalism is supported by our readers. When you purchase through links on our site, we may earn commission.
Newcastle city guide: What to do on a weekend to this party town turned cultural hub
Always enjoyable for more than just a night out, this year Newcastle is showing its meaningful side with a series of cultural events in honour of Martin Luther King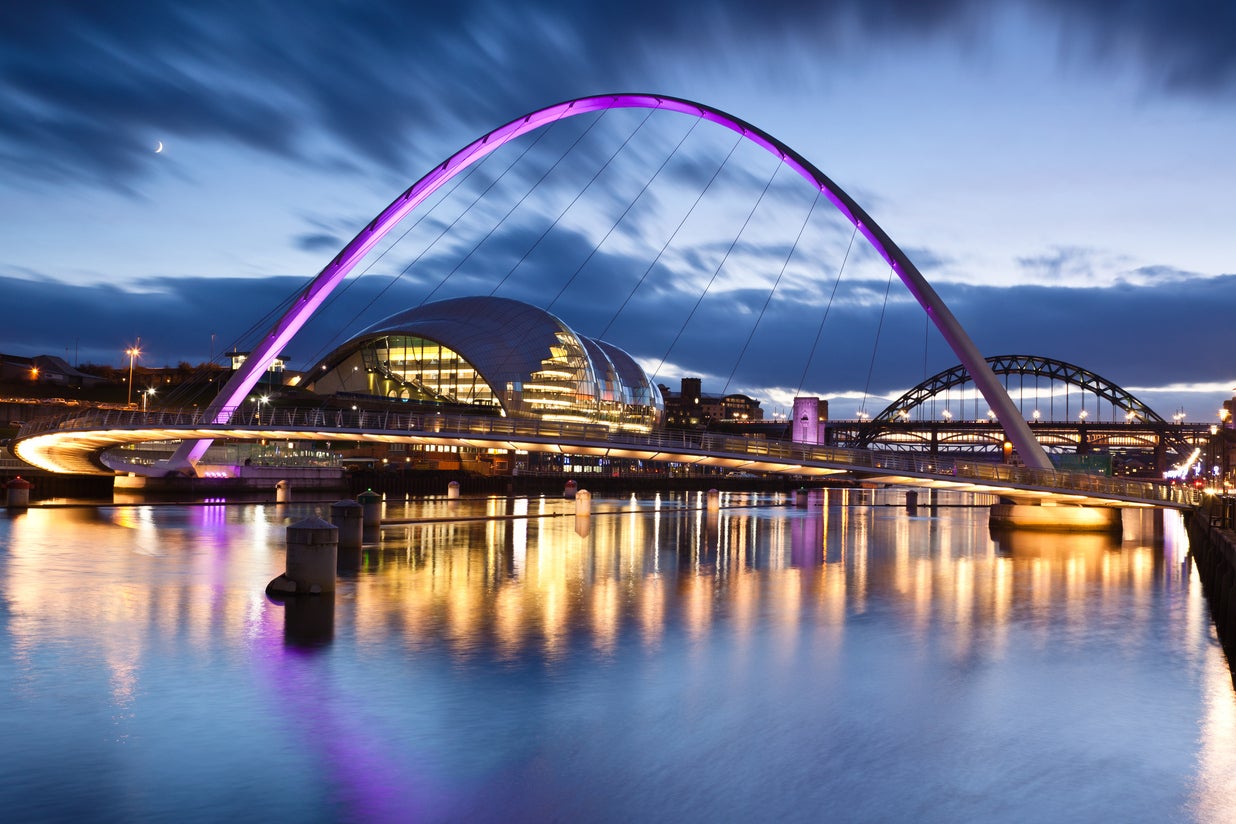 Why go now?
Newcastle-upon-Tyne has a reputation for being a party city. But its Georgian core, smattering of galleries and increasingly diverse culinary scene means a weekend in this former industrial hub offers much beyond nightlife.
Newcastle is currently celebrating its connection with Dr Martin Luther King, the American civil rights campaigner, who received an honorary doctorate from the city's university in 1967. Freedom City 2017 (freedomcity2017.com) features a programme of cultural events commemorating King's visit and acceptance speech: the last he gave outside the US. Freedom on the Tyne, an immersive drama with a cast of hundreds, will be held on 29 October to celebrate struggles for civil rights.
Get your bearings
Newcastle sits on the north bank of the River Tyne, opposite the town of Gateshead. The castle (1), from which the city's name is derived, occupies a hilltop location five minutes' walk from the railway station. Central Station (2) is less than 10 minutes' walk, or a single stop on the Metro, from Grey's Monument (3) in the heart of the city, and one of the entrances to the Eldon Square (4) shopping centre.
Strolling down Grey Street past the Theatre Royal (5) eventually leads to the Quayside (6), whose bars and restaurants make it a popular part of the city's renowned nightlife scene.
Find visitor information online at newcastlegateshead.com.
Day one
Take a hike
Pre-book a guided two-hour tour of the Victoria Tunnel (7) (0191 261 6596; ouseburntrust.org.uk) to walk beneath Newcastle in a 19th century wagonway, built to transport coal. The arched tunnel was utilised as an air raid shelter during World War Two. Tours begin at 10am and 1pm on Saturday and 1pm on Sunday; other days vary. Tours cost £7.
Take a ride
The Tyne and Wear Metro (nexus.org.uk/metro) links the city with neighbouring Sunderland, South Shields and Tynemouth – yellow signs bearing a black "M" denote stations. Single journeys within the city cost £1.70. Adult Day Saver tickets, for unlimited travel, are £5. Day Rover tickets, costing £7.20, also cover bus transport.
Visit the Angel of the North (8), Antony Gormley's iconic statue, by boarding bus 21 or 22 at Eldon Square Bus Station (9). Alternatively, Uber drivers operate on the city's roads and Blueline (0191 262 6666; bluelinetaxis.com) is one of several local taxi companies.
Lunch on the run
If the weather's good, grab a sandwich from one of the stalls within the Grainger Market (10) (0191 211 5542; graingermarket.org.uk), the covered arcade that's home to the world's smallest branch of Marks and Spencers (11), and eat outdoors on one of the benches at Old Eldon Square (12).
Alternatively, Thai House Café (13) (0191 261 5717; facebook.com/ThaiHouseCafe) is a welcoming, down-to-earth restaurant serving authentic Thai dishes. The tom kha gai (chicken in coconut milk soup) is aromatic and filling.
An aperitif
For a broad selection of gins, take a seat in Dacantus (14) (0191 261 8111; dacantus.com), where G&Ts are served in long-stemmed fishbowl glasses. Seats facing onto Grey Street provide views of Georgian facades and passing pedestrians.
Beer lovers may prefer a pint in the Bridge Tavern (15) (0191 261 9966; thebridgetavern.com), a pub nestling beneath the Tyne Bridge. It has an onsite microbrewery and serves hand-pulled ales from local companies, including Wylam Brewery whose production base is in the Exhibition Park (16).
Dine with the locals
Book in advance for a weekend table at House of Tides (16) (0191 230 3720; houseoftides.co.uk), Kenny Atkinson's pleasantly informal Michelin-starred restaurant in a 16th-century, brick-built merchant's house just a couple of minutes' stroll from the Tyne Bridge. The seasonally influenced tasting menu (£70) and vegetarian alternative are served upstairs.
For hearty portions of smokehouse-style comfort food and a choice of more than 20 draught beers, head to Bierrex (17) (0191 447 7720; bierrex.gustouk.com). Ordering a combo plate is a way of sampling more than one meat – options include brisket, pulled pork and hickory smoked ribs, along with sides such as collard greens and mac 'n' cheese.
Day two
Out for brunch
For informal, al fresco food, graze from the trucks and stalls at the Quayside Market (18), held each Sunday from 9am-4pm, which also does a good line in vintage clothing and handcrafted souvenirs.
Tea lovers can head to the Quilliam Brothers' Teahouse (19) (0191 261 4861; quilliambrothers.com) to sample a huge menu of brews as well as the popular eggs Florentine (£4.95) served on stottie cake, a north-eastern flat bread.
A walk in the park
Tarmac footpaths criss-cross the woodland and meadows of Jesmond Dene (20), parkland bequeathed to the city by Lord Armstrong, the Victorian arms manufacturer and industrialist. His former banqueting house stands by one of the entrances to the park, which is popular with runners and dog walkers. A ruined watermill occupies a frequently photographed spot near a stone bridge arching over the Ouseburn: a meandering waterway that provides habitat to otters. There are also sheep and pot-bellied pigs in Pets Corner.
Window shopping
The most famous window in the city is that of the Fenwick department store (21) (0191 232 5100; fenwick.co.uk), extravagantly decorated to draw onlookers in the approach to Christmas. It forms part of the Eldon Square (4) (0191 261 1891; intu.co.uk/eldonsquare) shopping centre, which also has a recently revamped food court.
Cultural afternoon
The free-to-visit Laing Art Gallery (22) (0191 278 1611; laingartgallery.org.uk) displays oil and watercolours plus ceramics and silverware. The paintings on display range from local scenes to work by Lawrence Alma-Tadema. Entry to the Paul Nash exhibition, running until 14 January 2018, is £7.50. Open 10am-5pm, Tuesday to Saturday; 2-5pm on Sunday.
The Baltic Centre for Contemporary Art (23) (0191 478 1810; balticmill.com), formerly a flour mill, holds regularly changing exhibitions. 10am-6pm daily, except Tuesdays (from 10.30am). Entry is free.
The icing on the cake
The Stand Comedy Club (24) (0191 300 9700; thestand.co.uk) is usually a good bet. Well-known faces from the stand-up circuit perform alongside newcomers at this intimate subterranean venue, which hosts shows most evenings.
Travel essentials
Getting there
The Virgin Trains East Coast service (03457 225 225; virgintrainseastcoast.com) links Newcastle with London, Edinburgh and other cities. From £20 one-way. Cross Country Trains (0844 811 0124; crosscountrytrains.co.uk) provides connections across the Pennines, including from Manchester. From £24 one-way.
Flybe (0371 700 2000; flybe.com) flies to Newcastle airport (25) from Exeter and Newquay from £34.99 one-way.
Staying there
The Hilton Newcastle Gateshead (26) (0191 490 9700; hilton.com/en/hotels/united-kingdom/hilton-newcastle-gateshead-NCLHIHI/index.html), within easy walking distance of the Sage Gateshead, has rooms overlooking the Tyne Bridge. Popular with business travellers, this hotel has an indoor swimming pool and fitness room. Doubles from £86.25, B&B.
The Grainger Hotel (27) (0191 298 3800; graingerhotel.co.uk) provides inexpensive accommodation a mile along Westgate Road from the city centre. Doubles from £45, B&B.
Wood panelling, stained glass windows and the location of Jesmond Dene House (28) (0191 212 3000; jesmonddenehouse.co.uk) provide the boutique feel of a country manor with chic guestrooms. The hotel restaurant is held in high regard for its decadent afternoon teas. Doubles from £109, room only.
Join our commenting forum
Join thought-provoking conversations, follow other Independent readers and see their replies