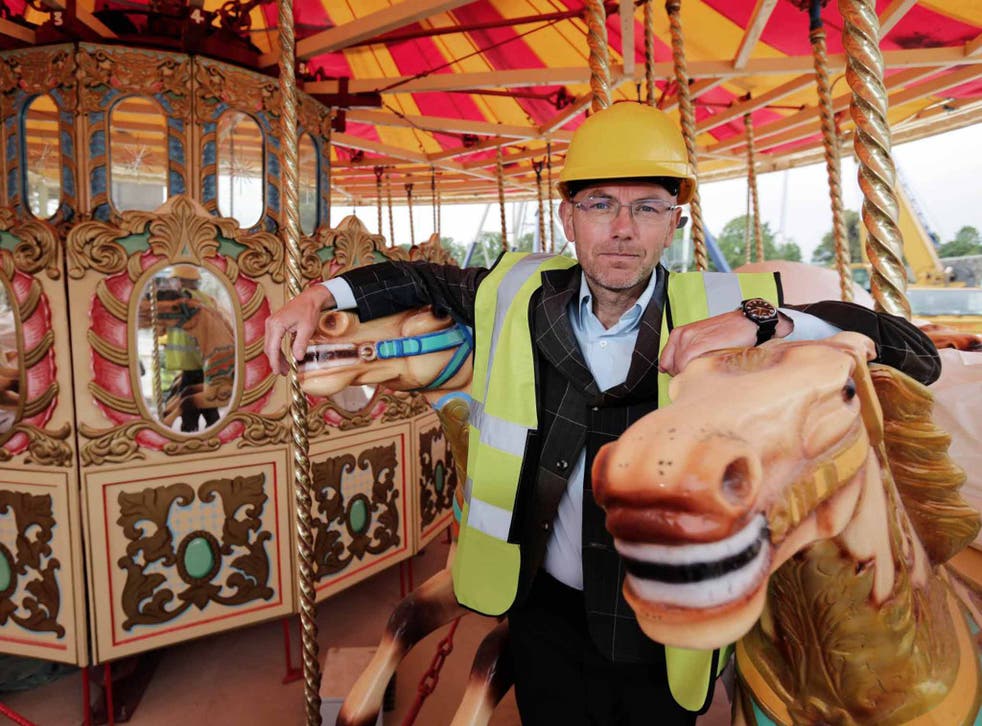 Inside Margate's restored Dreamland with Wayne Hemingway: 'The coast is Britain's jewel in the crown'
The town's historic amusement park has been restored in vintage style. Jonathan Lorie was given a preview
'From the top you can see the sea," shouts Wayne Hemingway, doyen of British designers, striding up the wooden tracks of the roller coaster. Around us stretch the merry-go-rounds and rubble of Dreamland, one of UK's oldest amusement parks, which is reopening next weekend after a £18m rebuild. Wayne waves at the blue horizon beyond the Georgian houses, where seagulls wheel over the Kent coast. He turns with a grin. "The coast is Britain's jewel in the crown. If I was starting my life again, I'd love to start in a place like Margate."
It's a surprising claim from the man who launched Punk-era fashion house Red Or Dead. But Margate has surprised many people in recent years as it turned itself from a decaying seaside resort into a hipster haven with beach attached. In 2011, it hit the headlines with Turner Contemporary, a sleek gallery by cutting-edge architect David Chipperfield right on the historic harbour. Now, it's reviving the classic seaside experience – Dreamland – but re-imagined by Hemingway Design. And I've come to see what it's all about.
"There's never been anything like this done before," says Wayne, gazing across the open-air site where carpenters and cranes are installing the rides. "Everything was just abandoned and broken. The Scenic Railway roller coaster is Grade II-listed but had to be completely rebuilt. Over there, are the original gallopers from a 1920s merry-go-round. We've got pedal cars for kids from the 1940s. We've had people out buying vintage rides from parks across Europe. Wherever you go, there will be history here. The old timbers we've made into picnic tables, we've cut 1950s Formica into benches. Everything is about up-cycling and redesigning for today."
So, as well as the retro fun – the whirling teacups, kiss-me-quick rides and hurricane jets – there'll be modern touches like a roller disco, two concert stages and a Counter Culture Caterpillar to whizz you past giant portraits of pop stars. "This isn't a pure heritage project," Wayne explains. "Vintage is about a timeless aesthetic – that's what the British seaside is about – we're doing something that's timeless about Britain. But we're bringing it up to date."
Relaunching the park may be tricky after this month's accident at Alton Towers, but Wayne is comforted by widespread support in the town. "The community is right behind all this. Twenty thousand people signed a petition to keep Dreamland from being redeveloped for flats – and they won. We all want Dreamland to bring in people, create jobs, make this a better place to live. You do a lot of design jobs – but this one felt important."
He watches a builder laying cables. "It's a work in progress. But Margate is a work in progress. This town feels like you're part of a big DIY project. A lot of young creative people are moving here, opening shops and galleries. It's bottom-up regeneration, people power. I'm blown away. We're working with people who see something that Britain lost – community – and they're bringing it back in a good way. The old town is starting to walk with a swagger."
At its peak in the Sixties, Dreamland attracted more than two million visitors a year. Sited on the nearest beach to London's East End, it was a hub for teenage culture, the first flashpoint between Mods and Rockers, the setting for concerts by The Who, the Rolling Stones and T Rex. The Art Deco cinema still dominates the waterfront, but the advent of cheap foreign holidays drew away the crowds and it finally closed a decade ago. With it went the heart of the resort.
But someone who remembers its glory days still works next door. Up a flight of mirrored stairs I find Zoe Davies, who worked in the Dreamland cinema in the 1990s, first as a teenage usherette and then as a manager. It's where she met her husband. Today, she runs the Phases Dance Studio, where two boys are twirling around poles as I walk in. She laughs fondly when I ask for memories.
"I spent every lunch break in the amusement park, normally on the slide where we used to race each other down. It was a time of innocence. On a sunny day you couldn't beat leaning back in your seat and listening to the sounds of people laughing and the fairground music, the shouting from the stalls, the screaming from the Scenic Railway. You'd breathe in the sweet smells of candy floss and popcorn and hotdogs.
"Margate is an incredible place," she muses. "It hit rock bottom with empty shops, littered streets, bored teens hanging out on corners making the place feel unsafe. Now there's new blood in the high street and the old town. It's on its way back up."
I walk down to the waterfront. It's a curve of Victorian townhouses around a perfect sandy beach where kids are playing crazy golf. I pass Funshine Amusements, first of many arcades. Down an alley a boy and girl in school uniform are kissing in a doorway. The spirit of the old seaside lingers on.
I head for the old town, a tiny grid of Georgian and Victorian streets. King Street is packed with vintage shops, starting with Madame Popoff whose window offers black velvet stilettos and pink silk drawers. On the floor above are the Margate Retro Rooms, holiday flats furnished with mid-century fittings. Opposite is Brewer & Dawson, where chaps can buy hairy tweeds, bomber jackets and chunky cable-knits. Paraphernalia is crammed with old furniture and historic photos. On a shelf beneath a stuffed owl I spot a copy of the Boy's Own Annual for 1922, its cover illustrated with two bold boys fighting a rhino.
I pause for lunch at the elegant Sands Hotel, whose Art Deco-style restaurant overlooks the beach. Next door is Morgan's Vintage Dance Hall, where a Lindy Hop class is about to start. I quit the 1920s and head into Turner Contemporary, where a retrospective by Grayson Perry is a highlight of Margate's summer.
It's a fascinating show – rows of pots and tapestries dense with images of England old and new relate to all this retro. There are skateboarders under cherry trees, the Royal Family among satanic beasts, Walthamstow Forest as a fairytale wood filled with sex and violence. The vases are overlaid with photographs of shopping centres, motorways, suburban homes. The engraved Map Of An Englishman is sprinkled with little buildings named after emotions or life events and implicitly asks – who are we today? "There's been much talk in the media about national identity," the artist declares in a printed statement. "There isn't an easy answer to what Englishness is. We no longer have a clear identity."
Stepping out into the sunlight I realise that Perry's show, honest and questing, with its provocative title "Provincial Punk", is perfect for a town like this. Its references are as resonant as the vintage shops and at Dreamland, and shares their yearning for a recent England, their celebration of ordinary lives, a search for identity in a changing world.
My last stop is perhaps the ultimate retro shrine – the Walpole Bay Hotel. I walk there along white cliffs, past the stucco Winter Gardens where handbills advertise a 1940s show ("Don't forget your gas mask!"). The Walpole is an elegant Edwardian pile looking out to sea, next to the Margate Bowls Club. Its corridors are crammed with showcases of things from days gone by – flapper dresses and feather boas, Victorian dolls and typewriters, surgeon's knives and photos of the Raj and, astonishingly, a nurse's outfit from the Second World War.
I'm shown around by Jane Bishop, owner and collector, a bright-eyed woman who rescued the place from dereliction in 1995 and has devoted her life to preserving its past. "Every object tells a story," she smiles. "I do reminiscence therapy here."
We walk through a bar where jazz is playing and a white-haired lady says hello. Yvonne Bollen first stayed here as a child in 1949. "Oh yes," she recalls, "we went to Dreamland every day. But not on the Scenic Railway. Mother wouldn't have permitted that." Jane smiles. "Margate," she concludes, "is Retro-ness. It always has been and it can be again."
Getting there
High-speed trains run from London St Pancras to Margate in around 90 minutes via Canterbury. You can connect at St Pancras from Leicester, Derby, Nottingham and Sheffield. Slower services operate from Victoria (08457 484950; nationalrail.co.uk).
Visiting there
Dreamland opens this Friday (01843 295887; dreamland.co.uk). Tickets cost £14.95 per adult, £12.95 per child, with 15 per cent off online bookings.
Staying there
Sands Hotel, Marine Drive, Margate CT9 1DH (01843 228228; sandshotelmargate.co.uk). Doubles from £130, including breakfast.
Walpole Bay Hotel, Fifth Avenue, Cliftonville CT9 2JJ (01843 221703; walpolebayhotel.co.uk). Doubles from £85, including breakfast.
More information
Join our new commenting forum
Join thought-provoking conversations, follow other Independent readers and see their replies