Monkey Island Estate review: A quintessential English escape with a wild past
This seven-acre island boasts a spa barge, dining and drinks aboard a vintage motor yacht, and proximity to foodie hotspot Bray, finds Fiona McIntosh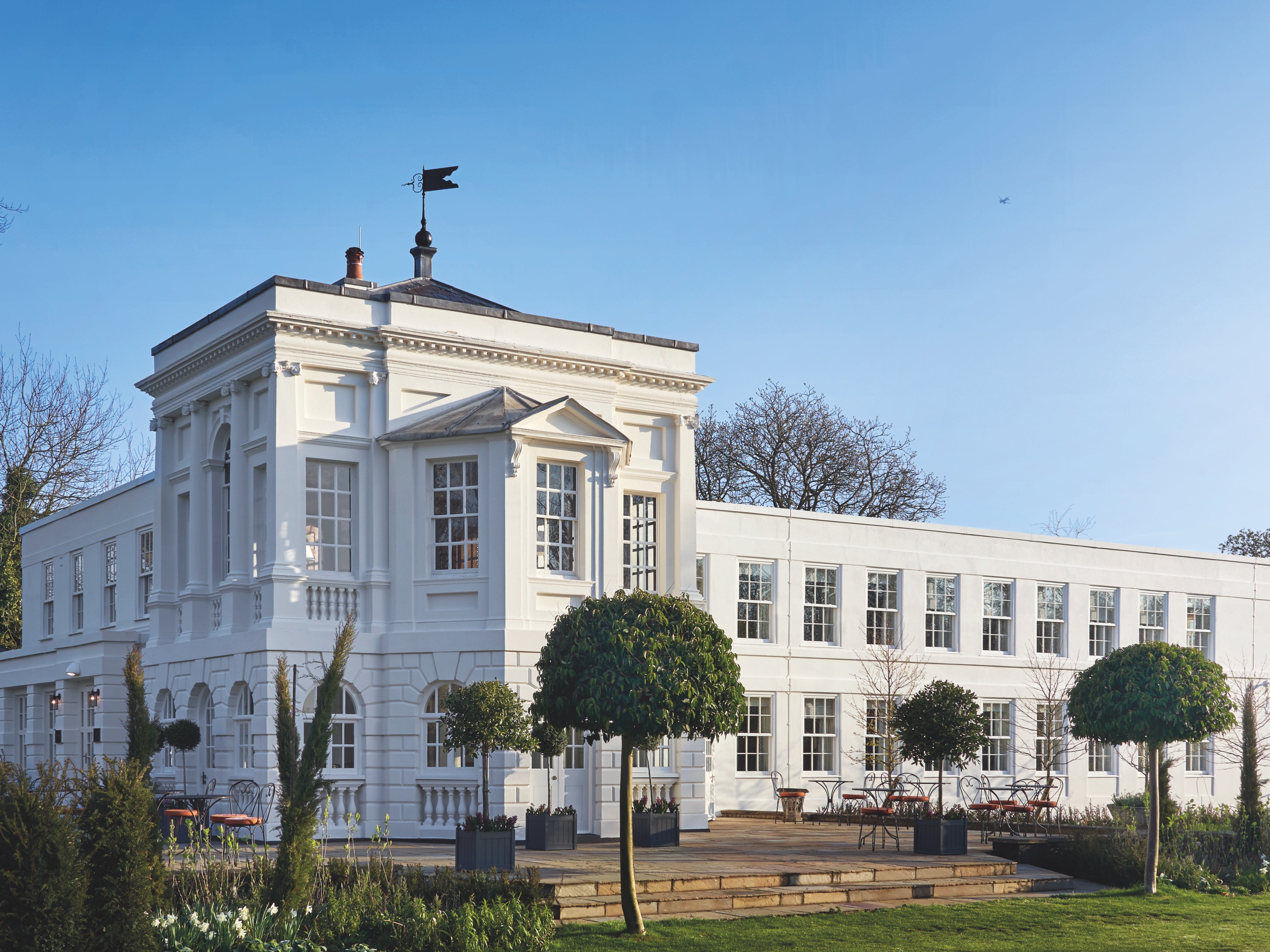 Monkey Island sounds like it should belong in a Bond film, or at least in an archipelago somewhere in southeast Asia. But no, Google Maps is telling me it's on a slip road off the M4, just fifty minutes from London.
Tucked behind the village of Bray in Berkshire (blink and you'll miss the turn-off) is a tiny seven-acre sliver of an island which, despite its exotic name, couldn't be more quintessentially English.
On the day we arrive the hydrangeas and dahlias are in full, blowsy bloom, afternoon tea is being served on the terrace of a wedding cake of a Georgian hotel and even the muddy old Thames is sparkling in the summer sunlight. You would never guess this serene vision of loveliness, which is now a member of the Small Luxury Hotels group, has a wild, old past.
Back in 1723, the Monkey Island Estate was owned by the Duke of Marlborough, who built two pavilions on the island as a fishing retreat and playground for his aristocratic mates.
Over the years, the estate has variously become a hideaway for Eton scholars, a favourite afternoon tea spot for Edward VII and an artistic retreat for pretty much an entire generation of English actors, singers and artists – including Clara Butt, Sir Edward Elgar, Siegfried Sassoon and HG Wells.
In the 1960s the pavilions were extended, and the estate became a raucous high society party hotspot and favourite of Princess Margaret. But by the 1980s it had fallen into disrepair and was pretty much on its last legs, before being rescued by YTL Hotels in 2015. Three years and millions of pounds later, with the help of English Heritage, the estate was restored to all its former Georgian glory.
We arrived for a one-night, midweek escape and it's all so ridiculously bucolic we couldn't believe Monkey Island is so close to London. One of the pavilions now houses 27 bedrooms and three suites, while the other contains a restaurant, ballroom and bar, spilling onto terraces overlooking immaculate lawns and the river.
Everywhere you look you find monkeys – brass monkeys giving you the side-eye at the Monkey Bar, doorstopper stone monkeys standing sentry by your room, and restored 17th century frescoes featuring monkeys in the sitting room. One theory is that the island was named after these frescoes commissioned by the Duke of Marlborough. But the most likely explanation is that it was named after the monks who came to fish on the island in the 12th century, when it was known as Monk's Island.
I'm not sure what those monks would have made of the spa barge that's now moored by the hotel, with the Monks' Elixir massage treatment that kicks off with three shots of monastic herbal liqueurs: Chartreuse, Frangelico and Bénédictine. As therapist Beverley put it as she led me into one of the three treatment rooms on the floating spa, "you'll like it because it begins with alcohol and ends with heated pads". How does she know me so well?
Although the hotel does cater to families, it is very much geared towards couples looking for a cheeky romantic break or groups of friends who can book one of three cottages on the estate. As it's walking distance from foodie hotspot Bray, you can fill your boots at the Waterside Inn or the Fat Duck and simply stagger back over the footbridge. Weddings are also a hot ticket as you can hire the private island for your big day.
While there isn't a lot to do on the island itself, the team can organise activities. Upon arrival, we were led down to the river and whisked off in the Fringella, a pretty, vintage wooden motor yacht where we lounged on cushions in the sun, drank chilled chablis and ate tuna tartare and arancini canapes as we cruised past multi-million-pound riverside properties. Not a bad way to spend a Wednesday afternoon.
Early that evening we had very relaxed wine-tasting with Henry Laithwaite – who owns local boutique winery Harrow & Hope – and sipped a delicious sparkling rosé and blanc de blanc before supper. The riverside brasserie doesn't try to compete with its Michelin star neighbours, but it offers fresh, unfussy British seasonal food: the burrata with heritage tomatoes and the bavette steak were bang on.
While the Monkey Island Estate doesn't quite have the cool factor of the ragingly fashionable Oakley Court on the other side of the river, it does have a quiet, grown-up charm. Our room, the Wedgewood suite, was all oak-panelling and a glorious confection of blue and white ceiling cornicing, channelling its glory days as the playground for the Duke of Marlborough and his aristo chums.
The welcome, modern addition of an enormous bathroom suite made it all very difficult to leave. For a special occasion, sometimes you just need to go posh.
How to get there
The Monkey Island Estate is a ten-minute taxi ride from Maidenhead Rail Station or tube station (via the Elizabeth line), or a 50-minute drive from London.
Rooms available from{{#price}}{{price}}per night{{/price}}{{^price}}Check availability for dates and prices{{/price}}
{{#amenities}}
{{#amenities.foodDrink.length}}

Food & Drink

{{#amenities.foodDrink}}
{{.}}
{{/amenities.foodDrink}}

{{/amenities.foodDrink.length}}{{#amenities.internet.length}}

Internet

Please check hotel for more information on amenities

{{#amenities.internet}}
{{.}}
{{/amenities.internet}}

{{/amenities.internet.length}}{{#amenities.services.length}}

Services

{{#amenities.services}}
{{.}}
{{/amenities.services}}

{{/amenities.services.length}}{{#amenities.parking.length}}

Parking

Please check hotel for more information on amenities

{{#amenities.parking}}
{{.}}
{{/amenities.parking}}

{{/amenities.parking.length}}{{#amenities.health.length}}

Health & Wellbeing

{{#amenities.health}}
{{.}}
{{/amenities.health}}

{{/amenities.health.length}}
{{/amenities}}
Read more of our UK hotel reviews:
Join our commenting forum
Join thought-provoking conversations, follow other Independent readers and see their replies