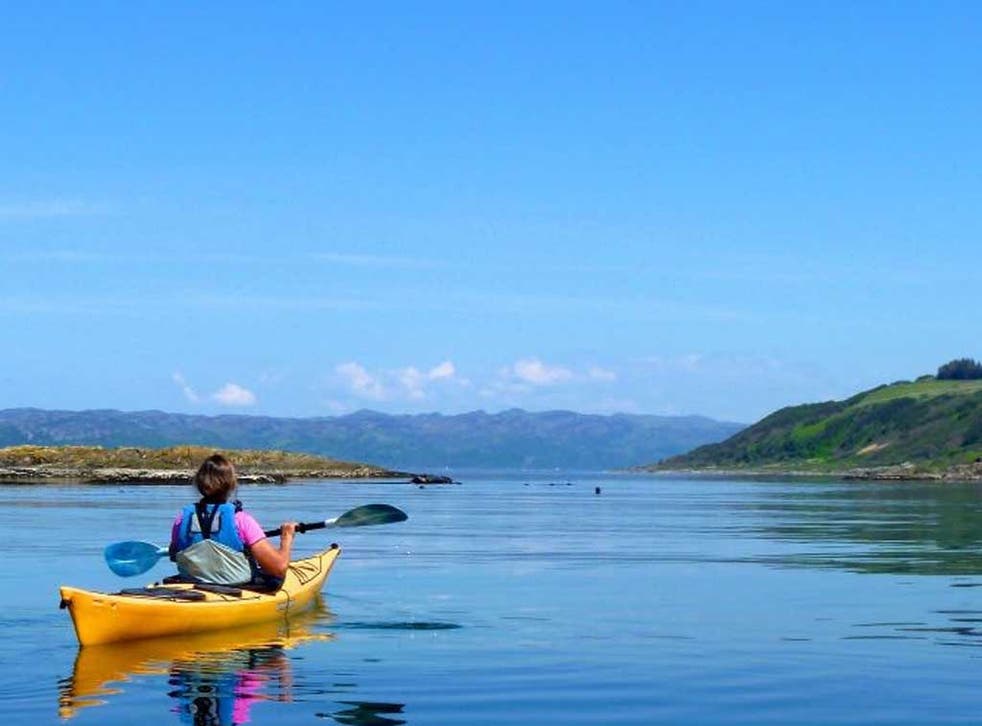 The Scottish Sea Kayak Trail: Ready, steady, paddle!
Aaron Millar relishes a surprisingly placid journey among epic coastal waters
Something was wrong. I was sea-kayaking a mile off the west coast of Scotland and it felt like I was gliding over a velvet sheet. According to all commonly accepted rules, I should have been neck deep in an elemental battle for survival; if you come to Scotland for adventure, that's what you have to expect. But instead the only imminent danger was the indignity of a life-jacket tan-line.
I was at the start of the Scottish Sea-Kayak Trail, Europe's first long-distance sea-kayak route, one that follows the coastline and islands of the west coast of Scotland for almost 300 miles, from the Isle of Gigha in the south to Ullapool in the North.
This was the inaugural six-day guided paddle through the southern section of Argyll and Bute – a county that somehow manages to accumulate a shoreline of 1,680 miles, just fractionally shorter then the whole of France's. It is regarded as one of kayaking's finest – and most challenging – destinations. Yet best of all the trip promised to sweeten those hard days on the trail with the luxury of soft, smug nights tucked up in a hotel bed.
We launched our boats near the small village of Tayinloan on the Kintyre Peninsula, paddling across a wide channel to reach Ardminish Point on the east coast of the Isle of Gigha. The Gulf Stream has been kind here, creating a temperate climate with turquoise water and startling white sand. Gigha is now entirely wind-powered and community owned, like stumbling upon the Scottish version of a Californian hippy commune (weather included).
We stopped for a picnic at the southern tip of the island a few hours later. Particles of mica-schist glistened in beach stones like gold, blooming plumages of iris, foxglove and gorse surrounded us and the water stretched out to a solitary swan drifting across the bay.
After lunch we paddled through what I was told were the usually choppy Caolas Gigalum straights to the west coast of the island. They were mercury-still for our passage. Oyster Catchers skimmed the surface of the sea; below we peered over the edge of the boats at vast forests of kelp and the ghost white wisps of moon jellyfish below. Guide Carole Lang paddled up beside me and smiled: "You can lose yourself in it can't you?" The spell lasted all the next day too.
After a night of whisky-tasting, fish and chips and sun-down micro-brewed beers from our base in Tarbert, we launched our kayaks 12 miles further north up the mainland, skirting the shore for over a mile until we came to a narrow channel of clear water, harboured on both sides by a series of low-lying skerries.
Suddenly we heard clumsy splashes coming from the side of the rocks. Seals are common in this part of the world, but that doesn't make the first time you share water with them any less magical. As we let our boats idle beside their colony half a dozen leapt into the water and began circling us, popping their heads up and staring at us with dark puppy-dog eyes and twitching whiskers. It was like being part of some kind of playful inter-species flirtation: when caught looking, or stared at directly, they'd bashfully dip under the water, only to sneak a peek again as soon as they could.
A few hours later, after paddling around Kilberry Point towards Loch Stornoway, we moored our boats on a beach beside a ruined tomb of the Campbells and a standing stone high on a hill. These ancient stones are scattered throughout the highlands and islands of the west coast. Theories about their purpose range from star calendars to religious ceremonies, but they remain one of the great Scottish mysteries.
After hiking up the hill I laid my hand on the stone and looked out across the water. The ocean and sky were inseparable and in perfect reflection, the great rocky islands of Jura and Islay a pastel smudge of colour against an otherwise entirely blue world. "Does it feel like you're touching something more then 4,000 years old?" Carole asked. Somehow, on a day like that, it did.
We moved base to the Loch Melfort Hotel just south of Oban, only dragging ourselves away from probably one of the finest views in the world to hit the water some more. The weather got a bit of its usual grit back and with it the sea changed, too. If kayaking on a calm day is like gliding on silk, in rough seas it's like bull riding, only more slippery. Against the wind and tide it can be hard work, too; there were times when the monotony of the physical exertion – albeit more relentless then extreme – made me question the ratio of effort to fun. "It's kind of a working holiday," fellow guest Carole Backus joked after one particularly long day.
But whenever morale started to drop, something seemed to happen to perk us up again – spotting sea otters hauling a catch to shore, passing the hollowed out remains of old whisky smugglers' caves, or just watching a bunch of young lads jumping off a ferry pier into the sea beside us. And we got better too. The wonderful thing about committing to a week of doing just one activity is the feeling of achievement as you improve. And it was lucky we did, because our last day on the trail promised also to be our most challenging.
The Dorus Mor is a notoriously difficult tidal channel between the islands of Scarba and Lunga. It's usually quick, often dangerous and conditions were allowing us to give it a rare go. We put in at Cuan Sound just south of the Isle of Mull and hopscotched between a series of sheltered eddies and complex conveyor-belt-like tides to reach the tiny island of Belnahua, an eerie abandoned slate quarry and, hands down, the best stone skimming beach I'd ever seen.
From there we spent a quiet few hours following the west coast of Lunga – peering up at the islands' wild lonely faces, shrouded in sea-fog and utterly unconditioned by the footprint of human kind – until we reached Scarba and the beginning of the tidal flow. In the bar the night before Carole had confessed that there's a phrase kayak guides say when they think a client is about to capsize. As I was gripped by the swirling mass of hydraulic energy, spun round 360 degrees and shot through the narrow gap between the islands, it was this precise phrase I heard repeatedly screamed into my ears: "Just keep paddling!" Staying dry through that stretch was the proudest moment of my trip.
At the end of our last day, we paddled the long cold miles home, dreaming of those early tropical days when it all seemed so wrong but felt so right.
A porpoise – usually shy and hard to spot – leapt from the water just a few feet from our boats. A sea mist had blanketed the ocean and all was quiet around us, save for the rhythmic sound of the animal's breath and splash.
Such a privileged perspective – like good Scottish weather and sea-kayaking itself – is often hard earned, but always worth the effort.
Travel essentials
Getting there
The writer travelled from London to Scotland on a Caledonian Sleeper operated by ScotRail (08457 55 00 33; scotrail.co.uk). Kintyre Peninsula is accessible by air from Glasgow to Campbeltown with Flybe (0871 700 2000; flybe.com) or by bus with Citylink (08705 50 50 50; citylink.co.uk).
Kayaking there
Aaron Millar travelled as a guest of Wilderness Scotland (01479 420020, wildernessscotland.com), which offers The Scottish Sea Kayak Trail South – The Whisky Coast from £845 per person, including five nights' B&B accommodation in three-star hotels, packed lunches daily, whisky tasting and Oban Distillery tour, all transport throughout the trip starting and finishing in Oban, all specialist sea-kayaking equipment and the services of experienced and knowledgeable sea-kayak guides throughout. Set departures on 28 July, 1 September and 8 September, maximum group size eight, with two guides.
Join our new commenting forum
Join thought-provoking conversations, follow other Independent readers and see their replies