Sea kayaking with seals off the Northumberland coast
A dramatic sea rescue and 500 seals made for a memorable experience for Siobhan Warwicker
Friday 18 September 2020 16:14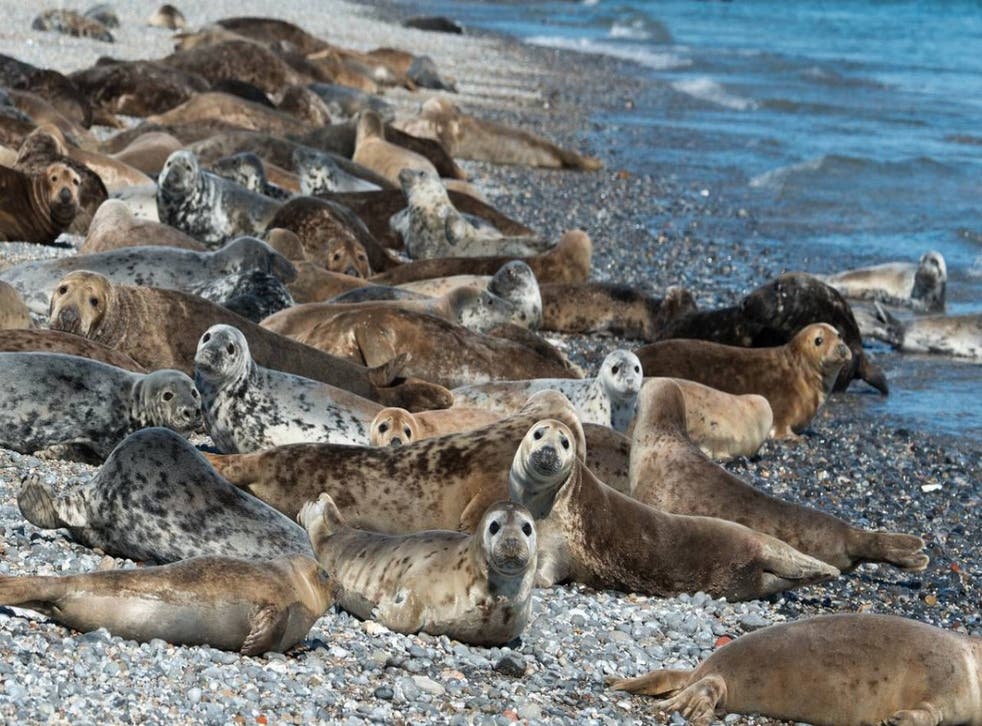 Two canary yellow arms latch under my shoulders and pull. Unbalanced by the bulk of my wetsuit, I am caught with a leg either side of the boat's waist-high rope barrier for an undignified moment before the strength of the rescue men tip me onto the deck.
The landing craft that ferried us to this offshore lifeboat can only take three at a time, so five more kayakers – three British holidaymakers and two guides – look on from the slimy rockpools of deserted Coquet Island, where we are stranded a mile out to sea.
The weather is supposed to be idyllic off the coast of Amble, a port town that's the southern gateway to the Area of Outstanding Natural Beauty on Northumberland's coast. 
Adventure Northumberland's sea kayaking tours, which launched this year, only go out when the forecast is perfect – a wind speed under 20mph and waves never bigger than 2ft.
But so it goes, the North Wind Doth Blow. In an instant, it swept angrily across the previously calm sea. 
Arms aching, I paddle up a wave and ride the rollercoaster of swell back down, bracing myself for a briny splash. My cap, which is hell-bent on a bid for freedom, is shoved into the footwell, leaving my hair clinging to my face like an octopus.
The front of my vessel is tethered to the back of a guide's, so at least there is no chance of getting tossed all the way to Norway. It's a lesson in the dangers of setting off sea kayaking alone.
We are still hugging the barnacle-flecked plateaus of Coquet, the 15-acre island we set out to see from a distance, when the guides decide it will be precarious, or at least very exhausting, to paddle back.
Although landing on this Duke of Northumberland-owned nature reserve is prohibited, we tentatively beach on its shore and await help.
Thankfully, many of the 35,000 nesting birds that reside on the RSPB sanctuary – puffins, sandwich and Arctic terns as well as 90 per cent of the UK's rare roseate terns – have already been beckoned by their winter homes.
The wind keeps raging but the sun gives the damp rocks warmth as we settle into a crevasse for shelter, dishing out our provisions of sugary treats.
At the top of a slope of puffin burrows, the sturdy white lighthouse complex broods over the island. On a square tower with metre-thick walls, the lantern holstered 80ft above the water's edge began ushering coal and fishing ships to and from the port in 1841.
The first person to spend long, wind-battered nights up there was William Darling, brother of Grace Darling, the Northumberland heroine who rowed out in a storm to save survivors of the wrecked Forfarshire steamship, in 1838.
With the lighthouse now automated, the only inhabitant is the warden, who protects this wildlife kingdom.
He isn't the only one watching us with caution. From the water, 50 pairs of eyeballs monitor our movements. Whiskers twitch. Grey seals, concerned about this peculiar new species who have barged into their home.
It is 20 minutes into the planned two hours of paddling when I first spot a suspicious rock. Or rather, a seal's speckled head protruding from the sea like a boulder. As soon as it disappears, another boulder pops up on the other side in a visual game of whack-a-mole.
Ten minutes later, I am surrounded. As they pluck up the confidence to swim closer, I am taken aback by their hefty size.
"You have to watch they don't tip you in," warns Chris Potts, one of the guides. "They might even try to heave themselves onto your boat."
Chasing kayaks is their new favourite game, their silky bodies slipping over and under the water's surface. Sometimes they get so close I can hear them exhale through their big round nostrils; a huffing sound as if they are tutting their unannounced guests.
I hear the colony before I see it – an eerie howl in the wind like the ghosts of shipwrecks past. The chorus of 500 seals wail in unison from Coquet's east shore. In their tightly packed formation, they move as one organism, triggering a ripple of furry blubber with every twitch.
Following our brief castaway experience, we thank the volunteers who dispatch us safely back. The weather at Amble Harbour is as serene as can be, ensuring we look like wimps to the people who have gathered to watch.
I shed my wetsuit and skulk off for lunch. Over a smoked mackerel salad enjoyed al fresco at The Old Boathouse, I watch starlings dance on the lobster cages stacked beside the sandy estuary of the River Coquet. This modern 130-cover fish restaurant reflects the town's evolving image; it's the structure's third incarnation, having been a coalhouse before it stored boats.
Five years ago, the promenade was transformed into Amble Harbour Village, a leisure hub with a string of wooden pods for local retailers, offering everything from Holy Island mead to jewellery crafted from sea glass. Another initiative was a lobster nursery (although currently closed to the public) to keep the fishermen's stocks topped up.
With so many shining costal stars in Northumberland, including Bamburgh, Warkworth and Alnmouth, lesser-known Amble has worked hard to become a destination in its own right.
The reinvention is paying off. "We drove all the way up from St Ives!" says a sun-frazzled retired couple licking ice cream Whippies, who are thrilled to witness the lifeboat in action. Cornwall might bask in a less tempestuous climate but with Amble's affable personality, lack of crowds and a world of wildlife to see, no one minds sporting the windswept look – lifeboat rescues aside.
Travel essentials
Adventure Northumberland offers a range of activities such as river kayaking and canoeing, paddleboarding, rock climbing and coasteering. Kayaking with Seals (£45pp) runs from Easter till the end of October each year. It is always weather-dependent. 
For more info on holidays in Northumberland see visitnorthumberland.com