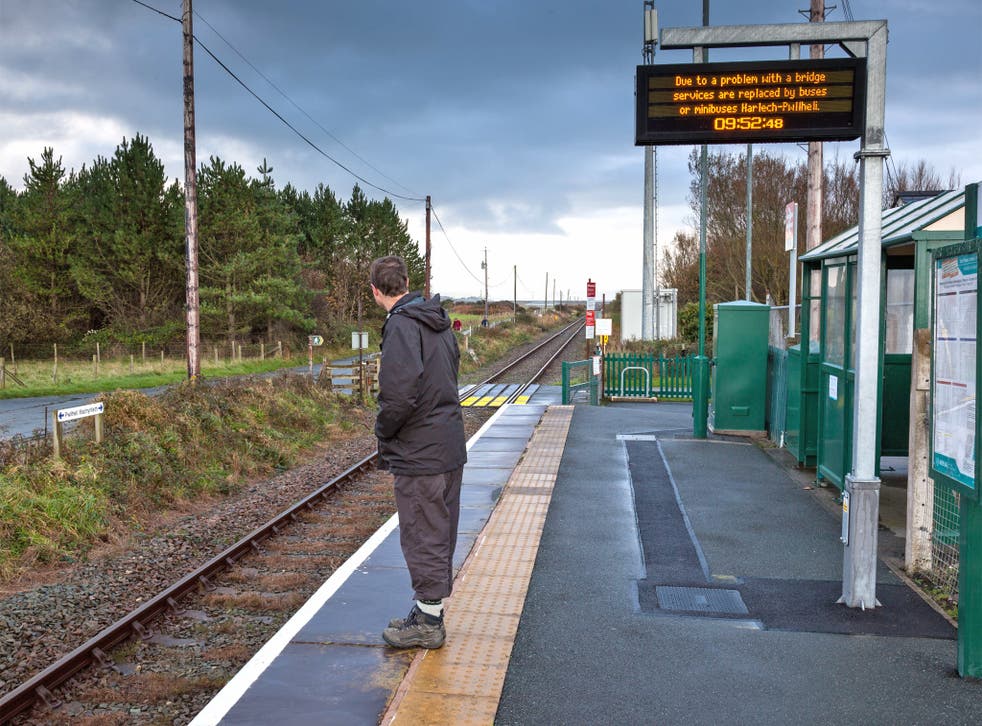 Stop the train, I want to get off: The magic of Britain's railway request stations
There are around 150 little-known railway request stations in Britain, which simply require you to ask the driver to pull in
Dixe Wills
Tuesday 15 April 2014 09:06 Comments
It was in stepping off the train at Duncraig that I first experienced the magical draw of the railway request stop. I had travelled to the minuscule station near the west coast of Scotland to write a feature about the eponymous castle it serves and, having never come across the concept of the request stop, had been surprised to learn that, if I wanted to get off there, I would have to make my intentions known to the guard.
Great was the rubbernecking among my fellow travellers when the train slowed to a halt and I alone arose to leave it. "Who's he?" I felt their enquiring eyes ask. "Is he someone important?" I wasn't, sadly, but at that moment I felt pretty special. When I left the next day and put my hand out to make the train stop, the sense that this was my own private railway station had been cemented.
Duncraig, I was to discover, was far from unique. There are 150 or so railway request stops in Britain, which equates to about 6 per cent of all the nation's stations. Yet, unless you happen to live near one, there's every chance you'll never have heard of any of them. That's a pity, because many of these half-abandoned stops afford a glimpse into a Britain of the not-so-distant past that has all but disappeared from view.
Some of these stations were built to serve once-thrusting industries such as china clay extraction (Bugle, Cornwall, where the first waggons were pulled by horses ) and iron smelting (St Andrews Road, near Bristol). Others were established for the sole convenience of stately home owners (Dunrobin Castle, Sutherland) and still others were created for day-tripping attractions (The Lakes, Warwickshire) – indeed, the reasons for building them are almost as numerous as the stations themselves.
Often a pen's stroke away from closure, many of these stations cling on to life for reasons that have little to do with logic: political expediency, labyrinthine bureaucracy and sheer whimsy are often involved or, in the case of Duncraig, an outright rebellion in which local train drivers simply refused to accept that the station had been closed (after 11 years it was grudgingly re-opened).
My travels in search of Britain's most interesting railway request stops took me from the far west of Cornwall to the far north of Scotland. I drank at the Berney Arms, a pub in the wilds of Norfolk that is only accessible via its eponymous station or by boat; visited Talsarnau, a station that fell victim to a tsunami in 1927 (yes, you read that right – a Welsh tsunami); and witnessed the place where Robert Stephenson blew a massive hole through Conwy's extraordinary medieval town wall in order to plop two tracks and a station inside what is now a treasured World Heritage Site.
As with the best of trips, one or two misadventures came my way. At Tonfanau in Gwynedd, I brilliantly left the first 10,000 words of notes for my book in the loo of the train. It took a hitch-hike, the perseverance of a policeman called Gareth Edwards (not the rugby player) and the kindness of a train cleaner to reunite me with it some hours later. It was apposite that it was at Tonfanau that I encountered such lashings of helpfulness, because it was here in 1972 that local people rallied round to turn the disused anti-aircraft training camp that was the station's raison d'être into somewhere habitable for 1,300 refugees who had been summarily thrown out of Uganda by Idi Amin.
A week or so later, I ended up saving an elderly man's life, largely by being in the right place (Bootle in Cumbria) at the right time, when he collapsed in the street and split his head open. My return to the station afterwards was less of a triumph. A teenage girl, sitting cross-legged on the platform, stared at me in horror. It was only when I looked down that I noticed that both my hands were dripping with blood (I had held the gentleman's head together for some time). "I'm not a serial killer!" I wanted to shout to the girl, but since this is a sentence that is rarely likely to reassure an audience, I held my peace.
The story of Bootle is one of great heroism. It was here in 1945 that train driver Harold Goodall lost his life attempting to put out a fire in a wagon loaded with depth charges. Had he and his fireman, Herbert Stubbs, not first bravely uncoupled the wagon from the rest of the train, many more lives would undoubtedly have been lost. It's a shame that there's still no plaque at the station to commemorate the men's selfless feat.
The more that I travelled, the greater the number of oddities that sprang up. For instance, although Greater Manchester's Reddish South and Denton stations are neighbours, I had to visit them seven days apart because they are served by a single train a week: the so-called Denton Flyer that leaves Stockport station every Friday at 10.13am. Meanwhile, in order to alight at Lympstone Commando in Devon, I had to seek permission in advance from an officer at the eponymous camp.
But for me, the greatest fascination came from what railway request stops said about Britain. Time after time, they highlighted the things that were once important to us but that we have now firmly left in the past (you'll search for the cavalry camp at Burnley Barracks in vain, for instance), or to serve rural communities that have withered away as their populations have been driven towards towns and cities.
Their continued existence in the shadowy world between the fully functional and the completely closed also stands as testament to the British talent for fudging the issue. However, these quirks of our railway network are to be cherished, for a visit to a railway request stop is, more often than not, a visit to a calmer, more serene and gentler place – a place out of time.
'Tiny Stations' by Dixe Wills is published by AA publishing (£16.99)
Register for free to continue reading
Registration is a free and easy way to support our truly independent journalism
By registering, you will also enjoy limited access to Premium articles, exclusive newsletters, commenting, and virtual events with our leading journalists
Already have an account? sign in
Join our new commenting forum
Join thought-provoking conversations, follow other Independent readers and see their replies