Billie Eilish has been body shamed and Ashley Graham isn't allowed to call herself 'big', so what are women to do?
We can talk body positivity all we want – but it's still no easier to deal with the pressure to be 'perfect'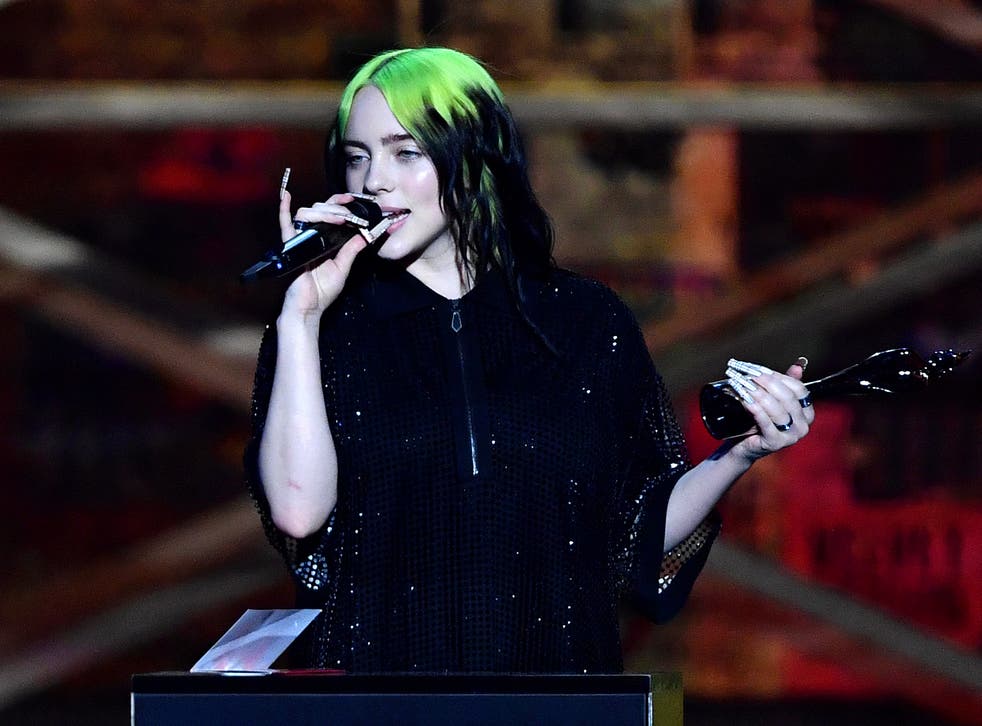 Billie Eilish once said the reason she wears big baggy clothes is to disguise her body so that people don't know what it looks like. In a voiceover for a Calvin Klein advert, she said, "nobody can have an opinion because they haven't seen what's underneath".  
Lo and behold, when the "No Time to Die" singer stepped outside in a pair of shorts and a fitted tank top this month, her doleful thinking was vindicated. A self-described "24-year-old boomer" on Twitter swiftly tweeted a photograph of the Grammy winner. Above the image, he wrote: "in 10 months Billie Eilish has developed a mid-30's wine mom body [sic]".
There's nothing particularly novel about a low-blow, sexist, body-shaming tweet from a sad man in a dark corner of the Internet. As night follows day, a photograph of a woman doing… anything and in whatever guise will see unedifying bitterness directed towards her. But the Eilish tweet went viral for its unique combination of nauseatingly nonchalant misogyny, unsolicited and irrelevant commentary of someone going about their day and targeting it at a teenager.
Many leapt to the 18-year-old's defence. Independent columnist Fiona Sturgess asked the tweeter, "what compels you, a thirtysomething man whose business is on 'hiatus', to try to shame a clever, talented, successful and rich young woman with a brilliant future ahead of her, hmmmmm? Honestly, I can't imagine."
Elsewhere, plus-size model and body-positive campaigner Ashley Graham was this week forced to respond to commenters after she posted a naked selfie to her Instagram and captioned it "nakie big girl". Angry followers questioned why she used the term, with one editing the caption to read, "nakie *normal* girl". "I see what you mean," responded Graham, "But if you look at 'big' as a positive or love then you can see it like I do."
Graham regularly posts images celebrating a bigger body type to her 11.5 million Instagram followers. And she is bigger – perhaps not statistically (the model is the average dress size for the US), but in the "er" sense, in that she is bigger than the bodies thrust into our consciousness day in day out as preferable, aspirational and valued. While it's a bleak indictment of society's treatment of women that someone of average size would describe themselves as being big at all, is it not Ashley Graham's prerogative how she describes her appearance?
Today, the Women and Equalities Committee is hosting an inquiry into body image across the nation, with a view to assessing how to address the general and damaging low self-esteem of people in the UK. A report published by the group found that the majority of people in the country – and overwhelmingly teenage girls and women – have poor body image and that it can directly lead to mental health conditions and subsequently even limitations on academic and career progression.  
Body positivity campaigner Stephanie Yeboah is hellbent on reclaiming the word fat. "Just like the words slim, tall, short, black and white, the word fat," she told The Independent in a recent interview, "is just a word to describe a body type and a body shape. Associating a specific body type with worth is one of the most dangerous things you can do."
We saw this when Amy Schumer reacted negatively upon discovering she was the cover star on what was, unbeknownst to her, later labelled as the "plus size" issue of Glamour. Schumer rejected the label and in doing so, dismissed the catchall as a pejorative.
By posting the picture at all, Graham was already going up against a lot. You could say she's lucky it was even permitted to remain up on the photo-sharing site. Instagram has come under fire recently for the apparent censorship of larger women's bodies. First, an image of black model Nyome Nicholas-Williams, taken by photographer Alexandra Cameron, became the basis for an Instagram-wide campaign to embrace bigger and black bodies, after it was clear that much more explicit photographs of white, slim women had remained live on the platform (the suggestion being there was something more graphic, less appealing than a bigger body – and one belonging to a woman of colour).
Now, comedian Celeste Barber, whose grid comprises largely of diptychs of her parodying celebrity Instagram poses by recreating them, her stark normalness highlighting the absurdity of each unrealistic and highly posed image she imitates, received an apology from Instagram after it flagged one of her satirical posts as a violation of its community guidelines. The original, meanwhile, had been overlooked.
The exhaustingly naked Emily Ratajkowski has not, to our knowledge, experienced such censorship of her Instagram, though she claims her implausibly perfect nude contortions are "empowering" for women and for herself. Though she recently wrote about her Instagram photos being about reclaiming her own image, her brand of feminism raises questions around the female body and when and how it can be weaponised by its inhabitant for furthering the feminist cause. In her images, the male gaze is not disparaged but wholeheartedly absorbed. Women, meanwhile, see more impossible beauty standards thrust into their feeds. Of course, it's again her prerogative to post how she sees fit.
We know that when it comes to bigger or less typically "perfect" female bodies, the landscape is quite different. The slim, flawless, photoshopped female form is there to be pecked at, imbibed, devoured by men. Larger female bodies must be cloaked, covered, removed from our consciousness, their existence apparently ruining the fantasy. To expose a lack of thigh gap, thus, to highlight a ripple of cellulite or to home in on the pallor of stretch marks, is to aggressively reject such thinking.
Perhaps the fight we should be having then is not about how we so choose to describe our own bodies or how we ourselves identify, but with the structures designed to make us feel – and want to be – smaller in the first place. It certainly seems an approach more befitting success than tearing down those who we deem to have misstepped.
Register for free to continue reading
Registration is a free and easy way to support our truly independent journalism
By registering, you will also enjoy limited access to Premium articles, exclusive newsletters, commenting, and virtual events with our leading journalists
Already have an account? sign in
Register for free to continue reading
Registration is a free and easy way to support our truly independent journalism
By registering, you will also enjoy limited access to Premium articles, exclusive newsletters, commenting, and virtual events with our leading journalists
Already have an account? sign in
Join our new commenting forum
Join thought-provoking conversations, follow other Independent readers and see their replies