Liam Fox's visit to the Philippines shows how low Brexit Britain will stoop for a deal
It seems like the International Trade Secretary smells a free lunch – but if he dines with President Rodrigo Duterte, he may need someone to taste it first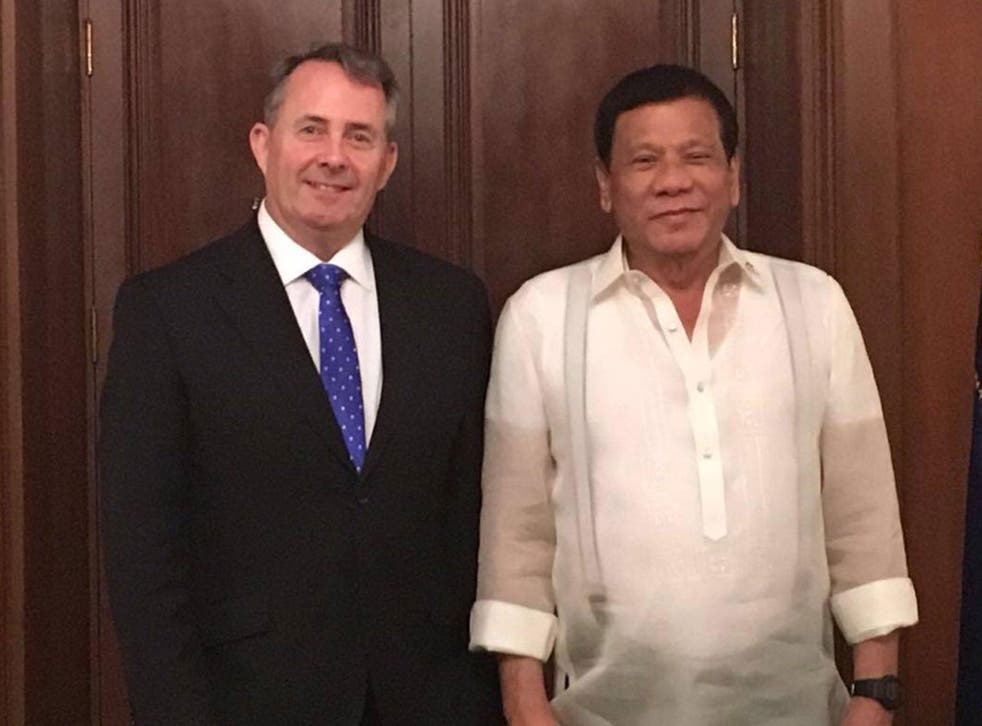 The latest leg of International Trade Secretary Liam Fox's "trade crusade" comes to the Philippines, and with it another low point for Brexit Britain. Cue more shameless photocalls with dubious despots and awkward silences regarding human rights. Only this time, with the Philippines, Britannia really is surfing new waves.
President Rodrigo Duterte has so far done all he can to break old alliances and has only really made new friends with Russia and China. British and Filipino relations are not a consideration of any magnitude for either party, but it seems like Fox smells a free lunch. If he dines with Duterte, however, he may need someone to taste it first.
Duterte has just finished his latest tirade, coincidentally or not, against the EU, who he told to "f*** off" (and not for the first time) within the last six months. The EU had the temerity to question his decision to bring back the death penalty, having previously condemned his murderous war on drugs that has left at least 8,000 people dead and his practice of jailing and shaming opposition figures.
Liam Fox meets President Duterte
Maybe Fox believes it is impolite to mention such matters during trade talks; is there any need to draw Duterte's ire when raising his human rights record can be left to the likes of the UN rapporteur for extra-judicial killings, Agnes Callamard?
Perhaps top of agenda at Fox's first meeting was the question of the post-Brexit fate of the 12,000 Filipinos currently working in the NHS for a Government wanting to reduce immigration. The Philippines is the third largest provider of NHS workers to Britain, and the leading provider of nurses and midwives. Britain's negotiating position here is hardly strong. Sharing a supply-demand relationship for qualified, English speaking and economical healthcare workers does not a "shared value" make.
However, the US – from whom Duterte seeks to divorce itself from an undoubtedly unfair marriage of convenience – has taken a much firmer stance. Trump's trade envoy shamed the British mission, by publicly claiming that the country's systemic corruption was the fundamental barrier to US investment in the Philippines. What do they know that we don't?
While doing business in the Philippines is risky. The street murder of the lawyer wife of a British man, for example, and of a South Korean businessman while in police custody, would certainly present immediate problems for budding adventurous Brexit investors. You could always call upon on the British ambassador, Asif Ahmad, whose monthly column in the local press – "The Great British View" – is an exercise in banality. Following the visit of Fox and an audience with Duterte, I would expect the ambassador to have some material to expound on the "shared values" Fox declared.
Total UK-Filipino trade is worth less than 0.5 per cent of the UK-EU trading relationship. So why are we grovelling at the hands of a leader who this week, by his own admission, expressed his willingness to kill?
The true price of Brexit will be borne far and wide.
Tom Smith is a lecturer in international relations at the University of Portsmouth. He specialises in Asian security, specifically terrorism and conflicts in South-east Asia
Register for free to continue reading
Registration is a free and easy way to support our truly independent journalism
By registering, you will also enjoy limited access to Premium articles, exclusive newsletters, commenting, and virtual events with our leading journalists
Already have an account? sign in
Join our new commenting forum
Join thought-provoking conversations, follow other Independent readers and see their replies