Thank you, Spain – because of Mariano Rajoy's actions, Catalonia has already won
The Civil Guard attacked us as if we were suffering the repression of Francisco Franco and yet you said you were acting in the name of democracy inside the schools where we teach our children, siblings and grandchildren the values of respect, love and peace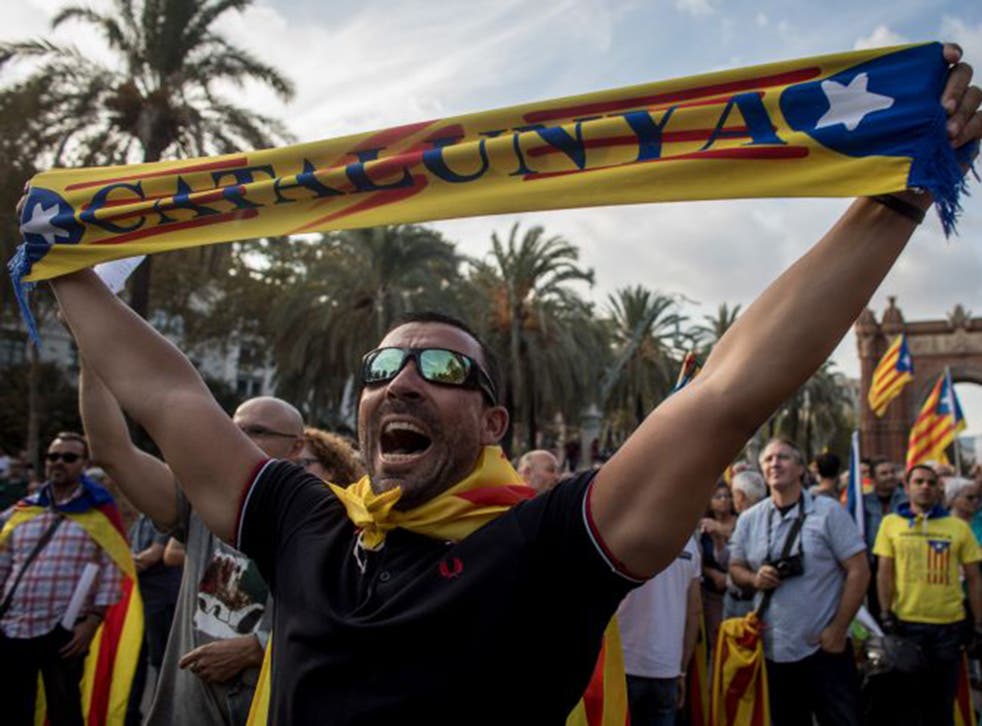 In the name of more than 2.5 million of the Catalan people who voted "yes" in the independence referendum, I want to say thank you to Spain's Government – especially to you, Prime Minister Mariano Rajoy.
Thank you for making people realise why we don't want to be part of your country. Thank you for making us believe that we can create a different state in which we can live in peace: without your lies, repression and hate.
Your hate to all of the citizens who went to vote in the name of democracy, for those who voted for what we wanted, because we have the right to express what we think and what we want. The same speaks for all of the international press that had no word but "shame" to express what happened with the Civil Guard, who "act[ed] in response of what the government ordered". More than 890 people were injured. More than 500 people have already reported their injuries.
President of Catalonia says they have earned the right to independence
Tell me if you know any state in the world that steals ballot boxes by force in the name of democracy. Tell me if you know any state in the world that hurts so many people in the name of democracy. Sincerely, you have no idea what democracy means. But thank you, Prime Minister Rajoy, because in the name of your refusal to have an open dialogue, you gave us more strength to fight against the fear you tried to settle on us; you made us stronger and we achieved our goal.
We celebrated the referendum that we had peacefully waited for, for many years, and we showed it to the Civil Guard when they tried to make us move away from the polling stations we tried to protect: "we are calm people, we just want to vote". But they crushed us. They attacked us as if we were suffering the repression of Francisco Franco in the 1950s and, again, you said you were acting in the name of democracy, inside the schools where we teach our sons, daughters, siblings and grandchildren the values of respect, love and peace.
We made history in front of the entire world and we demonstrated how strong a country can be if we act all for one, and one for all, convinced of what we think, what we want, and who we want to be.
Thank you, Prime Minister Rajoy, because we have already won.
We hope that the world, and especially Europe, is able to make public what they really think now, instead of concluding that all the repression we suffered in name of what you call "democracy" is just "an internal matter for Spain".
It's been one week since the vote, and the UN has expressed its "worry" for what happened in front and inside the schools where people went to vote, and eight winners of Nobel Prizes, as well, have asked for an immediate dialogue between Catalonia and Spain – but you still pretend we have no predisposition to all sit down together and talk.
If we celebrated and voted in the referendum in the determined way that we did, it was due to your Civil Guard repression, and was precisely because we had no other option after waiting for so many years, in which you knew perfectly well what we wanted and we asked so many times for dialogue. But there was never an answer.
You shouldn't be surprised that we're celebrating the referendum result, in honour of true democracy.
Catalonia independence referendum: Riot police clash with voters

Show all 17
Although we have suffered your blows and repression, we are still together in all this, and more together than any time before: tens of thousands of people took to the streets one week ago during the general strike to shout out our willingness to live all in peace. Even people from other parts of Spain and from all over the world joined us to defend what we live for: respect.
Again, we took to the streets dressed all in white to show the government we want to sit down all together, and express our differences and dialogue to find a solution. But thank you again for the demonstration in Barcelona protesting for the union of Spain: we saw the fascist arm salute, we heard you insulting the Catalan policemen, you screamed "Puigdemont, imprisonment" at the top of your lungs and, moreover, you thanked the Civil Guard for their injuries because "they helped you".
As Carles Puigdemont said in response to the speech made by the King Felipe VII in which he had literally zero words for the repression of the Catalan people: "that's not the way" if you don't want us to leave.
The Catalonia crisis explained in 60 seconds
And finally, Puigdemont's speech on democracy has had the final say. The declaration of independence was an option, at least it represented the willing of more of the half of the 7.5 million people living in Catalonia – but we have given you another chance. And believe me, Prime Minister Mariano Rajoy – this is the last one.
The entire world is watching us, everyone is looking at you: will you still pretend there's no possible dialogue? And believe me again, because if one day you are finally able to understand English and read this, you will feel nothing but shame and sadness. The referendum was a fact, and the independence of our country will soon be a dream come true.
Sincerely, thank you, Spain.
Join our new commenting forum
Join thought-provoking conversations, follow other Independent readers and see their replies