Church attendances are in decline as people fill the void with outpourings of grief
I suspect that many more people will listen to Bowie's music than go to church this weekend, and that's a good thing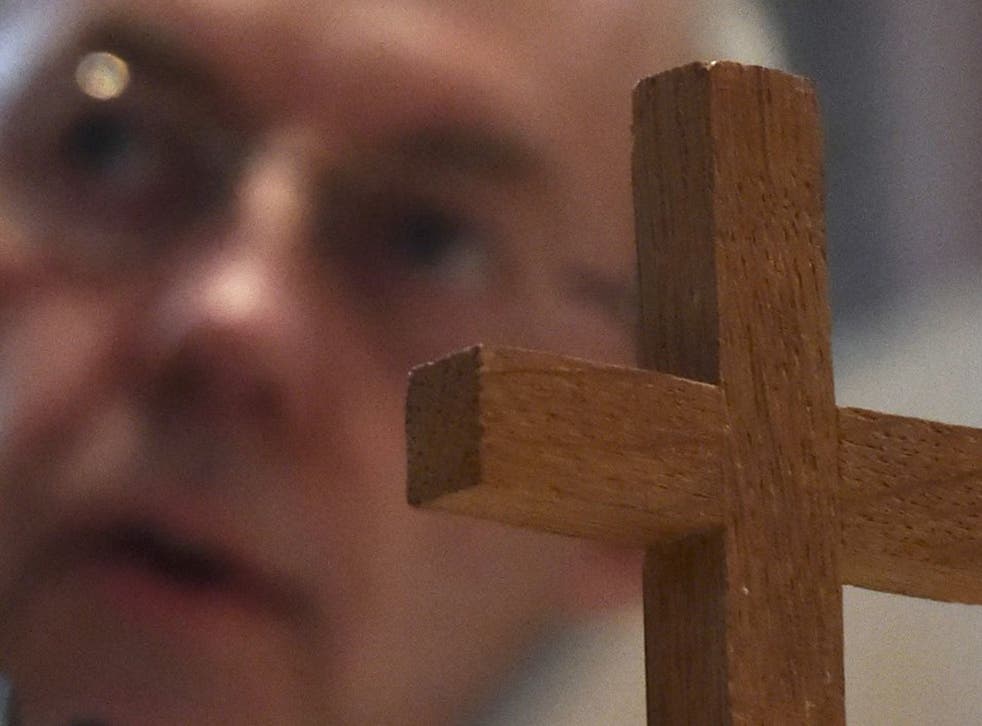 As it happens, I know exactly when I last set foot inside a church. It was in Sicily last summer, when I went to see a painting by Caravaggio which hangs in a small Catholic church in Ortigia. I haven't been inside an Anglican church for ages, and that's something I share with the vast majority of the population. In a country where around three-fifths of us say we're not religious, only 760,000 people attend Sunday services. That is according to the Church of England's own attendance figures, which have just been published.
The church has been in decline for years, and it didn't help matters last week when Anglican leaders made a desperate and discreditable attempt to appease conservative bishops who oppose homosexuality. With brilliant timing, it then emerged that the Archbishop of Canterbury, Justin Welby, is joining talks with other Christian churches about a proposal to fix the date of Easter. This lofty announcement was accompanied by a warning that competing franchises (Anglican, Catholic, Coptic) have been arguing about this since the 10th century, so we shouldn't expect an agreement any time soon.
There is a temptation to ask why they can't get a move on – ecclesiastical time clearly proceeds at a glacial pace – but I'm wondering why it should be left to the church at all. At present, the date of Easter varies by up to 35 days, creating a logistical nightmare for schools, shops and people who work in the leisure industry. They would benefit from having a fixed spring break each year, so why is the government waiting passively for the churches to resolve an arcane theological argument? One of the things I like about the modern world is that employees have an entitlement to holidays, but that has more to do with recognition of workers' rights than religion.
The only time church attendance goes up is at Christmas – 2.4 million people went to a Christmas service in 2014 – and that says more about tradition and an impulse to do something together than belief in God.
The monarchy, the other institution charged with meeting these needs, is doing a bit better, at least on the face of it, but that's because it has managed to insert itself into popular culture in a way the church hasn't. The younger royals appear endlessly in celebrity magazines where they share the same pages as pop stars and contestants on "reality" TV. There's been a corresponding decline in deference, with their appearance subjected to the same critical scrutiny as that of Oscar nominees. Only this weekend, a Mail writer lamented Prince William's appearance, plaintively asking, "What has happened to the handsome prince of my girlhood fantasy?"
It's not hard to see a blurring between royalty and celebrity here, with the royals well aware that it works in their favour, even if they don't love it. It reached the height of absurdity recently when TV presenters Ant and Dec conducted a fawning "interview" with Prince Charles, not long after rather more probing broadcasters revealed the lengthy contract he expects them to sign. It's all about control and media management, so we shouldn't be surprised if the arrangements for the Queen's 90th birthday raise questions about how much the Royal Family cares about its supposedly central role of bringing the country together.
The centrepiece is a lunch for 10,000 people in the Mall in June, invoking memories (for older people) of the Silver Jubilee celebrations in 1977. "We hope that people in Britain and across the Commonwealth will dust off their picnic tables and join us in celebrating this very special occasion", declares a website set up to promote the event. But the Patron's Lunch is open mainly to individuals involved with charities supported by the Queen, and they will have to pay £150 each for the privilege of sharing a "hamper". It features prominently on the website but the only thing I can tell you about what's inside is that the food will be provided by the official sponsors, including Marks & Spencer. I'm quite fond of M&S but £150 is a bit steep to sit at a trestle table and nibble some of their ready-made hors d'oeuvres.
An exclusive bash of this sort misses the point, even by the monarchy's standards. It's been clear for years that even the most secular societies yearn for individuals and events capable of overriding the differences between us, temporarily at least. Politics can't do it and religion certainly can't, which is why the demise of a single well-known person sometimes has such a massive effect.
When people talked about the death of David Bowie last week, they were also talking about themselves and the culture they grew up in. These outpourings of grief are not an entirely benign phenomenon but they highlight a space left by the decline of organised religion, which a combination of humanism and popular culture are trying to fill. I suspect that many more people will listen to Bowie's music than go to church this weekend, and that's a good thing.
Register for free to continue reading
Registration is a free and easy way to support our truly independent journalism
By registering, you will also enjoy limited access to Premium articles, exclusive newsletters, commenting, and virtual events with our leading journalists
Already have an account? sign in
Join our new commenting forum
Join thought-provoking conversations, follow other Independent readers and see their replies