After the reshuffle, the Tory front bench is about to become more feminine
But it will take more than symbolism to win next election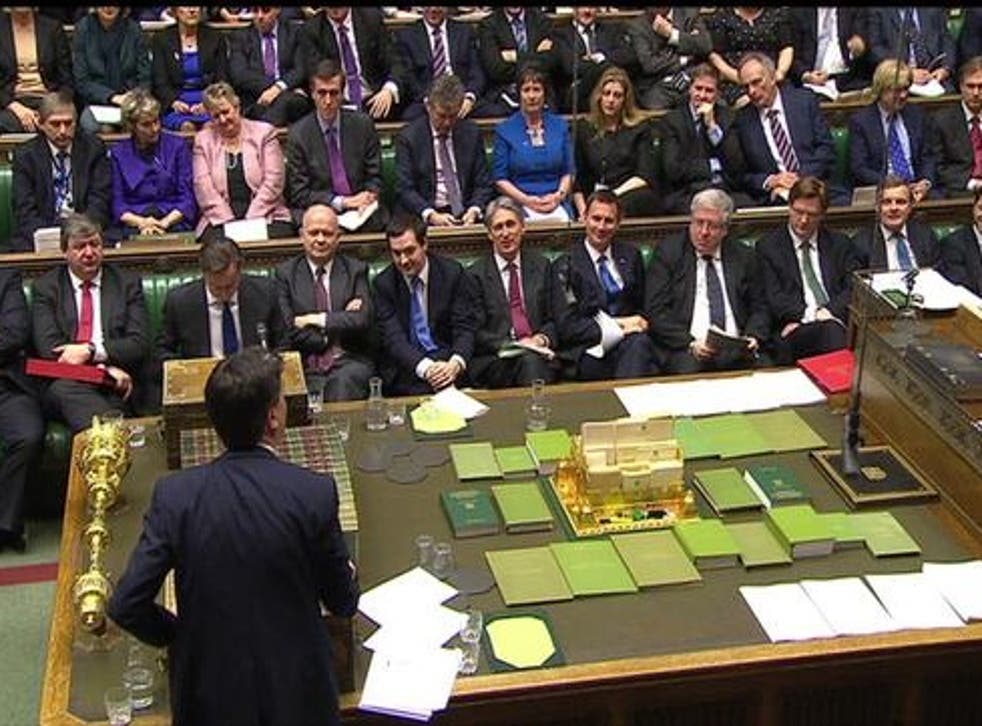 Bring on the women. Once David Cameron completes his pre-election reshuffle, expect many photocalls in which women are recorded in their new positions of apparent power. Do not expect another television image between now and the election of a government front bench with only men sitting comfortably. There will be women there too. In the TV studios and on the Today programme there will be more women.
There is an unavoidably clunky feel to reshuffles when they are carried out for symbolic purposes. The symbolism is too obvious and is usually without wider significance. This is especially the case in the last reshuffle before an election. The Government has already agreed its final legislative session. New or promoted ministers will be implementing policies and Bills prepared long ago by others. The ministers will be in their new posts for less than a year, after which they will be in opposition or part of an even bigger reshuffle following the election. The election strategy will be decided by David Cameron, George Osborne and Lynton Crosby, and not by them. The three male leaders will dominate the next election campaign because British elections are reported as if they are presidential contests even though they are not.
In terms of the women's cause in the Conservative Party, there is little behind the symbolic changes. It is possible there will be fewer women Conservative MPs after the election than there are now. Some female Tory MPs are standing down. Increasingly assertive local parties select whom they wish, resistant to pressure from the national leadership to appoint more women candidates. The device is crude and leads to the unfair omission of some potentially good male MPs, but positive discrimination is the only way the Conservatives will elect many more women. Until they do, leaders will be left with acts of symbolism that do not symbolise very much at all.
It will not work as neatly as that. Indeed Cameron's pre-election reshuffle highlights the limits of fighting derivative election campaigns. The parallels never stack up in the way that leaders assume they do. Each election is unique and rooted in a distinct context. Cameron and Osborne should have learnt the intimidating lesson about the past being a poor guide to the future, having set out in the early phase of their leadership to fight the last election as Labour had done in 1997. Crudely they attempted to be a Tory version of Blairite New Labour and discovered they could not pull it off in the dramatically changed times of the 2010 election. Now they leap back to 1992.
In the case of that strange, distant election it felt there had been far more than a reshuffle in advance. John Major had not long previously replaced Margaret Thatcher as Prime Minister. The moderate Chris Patten was appointed Chairman of the party. The least popular policy, the poll tax, was scrapped. Major spoke favourably of the BBC and Europe. It felt as if there had been a change of government before the election got under way. The attacks on Kinnock and Labour's tax plans were ruthless and played their part, but the far more significant element was the novelty of Major and his new-ish cabinet compared with Kinnock who had been leader for nine wearying years.
Cameron's final reshuffle will not feel like a change of government. At the next election Cameron will have been leader of his party for 10 years. He cannot be the equivalent of Major, who was new to the job. In policy terms Cameron leads a party to the right of Major's in 1992. On the opposite side Miliband and Ed Balls will not fall into the same tired old "tax and spend" traps, partly because they know the traps are being laid yet again. They have fought several elections avoiding tax bombshells, which is why Balls confidently asks the Office for Budget Responsibility to review his tax and spend plans.
This all feels very different to 1992. I am not necessarily forecasting a different outcome to 1992. I have no idea what the outcome will be next time and nor does anyone else, but I predict with confidence that the campaign will be unique and that if Cameron and Osborne attempt to copy the past it will go wrong as it did in 2010.
One difference is that there will be more Tory women ministers on our screens from today onwards, but they will exert little power. As far as this parliament is concerned their moment in the sun comes too late.
Join our new commenting forum
Join thought-provoking conversations, follow other Independent readers and see their replies