Al Murray is in an honourable tradition of protest politics: exactly what the general election needs
Only if we believe that politics is exclusively for politicians should we object to the Pub Landlord entering the fray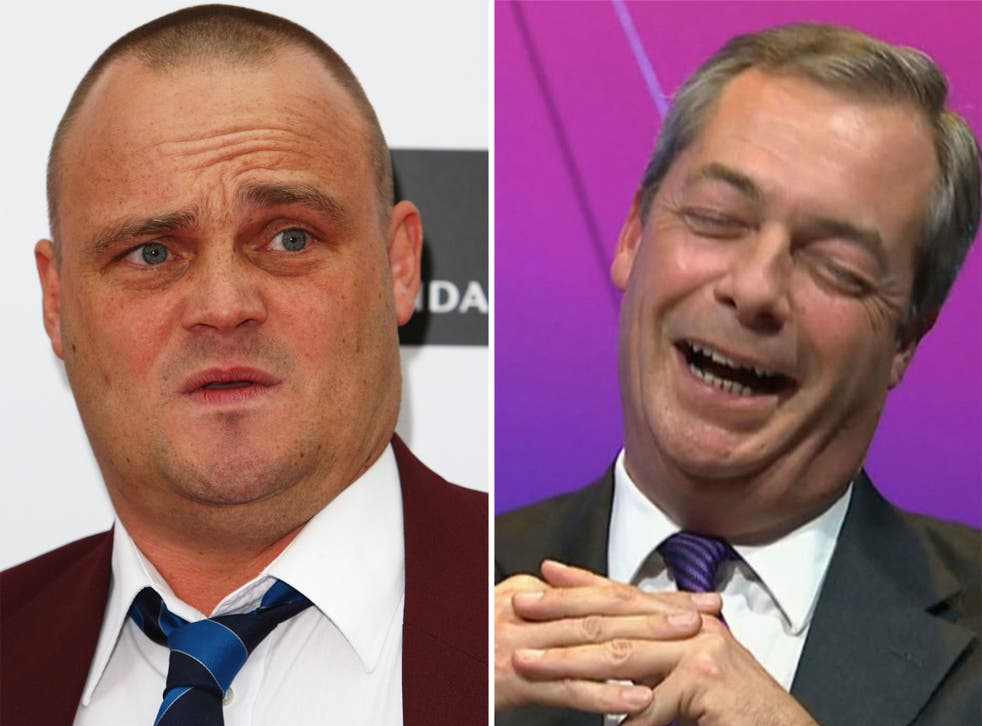 Al Murray will stand against Nigel Farage in the general election. But is it a worthy political protest or just a publicity stunt? Two writers with two very different opinions give us their views. Here, Chris Maume says we need interventions like Murray's. To read why Bobby Friedman thinks otherwise, click here.
In an interview with The Independent in 2013 Al Murray espoused the view that when it comes to politics comedians should maintain a determined neutrality. "Comics have got to find it all ridiculous and send all of it up," he said. "The minute you take sides you are not doing that." Since then he's had a rethink – and a good thing, too. Otherwise we would be denied the inevitably entertaining spectacle of seeing him take on Nigel Farage in South Thanet in May.
If Ukip didn't exist, and Farage was just another City broker, commuting from Kent and looking to retire early, he might well vote for the Free United Kingdom Party, which Murray launched this week with a cracking video ridiculing Ukip's Little Englanders. At a time when satire is so much on the agenda we need people like Murray to hold up a mirror (and yes, sometimes a distorting mirror) to politics and its practitioners. And what better place to do that than from inside the political process itself?
Murray is following an honourable tradition of protest politics. Screaming Lord Sutch and his Monster Raving Loony Party both satirised the po-faced political scene and, less weightily, added to the gaiety of the nation. Then there was Martin Bell, who famously stood against Neil "cash-for-questions" Hamilton in Tatton in 1997. While emphatically not a joke candidate (though his white suit did raise a few chuckles) the nation celebrated with a big smile when he ended Hamilton's political career.
When he's not being the Pub Landlord, Murray is a highly intelligent and thoughtful man, with an Oxford MA in history. I'm assuming that were he to win - and the bookies give him a better chance than the Lib Dems (which isn't saying much, granted) – Murray would consider taking his seat. And why not? You can do your own joke here about comedians in Parliament.
But does it all detract from the political process? Of course not. The very concept of democracy involves broad churches; it's about accommodating all the impulses and intentions that the law allows. That means elections don't just have to be about the serious business of getting a House of Commons formed, they are also about debate, about the airing of differences - and why shouldn't they be fun, too?
Only if we believe that politics should be left exclusively to the politicians should we object. As Russell Brand has shown, comedians – who almost by definition are constantly sizing up the world – must surely have something to offer.
Cynics might see the FUKP as a publicity stunt to revive a flagging career - except that Murray's career isn't flagging, and he doesn't seem like the type who's prone to tawdry stunts. He's a serious-minded individual - and very funny.
A Ukip spokesman tweeted "At last, serious competition in the constituency" – and Murray might actually garner a good number of votes. Indeed, the only real argument against his venture is that he might split the anti-Farage vote, though it's not too great a leap of the imagination to suggest that a few Labour and Lib Dem voters might be tempted to get behind him and present a united anti-Ukip front.
Next stop: the televised election debates? With Bez dancing round the podiums shaking his maracas? I can't wait.
Register for free to continue reading
Registration is a free and easy way to support our truly independent journalism
By registering, you will also enjoy limited access to Premium articles, exclusive newsletters, commenting, and virtual events with our leading journalists
Already have an account? sign in
Join our new commenting forum
Join thought-provoking conversations, follow other Independent readers and see their replies