Everyone's a winner if the Lib Dems win Eastleigh
It has been a closely fought election, yet despite appearances, there is a single outcome in Eastleigh that would suit all three main parties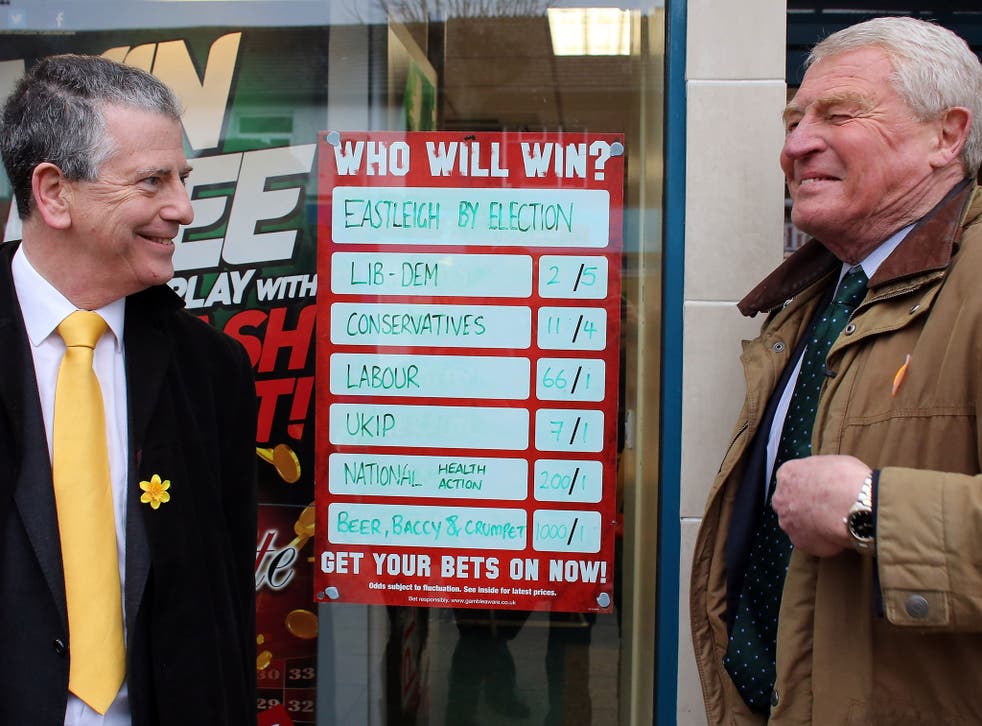 For such a closely fought, seemingly make-or-break by-election, there is a single result in Eastleigh tomorrow that would suit all three main parties. Any of the other possible outcomes would lead to crises for either David Cameron or Nick Clegg or Ed Miliband. But there's one that would give hope to all of them.
Let's consider what the consequences of Eastleigh could be, depending on which party wins. We will exclude Labour as a potential winner. No one believes the party has a chance of victory. This does not mean the by-election is unimportant for Miliband, but his candidate will not win. There is, though, an outside chance that Ukip could seize the seat, which would be a truly sensational result.
George Galloway surprised nearly everyone when he swept to victory last year at a by-election in Bradford. In this dangerously anti-politics era, it is not impossible that the protest vote today is so overwhelming that the mainstream parties are cast aside and Ukip wins. If that happened, the Conservative party in particular would have a complete nervous collapse.
A Ukip victory would intensify the insurrectionary mood that already pervades the parliamentary Conservative Party. And that outcome would not be much better for the most pro-European party – the Lib Dems – or for a Labour Party that worries about losing votes to Ukip in some of their target seats.
But if the polls are correct, the battle for first place remains one between the Conservatives and the Liberal Democrats. What if the Conservatives were to win? The impact on the nervy Liberal Democrats would be immense, and would further fuel the already hyperbolic reporting of the allegations surrounding Lord Rennard – allegations that a casual observer might (wrongly) assume are as grave as those associated with Jimmy Savile. Stories about the fragility of Clegg's leadership would grow and feed on themselves. It is possible even that the weekend political programmes would find voices other than Lord Oakeshott raising the idea that Clegg should stand down.
At recent Liberal Democrat conferences, numerous journalists have sought out dissenters who might call for Clegg to go and for the party to pull out of the Coalition. Few such voices were found. That, too, would change should it suffer defeat in Eastleigh, and the messy response of the leadership to the Rennard story come into play. An already nervy party would become much more anxious about its future.
Clegg would also have more cause to reflect on the value of sharing power with a party – and its many supporters in the media – that had beaten him in an election again, as it did in the referendum on AV. He would also note that Tory columnists with close ties to cabinet ministers are more or less suggesting that his party is not serious because it does not support all the right-wing measures proposed by the Conservative leadership. A leader can tolerate partisan observations when feeling secure. When clinging to the edge of a cliff, the will to co-operate with, and give space to, a right-wing Conservative Party is bound to subside.
For Cameron and George Osborne, victory in Eastleigh would be sweet in the short term, yielding them a seat only a week after the triple A rating on the economy was lost. But there would still be ambivalence. Those MPs to the right of the Tory leadership would point out that they won with a candidate who opposes gay marriage and wants to pull out of Europe. Tory MPs inclined to rock the boat will not stop rocking it for very long if the Conservatives gain Eastleigh.
Of greater significance is that the Coalition would become much more fragile. It might not be enough for senior Tories, but Clegg has taken a lot of hits already by supporting policies that were far from congenial to his MPs, let alone many of those that voted Lib Dem at the last election. But in the second half of the parliament, Cameron and Osborne need him to take many additional hits – from the fallout from the so-called bedroom tax to the spending cuts Osborne seeks. For Clegg to deliver, he needs the authority of a leader who offers his party some hope. If the Conservatives win today, Clegg's authority will take a battering.
By contrast, if the Lib Dems hold Eastleigh, Clegg will move significantly further away from the cliff's edge. In spite of the Rennard furore and his party's association with a dismal economic situation, the Lib Dems would have held a seat, showing that in areas where they are already strong they can still win. Clegg's MPs would relax a little. If they can hold a constituency where the former sitting MP faces jail, they might be able to retain their seats at the next election. Clegg's authority would be enhanced, his strategy of projecting his party as a governing force would have received a degree of vindication. When Osborne seeks his support, Clegg would have more power to tell his party to continue taking the medicine and hope to deliver many more Eastleighs.
Cameron and Osborne need time and some stability in the Coalition if they are to have any hope of winning an election. Time and stability for the Coalition are secured if the Lib Dems win today.
For Labour, such a result would also be encouraging. It would suggest that while the Lib Dems are as good as finished in seats they hope to win in the Midlands and the north of England, Clegg's party can continue to pose a threat in constituencies that the Tories are targeting. A Lib Dem victory in Eastleigh makes a Labour win at the next election more likely.
At the same time, any result is a cause for introspection. If Labour finishes fourth, there will be many questions over Miliband's claim to be a one-nation party. If the Tories come well behind the Lib Dems, and indeed Ukip, some Tory MPs will stir with an even greater sense of mischief. But in terms of their hopes for the next general election, the best result in Eastleigh for all three party leaders would be a Lib Dem victory.
Join our new commenting forum
Join thought-provoking conversations, follow other Independent readers and see their replies