His conference speech was statesmanlike, resolute and human. But David Cameron is beset by perils
The Prime Minister looked fresh and unfazed during his conference speech, and he put the Tory case well. But will that be enough to save him?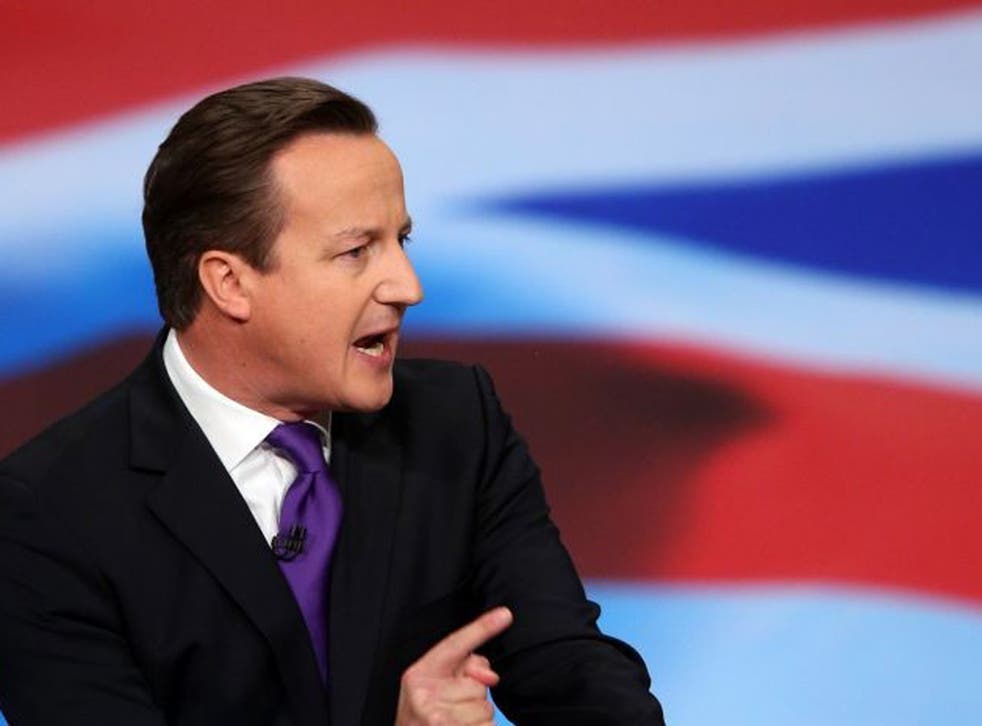 At least David Cameron retains a youthful verve. He addressed his party's conference yesterday more besieged than any Prime Minister since Harold Wilson and Jim Callaghan in the 1970s. That exhausted, embattled duo from a seemingly distant age sought to do their best with the words available to them as they led in a hung parliament against the background of unyielding economic crisis. Yesterday, Cameron spoke to his party and the wider electorate in the midst of a double dip recession and the first hung parliament since the 1970s. The IMF provided the immediate gloomy context, downgrading its growth forecast the day before his speech.
Unlike Wilson and Callaghan, Cameron looks fresh and unfazed. His speech was fresh, too. Thankfully, he did not waste time announcing supposedly new policies that either turn out not to be new or are never implemented. Following Ed Miliband's tour de force, he chose to frame an argument instead. As conferences retreat ever further into deadening insignificance, the leaders' speeches have become more carefully structured and interesting, less studded with policy gimmicks and almost daring to engage in an ideological debate.
Cameron put the Tory case well, and I was struck how rare it is to hear him or members of his Government make the wider argument for what they are doing. They prefer to implement their revolutionary crusade by stealth – what George Osborne described revealingly in his speech as their "quiet revolution".
Cameron spoke up. Like Margaret Thatcher did when she more cautiously sought to reshape the state, Cameron hit upon a populist language. His policies would spread privilege not entrench it. His motives were compassionate and not elitist. The argument was especially well developed in relation to his welfare reforms – cuts projected as an act of kindness.
Unsubtly, but perhaps in ways that reassure those seeking evidence of his "compassion", he placed renewed focus on the protective shields that he added when he became leader. He hailed the international aid budget, criticised by some in his party. He insisted, as he did when he first became leader, that the Tories were the party of the NHS. He led a party for gay people, ethnic minorities, North and South. Yet the need for reiteration seven years after he became a self-proclaimed modernising leader in itself showed that most voters are still wary of a party that has on many policy issues moved further to the right since the more centrist John Major was defeated in 1997.
Indeed the speech was largely defensive and yet cleverly became assertive. It was as much a response to current perceptions of him as Ed Miliband's was an attempt to deal with his poor personal ratings. Cameron is well ahead in the polls on appearing Prime Ministerial so he sought to be resolute and statesmanlike in delivery, demeanour and projection. He and his Cabinet are viewed as out-of-touch toffs, so he dealt with this perception straight on. He wants everyone to go to schools as good as Eton. His father was a stockbrocker but a hard-working one who overcame terrible physical setbacks. He was a hard worker, too. The humanising passages worked well.
But as with Nick Clegg's solid speech a fortnight ago, there is a nightmarish context to all this. Cameron began by stating that he came to power at a "grave moment" in May 2010 and the economy was now "healing". This is nonsense. The economy was growing in May 2010 and is in recession now. Labour's panic-stricken, erratic but pragmatically balanced approach was a more effective response to the financial meltdown than Cameron and Osborne's programme of unprecedented, instant austerity.
Cameron is the first Tory Prime Minister to be safe from possible challenge since Margaret Thatcher won a landslide in 1983.
Cameron's claim to lead the party that supports the NHS will be tested when costly, and likely chaotic reforms are implemented over the next year. Popular arguments about the welfare budget will become less popular if the radical overhaul leads to cases of injustice or administrative cock-ups that wreck people's lives. There are other tests to come – from next month's election of police commissioners to the cut in the top rate of tax in April.
Still, in mid-term, the Prime Minister has several straws on which to cling. He is lucky to have no serious rival for his job this side of the election. Boris is out of parliament, in the right place at the right time to become as popular as the Beatles and in the wrong place at the wrong time to oust Cameron. Apart from the London Mayor, there is no credible contender.
Cameron is the first Tory Prime Minister to be safe from possible challenge since Margaret Thatcher won a landslide in 1983. As a bonus, the army of Tory newspapers and ubiquitous columnists are broadly supportive and are still critical of Ed Miliband. They and the BBC will set Miliband a much higher bar than they did Cameron when he was in opposition. Above all, by the run-up to the election, the economy will almost certainly be growing a little. Labour has so far lost the battle over the recent past, with polls suggesting most voters blame it for the original economic crisis. The recent past remains a dangerous place for Labour and one where reasoned debate is almost impossible.
For Cameron, it is the near future that is treacherous. The policies of the most radical government since 1945's Labour administration are now being implemented and will be tested not in speeches but by how they impact on people's lives. In order to survive as a national force, the Lib Dems must extract major concessions in the coming months. As the Lib Dems claim all so-called progressive policies as theirs, the Tories risk looking as "nasty" as they did in 2001.
Above all there is little evidence to suggest that Cameron can build an overall majority next time on the back of a Thatcherite agenda moderated by some socially liberal attitudes. Yesterday, he delivered a speech that made the Tory case effectively but like his Labour Prime Ministerial predecessors, battling economic storms in the 1970s, his fate will be determined by the success or failure of his policies and not words.
Register for free to continue reading
Registration is a free and easy way to support our truly independent journalism
By registering, you will also enjoy limited access to Premium articles, exclusive newsletters, commenting, and virtual events with our leading journalists
Already have an account? sign in
Join our new commenting forum
Join thought-provoking conversations, follow other Independent readers and see their replies