Nigel Farage: Kudos to Russell Brand and the Guy Fawkes night protesters
I can understand why people are taking to the streets in the Million Man March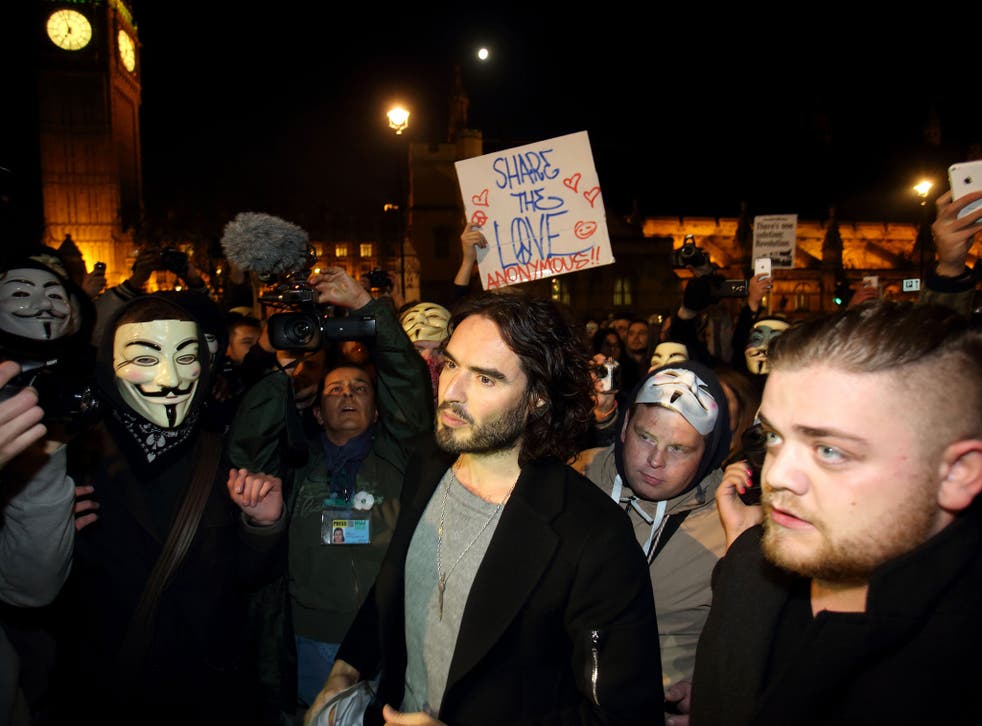 Everywhere you look there is discontent with the mainstream, the establishment, with the corporatist politics that we've been spoon-fed for the past few decades. Never more so was this evident than this week in the mid-term elections in the United States, and in the Parliament Square protests that took place on Wednesday evening in London.
And who can blame people for wanting to put an end to the cronyist politics that plagues the West? I suppose you could say I've dedicated the most recent part of my life to that very cause. Yes, I know, I was public school-educated, I worked in the City of London, and I have served as a Member of the European Parliament in Brussels. But look at my record in all those institutions. I've hardly been the acquiescent, by-the-book, grey-suit type that I so often rail against.
So I have a lot of sympathy with people who want different policies from the "three major" parties. Sure, they mistake"capitalism" for "corporatism", and have a slightly different view as to what a society should look like. But we're driven by the same inate passion to see radical change in our politics. It's this discontent that is leading a left-wing populist party to success in Spain; a right-wing, populist party to success in America; and an anti-EU, policy-wonk party to successes in Germany.
The political classes would have you believe that the voters are wrong, and can't see all the good the mainstream parties are doing. People are "disaffected" and "disenfranchised", they'll tell you. But simply look at the scale of online activism and the almost exponential growth in people willing to put their names and signatures to causes they believe in.
Look to the fact that almost every week, there are protests on the streets of London and elsewhere around the country: some about Isis, some by trade unions, some about Gaza, and some about niche issues like the Transatlantic Trade and Investment Partnership (TTIP) – a move which, by the way, I am increasingly sceptical of.
And all around the United Kingdom people are itching to become involved in the political debate. Just, sadly for Mr Cameron, Mr Clegg, and Mr Miliband, not alongside any of them.
In Rochester this week, I addressed a political meeting attended by 300 members of the public. I mean a real political meeting. Not one where the leader of a party, flanked by dozens of hand-picked, young, ethnically-diverse, poster children gives a speech to a similarly hand-picked crowd.
No. The dozens who turned up to hear what Mark Reckless and I had to say were mainly not Ukip members, and indeed told us that they were undecided in the Rochester and Strood by-election.
In pictures: The rise of Ukip

Show all 8
Their propositions are just not that different when you think about it: more borrowing, more debt for future generations, more wars, more powers given away to the EU, more corporatism, more cronyism, and maybe a few billion pounds' worth of difference in their spending plans. It is, as most political cartoonists will tell you, beyond parody. In fact it is a downright bore.
So that's why when Russell Brand goes on television and starts talking in riddles about how he'd run the country, TV producers and the general public tend to listen. Ok - he doesn't really say anything, but at least he looks and sounds different to most of the others on offer. Kudos, Mr Brand - if your attempts are genuine -to try and get more people engaged in the political debate. Oh and might I add: Parklife!
We're drifting into a ground war in Iraq - and that's not on
Remember, remember, the 26th of September? Ukip conference season and plot. I can think of no reason why Mr Cameron's Iraq War motion should ever be forgot! And I certainly haven't forgotten it - the motion that passed, with a majority of 524 to 43,that the United Kingdom would become embroiled in another foreign war, back in Iraq again, this time against Isis.
There's no doubting the menace and threat of Islamic State - though I argued at the time and maintain the position that returning jihadists and home-grown terrorists should be the priority for Britain's security services.
Now we hear of Britain sending more troops into Iraq, under the auspices of training our chosen partners in the country to fight Isis. But isn't this how it all begins? It's called "mission creep".
Parliament authorised airstrikes in September, but the motion made clear: "Her Majesty's Government will not deploy UK troops in ground combat operations". Today we have come one step closer to something we were assured would not happen.
I suspect if British troops begin fighting alongside the Kurdish forces on the ground - which is not unlikely given our leaders' propensity to overreach in situations like this - there will be even more protests on our cities' streets. And rightly so.
Register for free to continue reading
Registration is a free and easy way to support our truly independent journalism
By registering, you will also enjoy limited access to Premium articles, exclusive newsletters, commenting, and virtual events with our leading journalists
Already have an account? sign in
Join our new commenting forum
Join thought-provoking conversations, follow other Independent readers and see their replies