Mrs Thatcher implanted the gene of greed in Britain
That was the truly poisonous part of her legacy in this country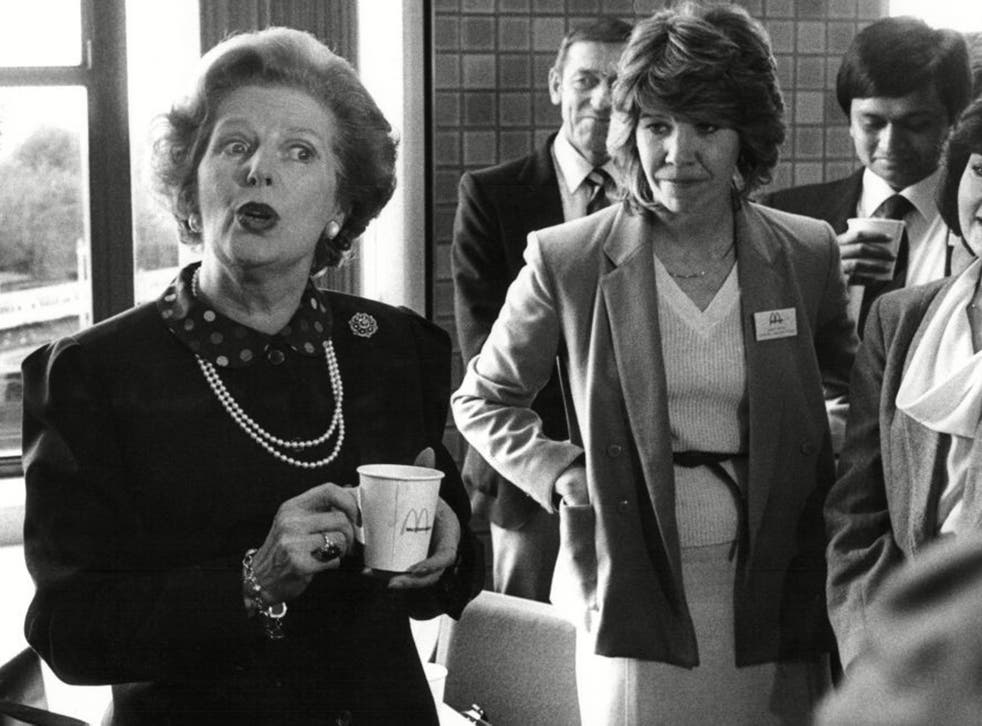 Wally Fawkes, born a year earlier than Margaret Thatcher, was, for many years, the political cartoonist on the editorial page of The Observer newspaper, appearing under the name "Trog". He retired from active service some time ago, but I still have one of his works from the early 1980s hanging in my lavatory. It shows Britain split in two. In the northern half, an old couple are sheltering from the rain, while the southern half is occupied by a shining young couple, bathed in sunlight, laughing and drinking champagne. The speech bubble over the old couple reads thus: "You've got your Prime Minister. Why can't we have ours?"
Much has been written about Mrs Thatcher's divisiveness, but even though I was a product of the comfortable, middle-class north, it was a time when everyone had to take sides - hard to believe that politics once engendered such polarity - and my own political sympathies were shaped by regional identity. You didn't need to be born in the shadow of a pit wheel to feel a sense of outrage. You didn't need to be thrown out of a job to understand the alienation represented by the unfortunate couple in the cartoon.
My most formative experience, however, came from working in South Wales during the early Thatcher years, and it was here, seeing communities rent asunder by her systematic dismantling of the region's industrial power base, that I firmly decided which side of the divide I'd be on (It was revealing, although not exactly surprising, that, in an ICM poll conducted just after Mrs Thatcher died, 55 per cent of English people polled thought that she was good for Britain, while in Wales the figure dropped to 34 per cent.)
I met Mrs Thatcher only once. I had not long taken over as editor of The Independent, and I had been invited to a dinner at the American Ambassador's residence. Afterwards, I was having coffee with Tessa Jowell, one of Tony Blair's ministers, when Mrs Thatcher approached. She wanted to talk about Gordon Brown. Or rather she felt the need to castigate his decision to give independence to the Bank of England. "The poor wee bairn...the poor wee bairn," she repeated, saying this represented political weakness. "Is it not a good idea to take politics out of interest rate decisions?" I asked her politely, and certainly not disrespectfully. She turned to me. "Young man," she said, "Shut up!" Withered by Margaret Thatcher! I thought then that it doesn't get much better than this.
Curiously, I was thinking of Mrs Thatcher last weekend. I was reading the business section of a Sunday paper. The lead story was of the HBOS chief's £20m pension pot. Inside there was a report about the chief executive of Ocado awarding himself upto £1.8m worth of shares a year. In between, every story seemed to revolve around a business leader being paid millions in either salary or pay-off. What kind of country is this, I thought, where people feel the need to earn such obscene sums? And then I realised. Above anything else, Mrs Thatcher implanted the gene of greed in the British soul. And, in the end, that is the poison of her legacy.
Join our new commenting forum
Join thought-provoking conversations, follow other Independent readers and see their replies