Russell Brand is a great advertisement for social mobility, and just the man to fight for those stuck at the bottom
Unlike so many of our politicians, Brand wasn't born into privilege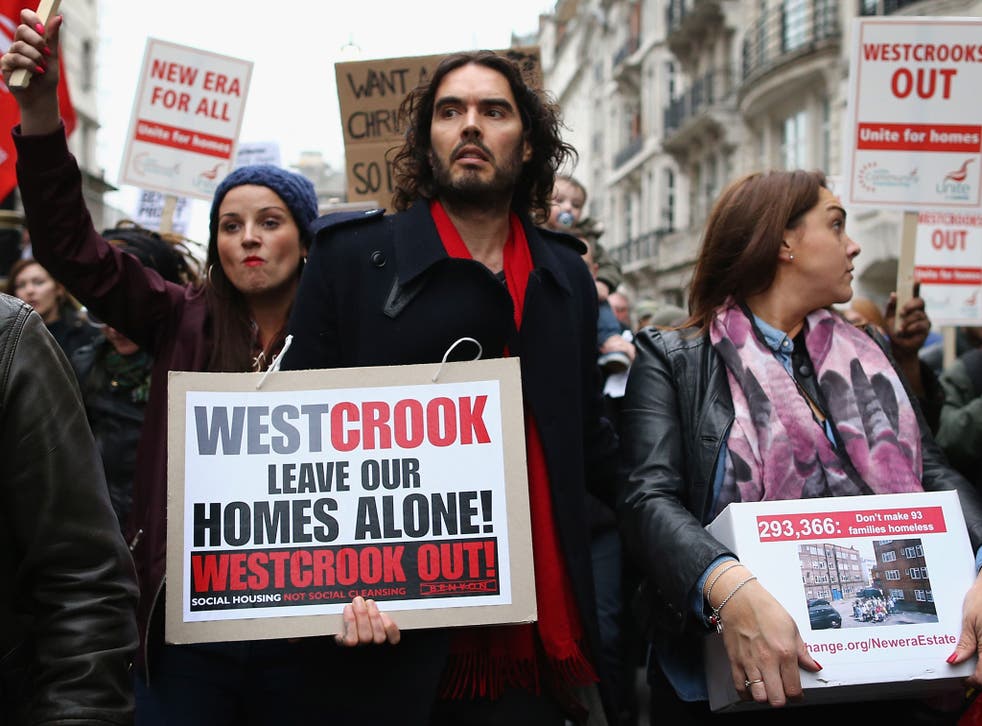 Russell Brand threatens to sue The Sun for libel because the newspaper describes him as a "hypocrite" for living in a flat owned by a landlord based in a tax haven. The Sun seems to be saying that because Russell can afford to rent somewhere plush in a trendy part of London, he isn't fit to make comments about the lack of affordable homes for working people.
Brand grew up in a single-bedroom home in Essex, so you could argue he is a great example of social mobility. Housing is the biggest problem facing this government, and George Osborne's Autumn Statement didn't really tackle the lack of accommodation for people on low incomes effectively.
Granted, changing the way stamp duty is calculated is a neat way of heading off Labour's controversial "mansion tax" – and by lowering the duty on homes sold for less than a million, Osborne will help many buyers. But the people who most need his help can't get on the housing ladder at all and stamp duty isn't on their agenda. There's virtually no rented accommodation available they can afford, end of story.
As for talk of new "garden cities" at Ebbsfleet and Bicester – for the most part these will be homes for middle-class people, with only a small proportion of affordable or rented homes. In the middle of our cities we need offices and warehouses repurposed, plus brownfield sites utilised to create thousands of basic rented flats for essential workers and single people. Instead, luxury flats are prioritised.
In Clerkenwell, the huge Mount Pleasant sorting office site is to become luxury housing with only a very small amount of provision for low-income locals, after Boris Johnson intervened to overrule the planners. Shocking.
Russell Brand is inarticulate, unfocused and annoying, but politicians must realise that dozens of our comedians fill 10,000-seat arenas night after night, with audiences happy to pay £50 a ticket out of their hard-earned wages. If only our political leaders could tap into this ability to connect with the electorate. And so, when Russell Brand speaks, thousands of people listen, no matter how much gobbledegook he might spout. He has charisma by the bucket load.
Russell Brand's Most Controversial Quips

Show all 19
It's interesting that we love celebrities fronting charity campaigns, but we feel uncomfortable if they dare to express an opinion about the sensitive issue of housing. Recently, Griff Rhys Jones had the temerity to attack the mansion tax, and was told to bog off and move abroad by Bonnie Greer, among others. She later apologised but that doesn't detract from her rude behaviour.
No matter where you live, and what you earn, if you have any conscience you must allow that our cities have to contain both rich and poor. We can't airbrush out the working class and the young because they have nowhere to live. In all our major cities, low-cost housing should take priority over everything else. It should be taken out of party politics. I'm sorry to say it, but I'd rather Manchester had 10,000 new homes than yet another theatre.
One act you won't miss now Madame Jojo's is no more
Sad news that another part of Soho's history is to vanish. Madame Jojo's, a cabaret club where acts ranging from the Sex Pistols to Adele have performed over the years, has had its licence revoked by Westminster Council and is likely to be demolished.
Whatever replaces the rundown but atmospheric Madame Jojo's will have none of its charisma and is bound to include luxury flats and probably yet another expensive restaurant.
Soho is my second home, part of my DNA. From the age of 14, I spent at least two nights a week hanging out at clubs like the Flamingo, the Marquee, the Scene and the 100 Club, eating in cheap dives like Jimmy's with its surly waiters and huge portions of moussaka.
Madame Jojo's was one of the last places where cabaret performers and musicians would play to a small audience and it should be preserved as part of our national heritage, not torn down. Elton John and David Furnish chose it for their stag party before their civil partnership, with live performances from Gary Barlow and Bryan Adams, but I'm afraid my lacklustre duet with Paul O'Grady was one of the most embarrassing moments of my life.
It wouldn't be a late supper if we ate it at 7pm, would it?
Two very annoying things happened last week. Every day a fresh "diet" appeared in a daily newspaper, and the Queen of Smug, Kirstie Allsopp, gave us her tips on Twitter on how to have the perfect Christmas, with her "Advent Advice Calendar". Once, the summer holidays were preceded by a rash of diets designed to get our bodies "beach-ready", and then January was a month of self-denial. Now we are being encouraged to slim down ready for our party frocks before we start seasonal feasting.
At 9pm last night, I had made a tasty supper of sliced sprouts, slivers of beetroot and carrots, stir fried with hot sauce and prawns, added to a nice big bowl of pasta. Divine. As I consumed my supper, I read that the best way to lose weight is to leave a 12-hour gap between dinner and breakfast. Researchers in the US say that eating late at night piles on the pounds.
It's a good job I don't do guilt.
My despair at Radio 3's fixation with celebrity
The BBC Trust wants to know what we think of Radio 4 and Radio 5 Live, as part of an ongoing review into their services. A good idea – it's important to get feedback from users. But asking us to contribute via Twitter is frankly insulting. How can you make a meaningful contribution via a tweet?
There's the option of logging on to the BBC website, but what happened to the old form of communication – writing a letter? Especially as the bulk of the audience for Radio 4 is elderly. The corporation should have sent out prepaid reply envelopes with our annual licences if they really want to hear what we think.
I'm in despair about Radio 3 – the amount of mindless chat every morning in the form of a "celebrity" interview is extraordinary. Cerys Matthews is a talented BBC Radio 6 Music broadcaster and musician, but did we need her classical music choices for five consecutive days recently?
As for The Archers, the current storyline makes Casualty or EastEnders seem tame. Tom has returned from Canada, with a totally different voice. Danny Cohen, the director of television, used a press launch of the BBC's Christmas programmes to ask: "Perhaps this is a time for a little less of the critical friend and a bit more of the friend… it would be crazy to undermine what we have." I'm only making constructive suggestions, Danny.
Witness this wonderful spin-off from 'The Sopranos'
I've come late to Lilyhammer, the black comedy starring Steven Van Zandt from The Sopranos as a former mobster who signs up to a witness protection plan. He ends up with a new identity in the Norwegian winter Olympics town of Lillehammer, where he communicates in a kind of pidgin mixture of the two languages. Soon he's running a club and up to his old tricks.
It's reminiscent of Fargo, with a dash of Twin Peaks, and the show's cast is an engaging band of oddballs. Series one aired on BBC Four, but the next two series are available on Netflix. Wonderful.
Twitter: @The_Real_JSP
Register for free to continue reading
Registration is a free and easy way to support our truly independent journalism
By registering, you will also enjoy limited access to Premium articles, exclusive newsletters, commenting, and virtual events with our leading journalists
Already have an account? sign in
Register for free to continue reading
Registration is a free and easy way to support our truly independent journalism
By registering, you will also enjoy limited access to Premium articles, exclusive newsletters, commenting, and virtual events with our leading journalists
Already have an account? sign in
Join our new commenting forum
Join thought-provoking conversations, follow other Independent readers and see their replies